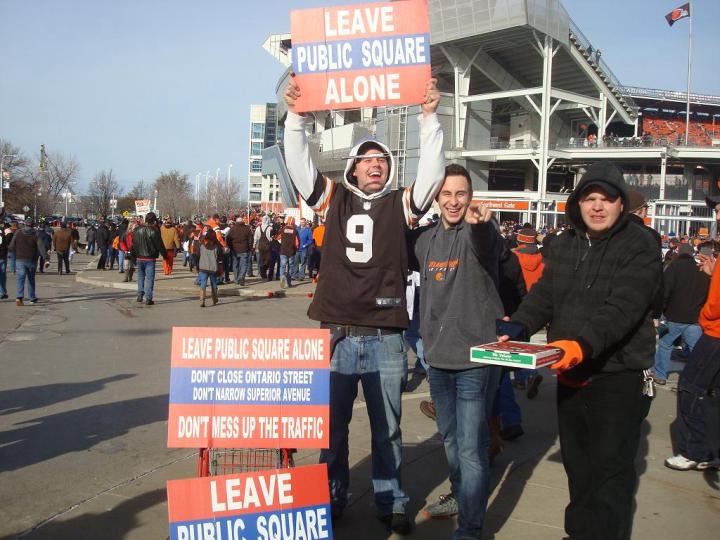 BROWNS' FANS SUPPORT THE LEAVE PUBLIC SQUARE ALONE CAMPAIGN IN CLEVELAND, OHIO!
During a 4-hour demonstration on a cold Sunday (12-07-14) late-morning and early-afternoon.
The first-part of the demonstration (2-hours) was held on the northern tip of the West 3rd Street Crossing – at the west entrance to the First Energy Stadium. The remaining demonstration was held in the vicinity, in the mall areas, and in Public Square.
The campaign signs were seen by thousands of fans as they walked by in hordes.
The fans, from youngsters to senior citizens, were in good cheer and very well behaved.
Unfortunately. our team lost to the visiting Colts, 25-24.
LEAVE PUBLIC SQUARE ALONE!
DON'T CLOSE ONTARIO STREET!
DON'T NARROW SUPERIOR AVENUE!
DON'T MESS UP THE TRAFFIC!
RADICAL MAKEOVER:
The proposed $32 million (with a majority of the money being contributed by our money-laden Foundations) radical makeover of Public Square will require the permanent closing of Ontario Street and the narrowing of Superior Avenue from the existing 77 ft. to 44 ft. and limiting the avenue to bus traffic only. However, when there are major events, the narrowed Superior Avenue will also be closed to bus traffic.
The plan is to complete the radical makeover of Public Square in time for the Republican Convention in June 2016.
However, as of 12-07-14, the RTA, which has 4,000, buses visiting Public Square every day – has not signed off on the makeover. The construction has not yet started.
OPPOSITION:
The radical makeover is being actively opposed by the LEAVE PUBLIC SQUARE ALONE campaign. One has to stand at the main intersection of Public Square and quickly conclude that the traffic has nowhere to go – except create nightmares. So far, the campaign has demonstrated, since early August 2014, 53-times for a total of 160-hours – mostly in Public Square.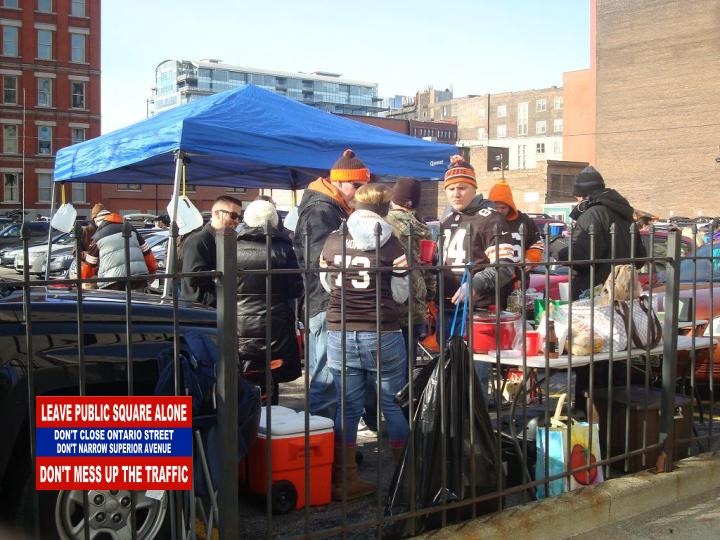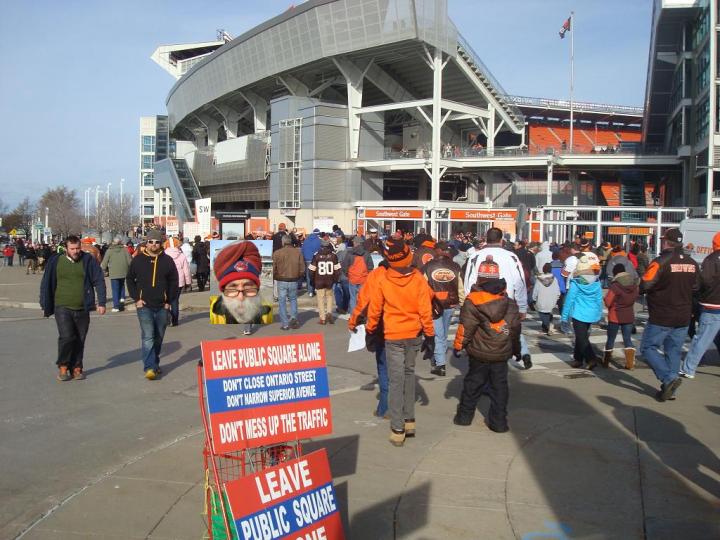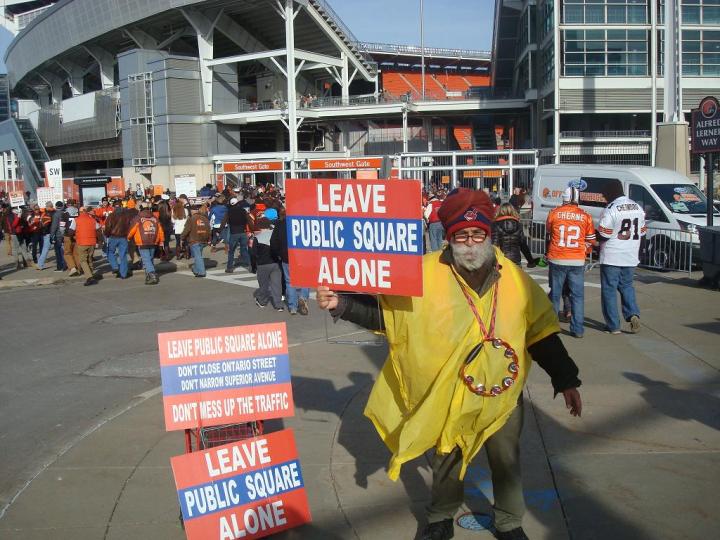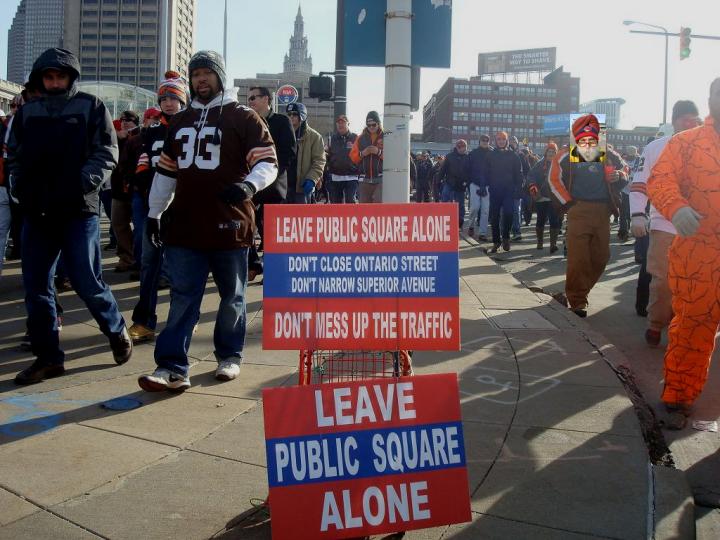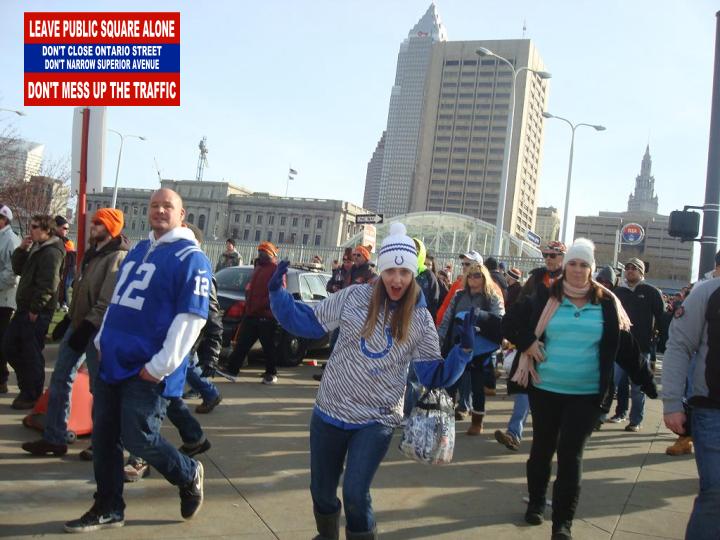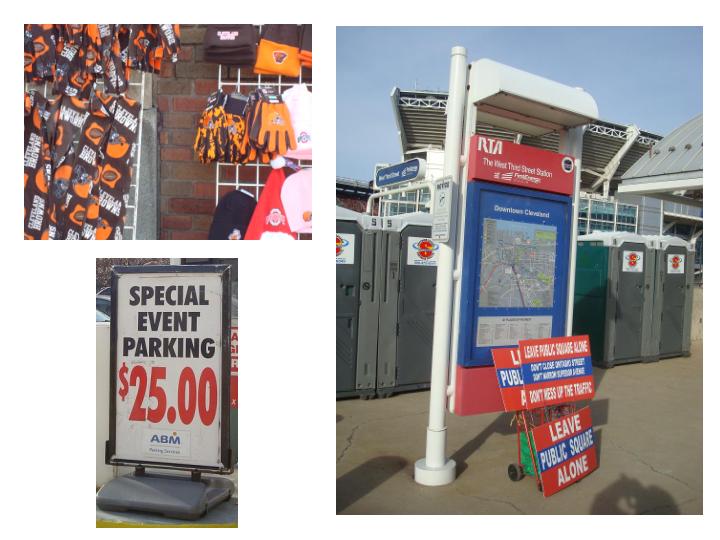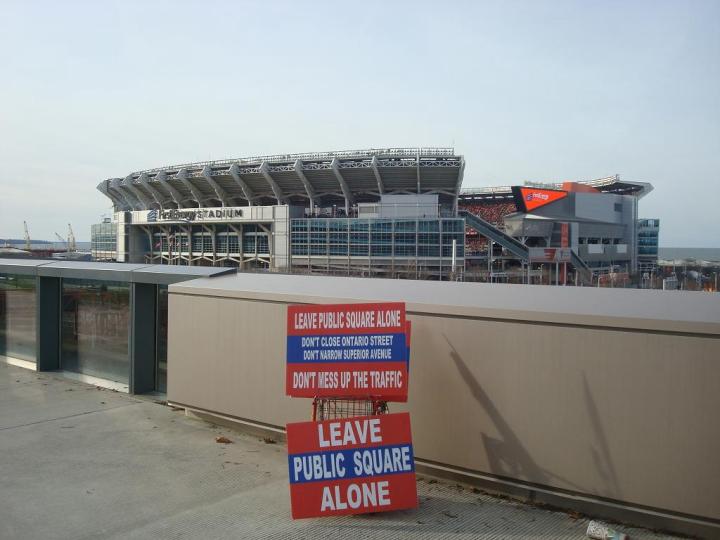 A DARK CHRISTMAS IN PUBLIC SQUARE IN 2014:
This year, 2014, according to City Hall, because of Construction, Public Square, the heart of Cleveland, will remain dark during the holiday season – no lights on trees and no Christmas tree either. The holiday festivities, however, have been moved to Playhouse Square – which is a tourist attraction – but not the bustling heart of Cleveland.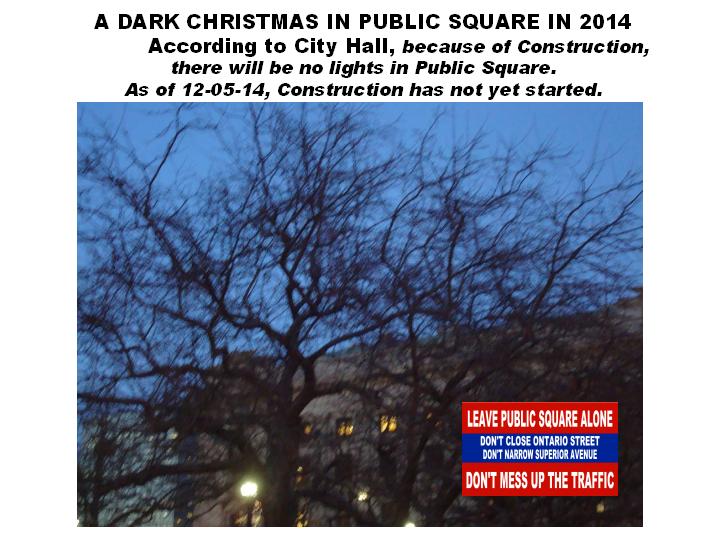 PUBLIC SQUARE TO BECOME A VIRTUAL PARKING LOT, REPUBLICANS ARE COMING IN 2016:
Scheduled to be ready in time for the Republican Convention in June 2016, the park will have Eight Bus Stops on Superior Avenue. At present there are only three bus stops on Superior and four along Ontario Street.
According to the Plain Dealer, between two key measures – public transit and walkability, Cleveland ranked first among the six finalists for the 2016 Republican Convention. Also, Cleveland had a low rating for possible traffic gridlocks. Unfortunately, because of traffic jams, some of the delegates to the 2012 Republican Convention in Tampa did not make it back to their hotel rooms until 3 a.m. Joe Calabrese, CEO of the GCRTA (Greater Cleveland Regional Transit Authority – commonly known as the RTA), had nothing but praise for downtown Cleveland's transportation system in selling it to the Republican organizers.
Let us hope our Republican guests will not experience any traffic nightmares during their 2016 convention. Also, if they visit the renovated Public Square – let us hope, assuming it is ready, they will be able to sneak through the wall of buses on Superior Avenue – a virtual parking lot.
If it isn't broken – don't fix it.
No shortage of stupidity in Cleveland, Ohio.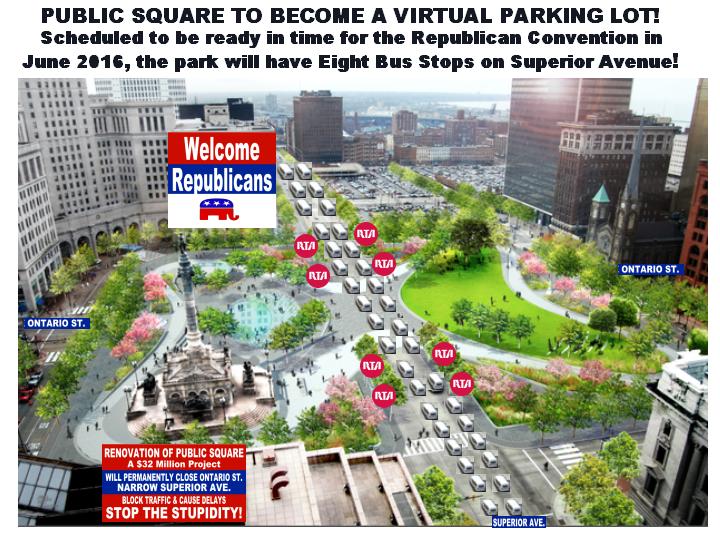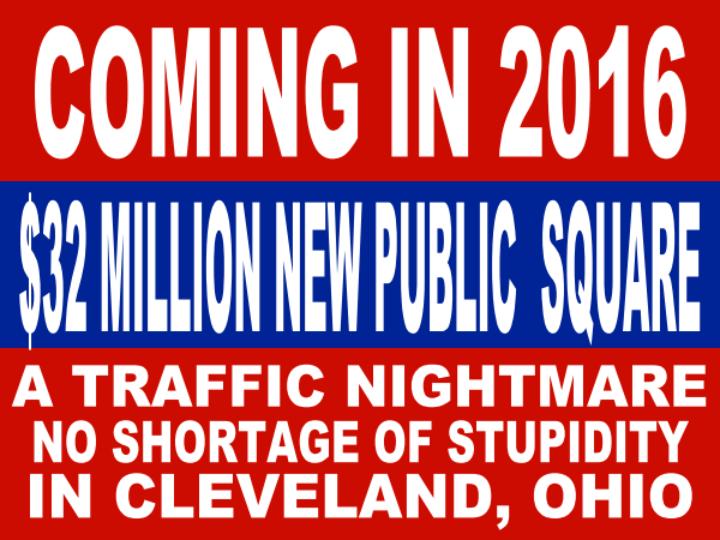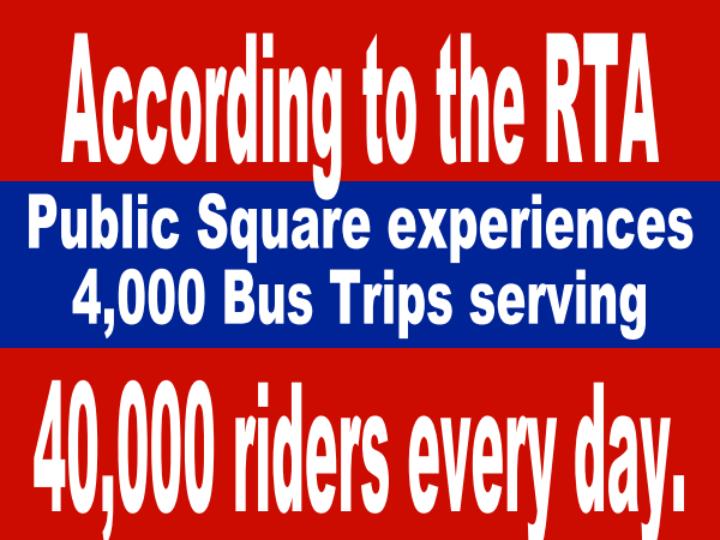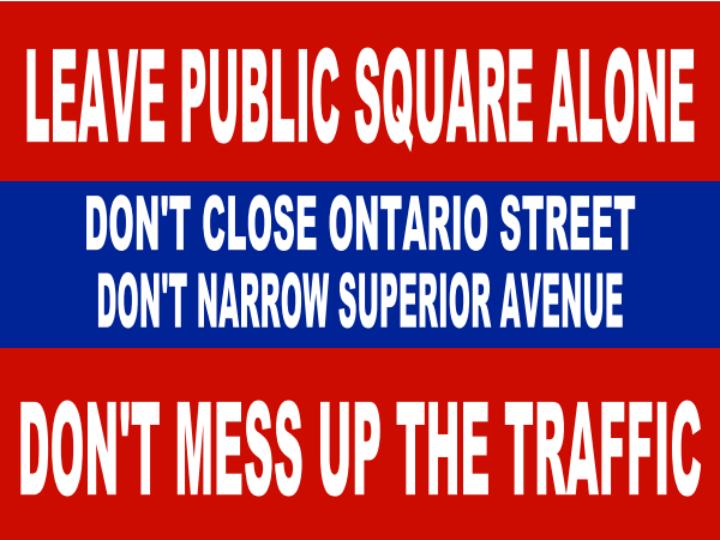 PREVIOUS RELATED POSTS ON REALNEO:
12-04-14: PUBLIC SQUARE ROCKS WITH TWO DEMONSTRATIONS ON A COLD THURSDAY, 12-04-14, AFTERNOON!
11-27-14: CONFLUENCE OF TWO DEMONSTRATIONS IN PUBLIC SQUARE IN CLEVELAND, OHIO!
10-31-14: BEATING THE RAIN IN PUBLIC SQUARE ON A DRIZZLY HALLOWEEN AFTERNOON!
10-30-14: PUBLIC SQUARE IN DOWNTOWN CLEVELAND ROCKS WITH CAVS' FANS DURING A COOL BUT PLEASANT THURSDAY 10-30-14 AFTERNOON/EVENING!
10-26-14: TALK OF THE TOWN – I: The LEAVE PUBLIC SQUARE ALONE Campaign Rocks Cleveland, Ohio!
09-06-14: TRANSIT POLICE QUESTION ACTIVIST WAVING "LEAVE PUBLIC SQUARE ALONE" SIGN IN DOWNTOWN CLEVELAND, OHIO!
08-17-14: LEAVE PUBLIC SQUARE ALONE: DON'T CLOSE ONTARIO STREET, DON'T NARROW SUPERIOR AVENUE, & DON'T MESS UP THE TRAFFIC