CLEVELAND'S 26TH ANNUAL PARADE THE CIRCLE -- AN ART EXTRAVANGANZA, JUNE 13 2015, CLEVELAND MUSEUM OF ART, CLEVELAND, OHIO!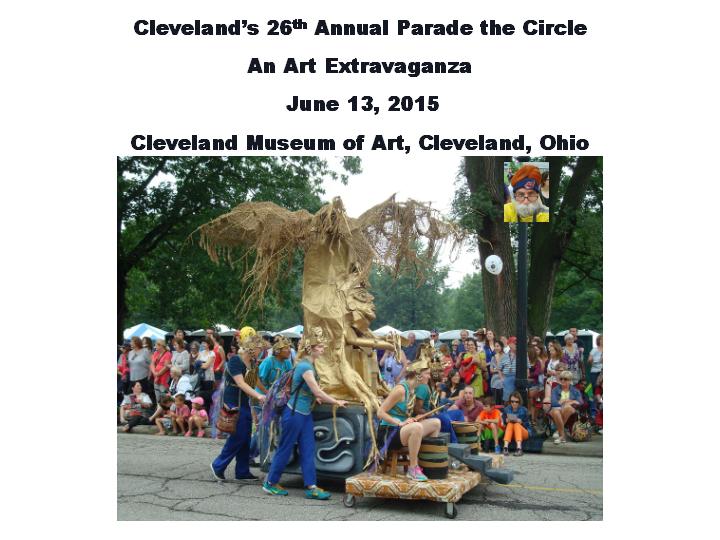 The 26th Annual Parade the Circle, organized by the Cleveland Museum of Art, was a big success.
After having lived in Cleveland since 2001 -- when my late wife Sarah and our cats moved here from New York City – this was my second time watching the parade.
I took the RTA – a 1.5 hour bus trip from our house on the west side.
The 2-hour parade (noon to 2:00 p.m.) was an unparalleled art performance – full of dazzling color, beautiful forms, graceful dancing, and delightful music – all held on an overcast 70 deg. F Saturday.
While technically a parade, the nearly 80 different groups, with 1,500 performers, formed one continuous harmonious ribbon that delighted the crowd that lined both sides of the route which was around the one-mile long Wade Oval.
The crowd – estimated at 80,000 -- included all age groups – from infants to senior citizens in wheel chairs -- were in a festive mood having brought folding chairs, blankets, and in some cases ample supplies of food and drinks.
And they cheered and cheered as the performers passed by.
After the parade, parents and their children had a variety of free art-related activities (organized by University Circle Inc.) they could participate in. The activities were held in a grassy area called Circle Village -- dotted with colorful tents.
The event was again a joyful experience – I enjoyed every bit of it
NOTE: I took over 300 photographs – including multiple photographs of the nearly 80 groups – with 1,500 performers.
The attached, over 100 photographs are a selection of the best photographs, in my opinion, -- based on how the performers were facing the camera and absence of obstruction from non-performers who were streaming by or obstruction from the crowd in front of me – and in no way a reflection on the artistic merit of the excellent performers whose photographs were not included.