---
Wayback Machine Archive - send a donation
By lmcshane
Created 12/12/2015 - 09:51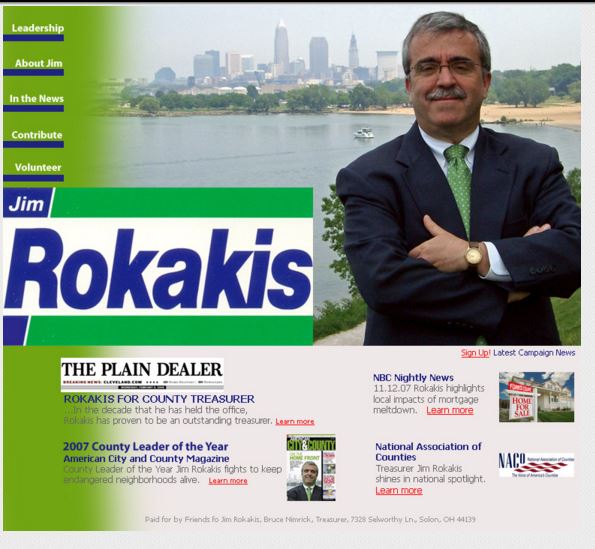 Sending a donation today to the Wayback Machine!
Dear Internet Archivists, We are a non-profit with a huge mission: to give everyone access to all knowledge. Forever. Together we are building the public library of the future. A special place where you can learn and explore. The key is to keep it free and ad-free. The Internet Archive is a non-profit library built on trust. Reader privacy is very important to us, so we don't run ads that track your behavior. We don't sell your personal information. But we still need to pay for servers, staff and rent. That's where you can help us. If everyone reading this gave $50, we could end our fundraiser right now. If you use us, please take a minute to support this special library. Thank you. [1]
From a snapshot in 2008: https://web.archive.org/web/20080511172938/http://www.rokakis.com/ [2]
Rokakis' campaign manager was (is?) a Cuyahoga County Employee Bruce Nimrick - FitzGerald dropped his salary in 2012. [3] In 2010 - Nimrick was Director of Community Programs and Outreach for Cuyahoga County Treasurer's Office [4], administering the HELP Loan program.
http://realneo.us/content/hush-money-bribe-or-donation [5]
SEE also how Housing Court is a vital piece in the puzzle for control over properties in the massive criminal enterprise [6] known as the "Land Bank." See the last entry here: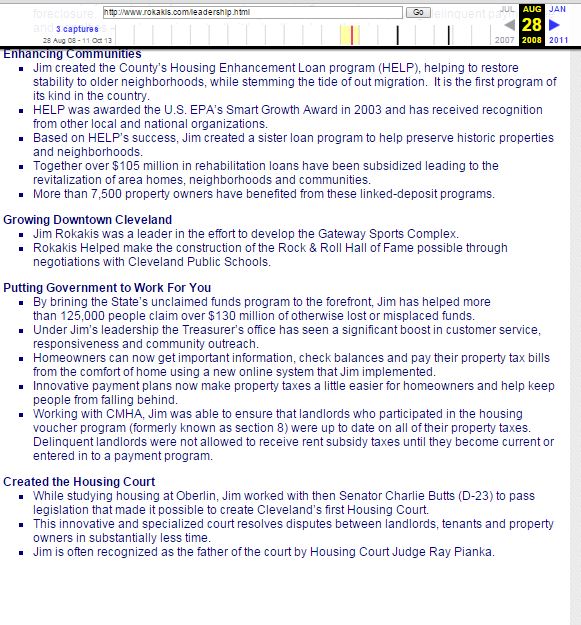 ---
Links:
[1] https://archive.org/web/
[2] https://web.archive.org/web/20080511172938/http://www.rokakis.com/
[3] http://www.cleveland.com/cuyahoga-county/index.ssf/2012/01/cuyahoga_county_cuts_klimkowskis_relatives_pay.html
[4] http://www.onelakewood.com/pdf/2010_DCD_HELPInfo.pdf
[5] http://realneo.us/content/hush-money-bribe-or-donation
[6] http://realneo.us/content/massive-cri%C2%AD%C2%AD%C2%ADminal-enterprise-using-opm
[7] http://li326-157.members.linode.com/system/files/rokakis.JPG
[8] http://li326-157.members.linode.com/system/files/rokakis2.JPG
[9] http://li326-157.members.linode.com/system/files/rokakis3.JPG
[10] http://li326-157.members.linode.com/system/files/rokakis4.JPG
[11] http://li326-157.members.linode.com/content/keeping-our-eyes-ball
[12] http://li326-157.members.linode.com/content/archiving-pd-comments