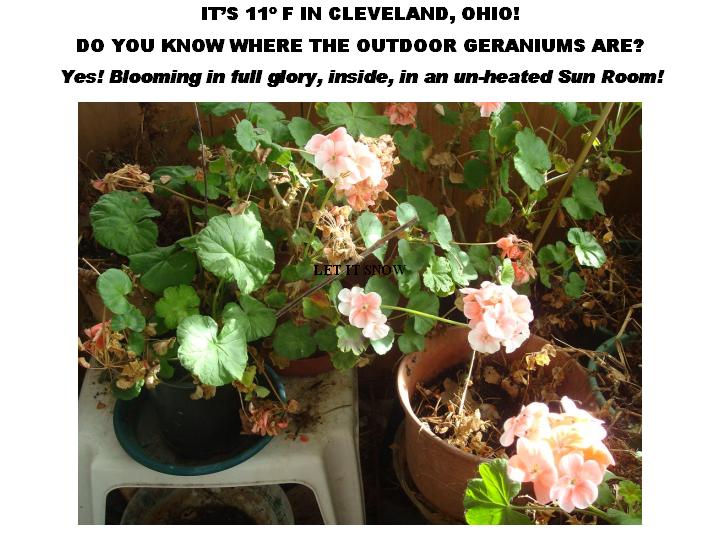 IT'S 11 ºF IN CLEVELAND, OHIO!
DO YOU KNOW WHERE THE OUTDOOR GERANIUMS ARE?
Yes!
Blooming in full glory, inside, in an un-heated (48 ºF) Sun Room!
Photographed on the late morning of a sunny, Saturday, February 13, 2016, in our house on the south side of Jefferson Park.
Today, the high temperature is expected to reach 14º F.
In case you are interested, the sun rose at 7:25 a.m. and will set at 5:57 p.m – resulting in a 10 hr. and 32 min. long day.
The shortest day was on December 21, 2015 (first day of winter) – 9 hrs. and 10 min. long.
So far we have gained 1 hr. and 22 minutes.
The days are definitely getting longer, but slowly.
By June 20, 2016, the first day of Summer, we will have gained 6 hrs. and 1 min.
Then the days will start getting shorter – in an endless celestial dance in a mysterious Universe where we have recently learned about the existence of gravity waves (resulting from the merging of two black holes) as predicted by Albert Einstein over a 100 years ago.
LINK: For daily sunrise and sunset data in Cleveland: https://www.google.com/url?sa=t&rct=j&q=&esrc=s&source=web&cd=2&cad=rja&uact=8&ved=0ahUKEwiu4qbl_-_JAhVCGT4KHU3jAZcQFggnMAE&url=http%3A%2F%2Fwww.timeanddate.com%2Fsun%2Fusa%2Fcleveland&usg=AFQjCNFxM5RbnfBFlJGbkXTSLpMPqaGoKg