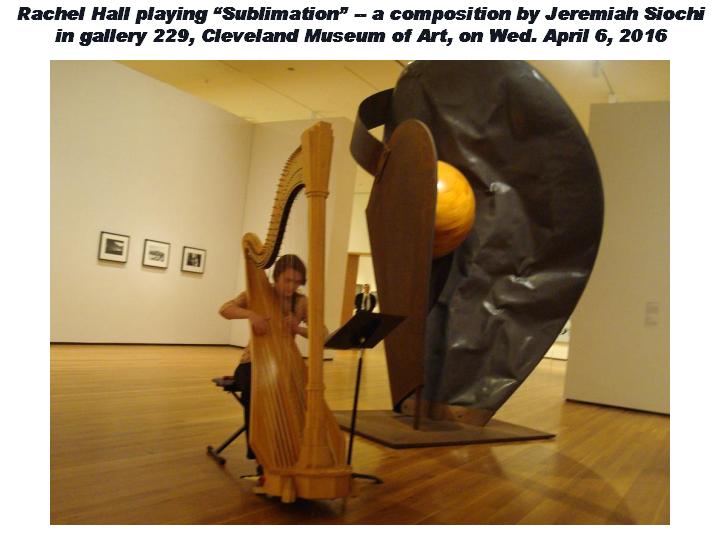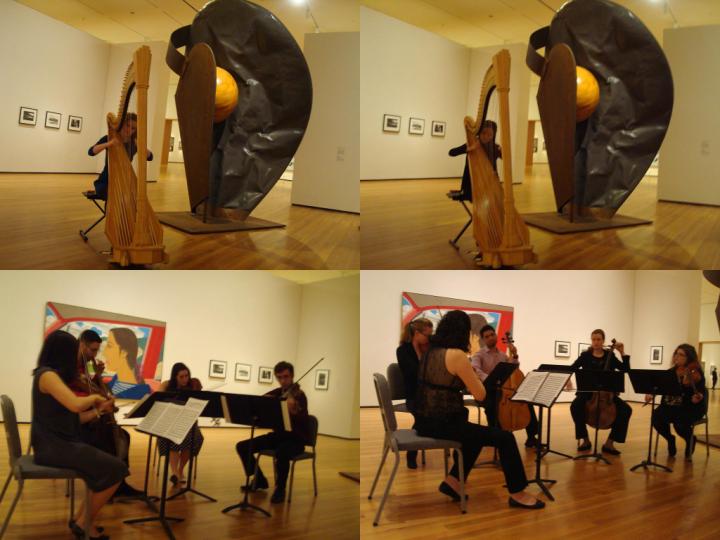 AN EVENING OF MUSIC AT THE CLEVELAND MUSEUM OF ART – HARPS, VIOLINS, VIOLAS, AND CELLOS!
Young Artists from the CIM/CWRU (Cleveland Institute of Music/CaseWestern Reserve University) Joint Music Program played compositions from Boccherini, Handel, Mozart, and other composers accompanied with harps, violins, violas, and cellos.
The free 50-minute long Music Program took place in Gallery 229 of the East Wing of the Cleveland Museum of Art located in University Circle on the evening of an overcast and cold Wednesday, April 6, 2016.
The program started at 6:00 pm in a gallery packed with about 80-100 attendees.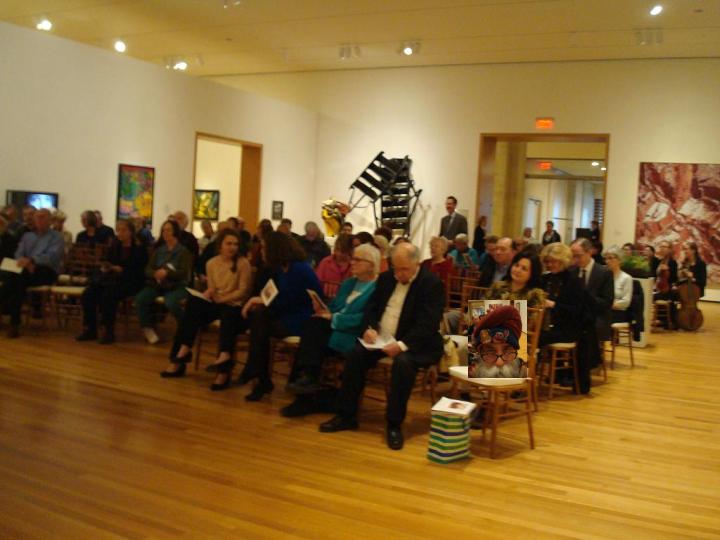 There were three harp solos, one Quartret, and one Quintet.
The first piece on the program was a harp solo by Grace Roepke playing "Prelude and Toccata" by George Frideric Handel (1685-1759).
The second piece was also a harp solo by Natalie Man playing "Suite Galactique, Op. 39" -- by Caroline Lizotte, American, born 1969.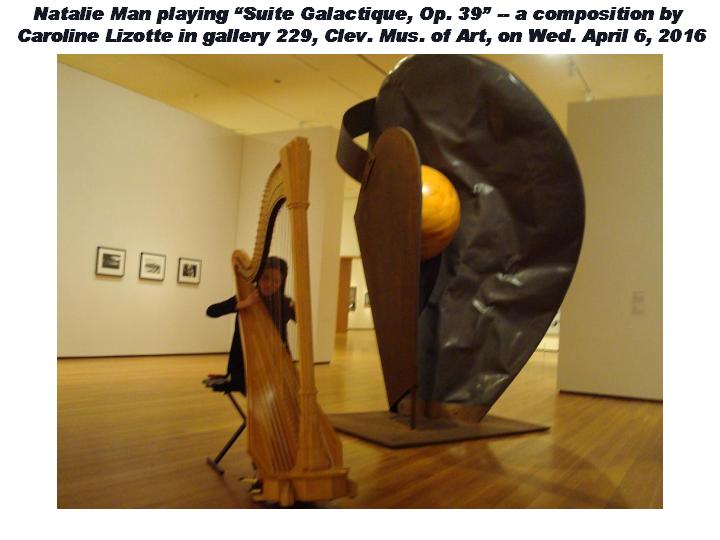 The third piece was also a harp solo by Rachel Hall playing "Sublimation" an award winning composition by Jeremiah Siochi (American, b. 1992).
Note: The link to the recording of the piece by Rachel Hall is at the top of the post.
According to Mr. Siochi:
"The most interesting aspect of the piece, to me, is the way it displays two different qualities of the harp —one that is percussive and rhythmic and one that is melodic and lyrical. Throughout its composition I asked myself how I could I make compelling new music for the harp. While not shying away from them completely, I didn't want to rely too much on the traditional idiomatic gestures of harp music. Percussive knocks on the soundboard comprise most of the opening section of the piece. Obviously the soundboard effect has been used many times in harp music, but I wanted to make this element the focal point of the work, almost treating the harp as a drum and establishing a rhythmic groove before even the suggestion of melody or harmony appears. The pitched notes do gradually build up and it does then transition to an unabashedly flowing and lyrical passage. There is both tension and a balance between these elements that drives the piece."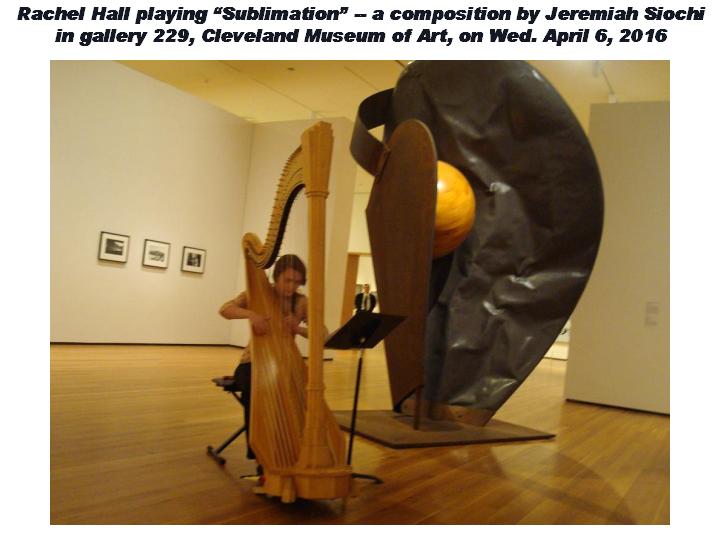 The fourth piece, a chamber piece, with Emily Choi, violin; Brendon Phelps, cello; Cynthia Black, viola; and Kevin Tompkins, violin -- playing from Quartet No. 19 in C major KV 465, "Dissonant" – I. Adagio – Allegro and II. Andante Cantabile a composition by
Wolfgang Amadeus Mozart (1756-1791).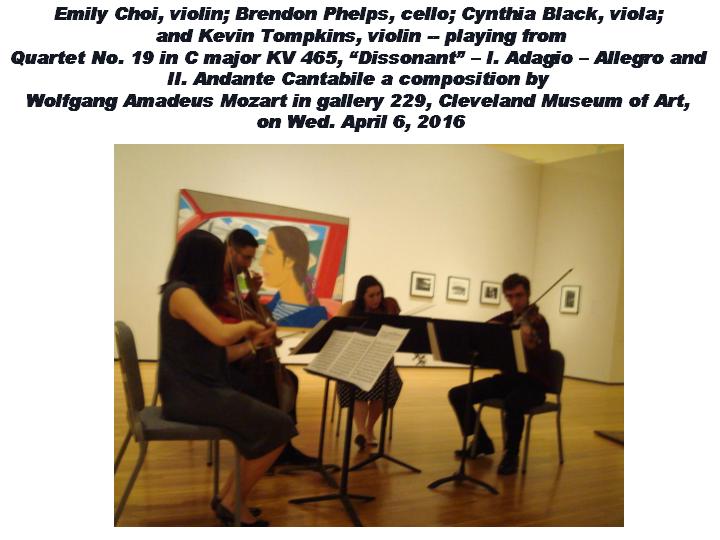 The last and fifth piece, also a chamber piece, with Karin Cuellar, violin; Alice Culin-Ellison, violin; David Esteban Escobar, cello; Eva Lymenstull, cello; and Allison Monroe, viola -- playing from Quintet in D minor, Op. 13, No. 4, G. 280: I. Allegro and III. Fuga
-- a composition by Luigi Boccherini (1743-1805).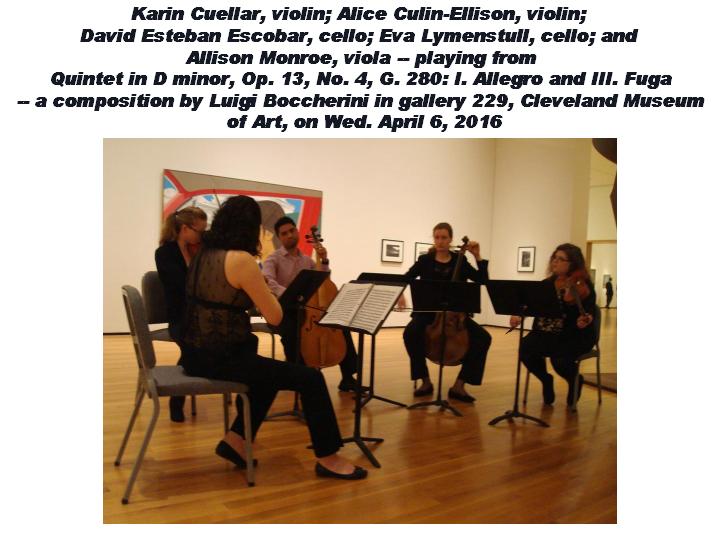 Gallery 229 has many art objects.
The following two show up in the photographs:
Standing Mitt with Ball; a 1973 steel, lead, and wood sculpture by Claes Oldenburg, American, born 1929.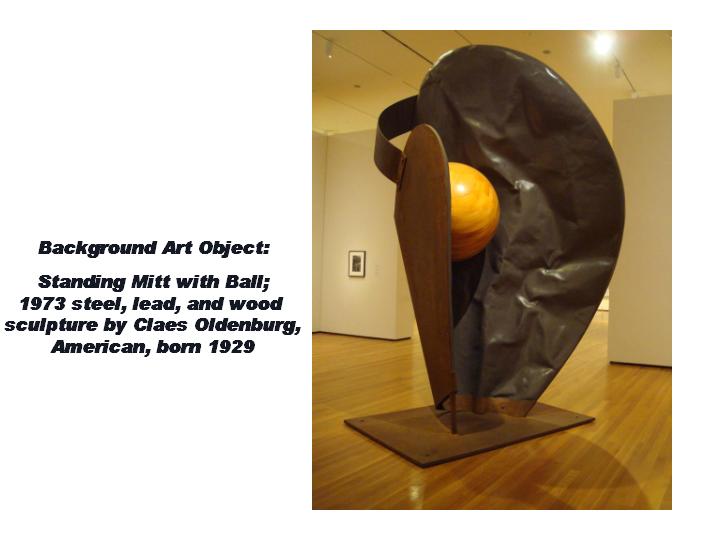 Impala, Oil on Canvas, 1968 by Alex Katz, American, born 1927.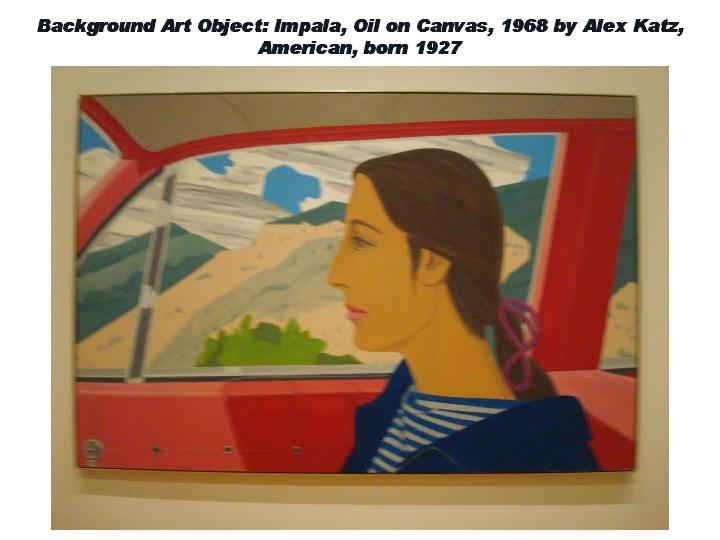 At the end there was a gallery talk on "Sunday Afternoon in the Country" , a 1917 Oil on Canvas painting by Florine Stettheimer, American, 1871-1944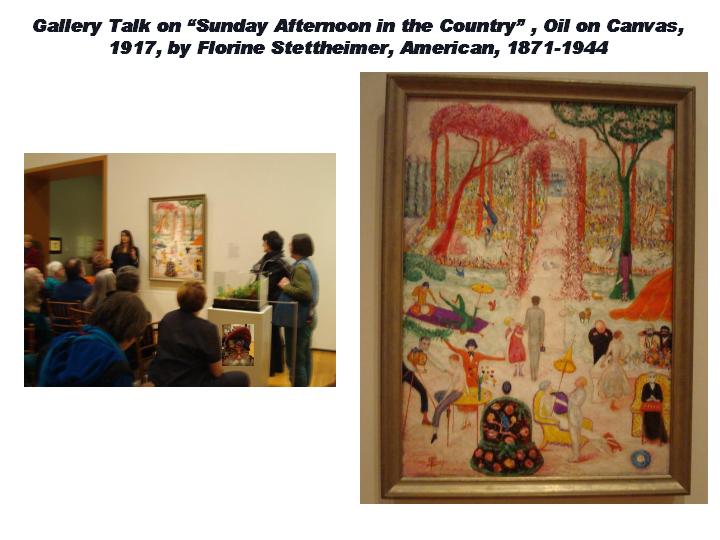 I enjoyed both the music program and the gallery talk.