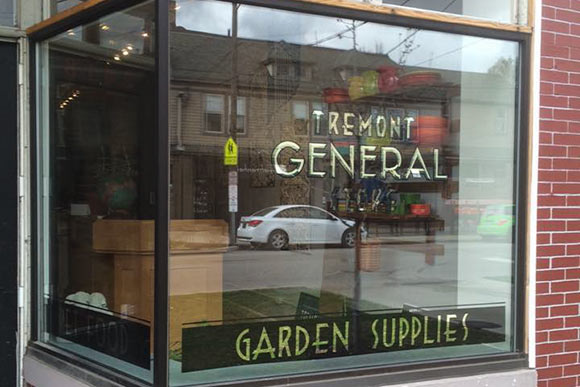 With much anticipation, Tremont General Store [2] opened its doors last Friday, Apr. 1 at 2418 Professor Ave. Owner Kevin Kubovcik's believes it will fill a void in the quirky neighborhood.

"The area needs a store where people can get milk and bread and eggs," explains Kubovcik. "A place for hanging baskets for their front porch or bloody Mary mix for Saturday afternoons."

The 2,000 square-foot general store will stock all of these items – with a local spin. Kubovcik will carry everything from farm fresh eggs, milk from Hartzler Family Dairy [3] in Wooster and cheese from Lake Erie Creamery [4] in the nearby Clark-Fulton neighborhood, to bread from On the Rise [5] in Cleveland Heights.

Even that bloody Mary and other cocktail mixes will be on hand from Pope's Kitchen [6], run by Clark Pope out of the Cleveland Culinary Launch and Kitchen [7] (CCLK) as well as a variety of CCLK products like Randy's Pickles [8], and Cleveland Kraut [9].

Area beverage brewers and roasters such as Inca Tea [10], Rising Star Coffee [11], Old City Soda [12] and Six Shooter Coffee [13] will fill also the shelves.

"Local foods are what I'm really going to concentrate on," Kubovcik says. "I want to be a hub for local artisan foods."

The store will also carry locally-sourced meats, plants and flowers. "I'm going to specialize in organic and heirloom," says Kubovcik of the plants. "I'm trying to get back to quality heirloom." He will also carry specialized, grain-free cat and dog food.

The plants will be in the site's 40- by 150-foot outdoor garden center, which will open when Kubovcik receives a fencing permit. It will stock hand tools, rakes, shovels and pruners.
"Everything you need so you don't have to go to Home Depot," Kubovcik says. "Even the tools are locally sourced." He plans to educate his customers on why his products are better.

The store's interior is festooned with re-purposed vintage ceiling tins. Many of the goods will sit on shelving salvaged from the shuttered Ridge Road Elementary School in Parma.

The concept for Tremont General Store came after Kubovcik went through a career change in 2010 when he left his corporate job to first grow lavender on an urban farm in Old Brooklyn and then serve as manager of the Detroit Shoreway's
Grace Brothers Urban Farm
in 2012 until earlier this year.

Kubovcik says the departure from Grace Bothers was amicable. "They love capitalism," he says. "We're on good terms. There's enough for everyone and people aren't driving to Tremont from West 65th Street to buy [their groceries]. In Tremont, it's even more so – it's a walking community."

He bought the Professor Avenue space with the help of investor
Alan Glazen
of Glazen Urban, LLC. "It's making a dream come true for me," he says, adding that
Tremont West Development Corporation
also helped the project come to fruition.

Tremont General Store is open seven days a week, 10 a.m. to 7 p.m. Monday through Friday, 10 a.m. to 6 p.m. on Saturdays and 11 a.m. to 4 p.m. on Sundays. Kubovcik has already hired one part-time employee and plans to hire a full-time employee to help in the garden center later this spring. He says he hopes the part-time employee will transition into a full time position as the store takes off.
Judging from last Friday's opening, which attracted 48 walk-in customers, 27 of whom purchased goods, the take off has already begun.
"It was awesome," says Kubovcik. "Many people have no idea of the concept of a general store."
http://www.freshwatercleveland.com/devnews/TremontGeneral040416.aspx [17]