Link to Video:https://www.facebook.com/100008875359296/videos/1601991190106711/ [1]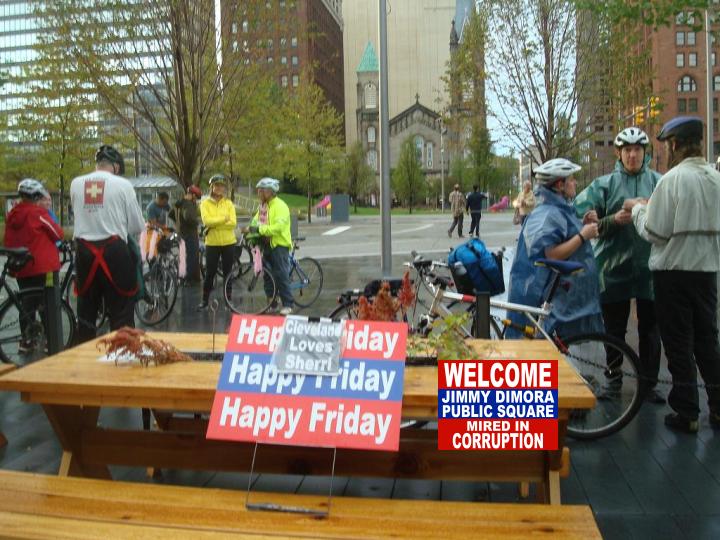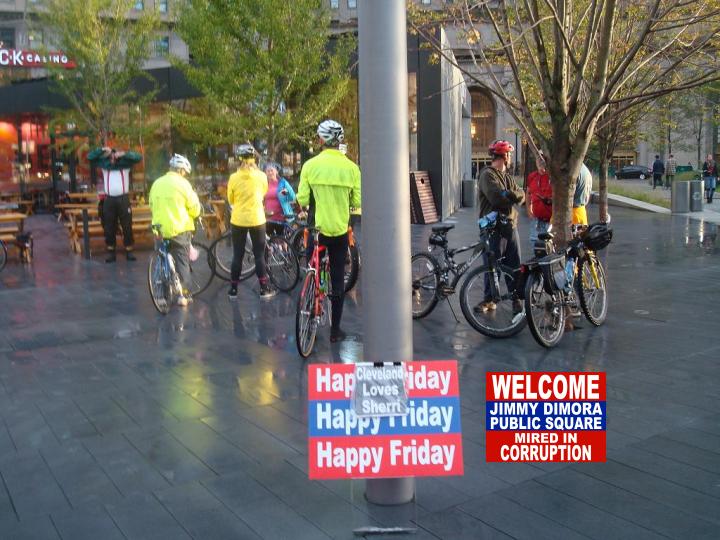 SEPTEMBER 2016 CLEVELAND CRITICAL MASS ROCKS IN DOWNTOWN CLEVELAND, OHIO!
With chants of Cleveland loves Shelli, Happy Friday, Welcome Jimmy Dimora Public Square – Mired in Corruption!
Note: The sign in the video and the slides should read "Shelli" not "Sherri".
Shelli Snyder – an avid bicyclist and yoga fan was biking from Cleveland to Seattle to relocate for love when she was struck from behind, on September 18 in Montana, by a car traveling at 60 mph. Shelli suffered a fractured skull along with arm and leg injuries and was listed in critical condition.
She helped to create Bike Cleveland and was a community advocate.
On September 28 Shelli Snyder returned to Cleveland in the Critical Care Unit of Metro hospital. She was initially in a medically induced coma. As of October 5, 2016 --Shelli is out of the medically induced coma and breathing on her own thru her tracheostomy. When awake she is moving her limbs on her right side and following simple commands. She is expected to be moved out of the CCU shortly.
Cleveland loves Shelli and wishes her a speedy and complete recovery.
Taped on a cool and overcast evening of Friday, September 30, 2016 in downtown Cleveland, Ohio – as the bicyclists converged in the renovated Public Square, a.k.a. Jimmy Dimora Public Square adjoining the Rebol café and later headed eastbound through the Square past the Soldiers' and Sailors' Monument and then along Euclid Avenue towards Coit Road Farmer's Market for an evening of fun, food, and drinks.
The recently completed Public Square, a $50 million bogus project, has been nicknamed the Jimmy Dimora Public Square because of corruption involved in the process.
So far, since August 2014, there have been over 850 hours of demonstrations – first with the LEAVE PUBLIC SQUARE ALONE signs and now with WELCOME JIMMY DIMORA PUBLIC SQUARE signs. This is the equivalent of walking over 2,500 miles carrying a sign.
The demonstrations continue unabated with the goal of educating the public about corruption in Cuyahoga county.
Details of the campaign can be found on my blog at REALNEO:http://realneo.us/blogs/satinder-p-s-puri