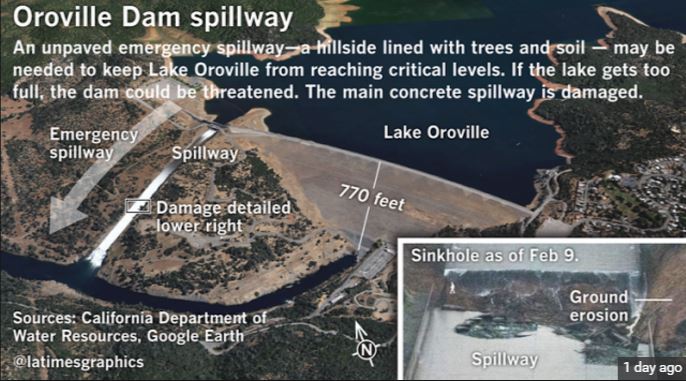 The image above from the latimesgraphics makes it look (at least to me) that the primary dam is concrete - it is not concrete - it is dirt! The prmary dam appears so vertical (camera lense issue) that I thought it had to be concrete - no, it's "engineered" compacted dirt.
The emergency spillway is dirt also - but the soil below the surface of the emergency spillway was never "engineered" - removed and replaced in a controlled manner. The fact that the emergency spillway was constructed over untouched virgin soils and rock (full of faults, cracks) is totally unprofessional, even criminal.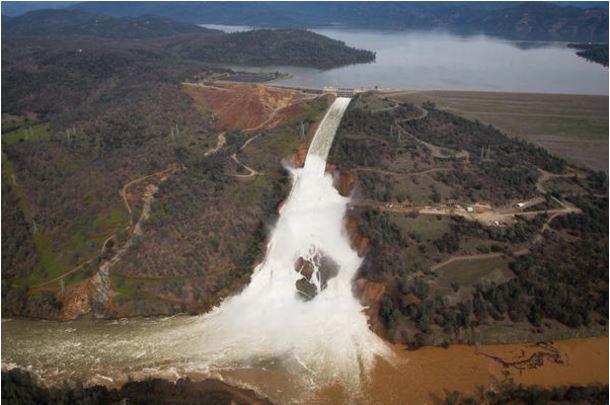 Here is a web site metabunk.org [1] which has a very thorough and detailed review of the Oroville dam spillway failure - but I disagree with the site's confidence that the dam itself is "not endangered".
What is not known is if there are geologic fissures or factures which will allow water to lubricate the soil and rock and thus decrease the arched concrete dam's compressive forces against it's left and right hand abuttments.
At 770 feet tall - and the water level inside the dam now with in about 20 feet of the top of the dam, the concrete dam is getting "lighter" - the specific gravity of the water is much greater that air and thus acts to "float" the dam and the soil against which the dam is compressively braced.
The geologic conditions in this area aren't ideal for a dam - there is soil, decomposed rock, and not much competent bed rock - look at the close ups of the spillway quite a way down on the website linked above.
Read more good info here at AmericanRivers.org [2] updated 2.16.17