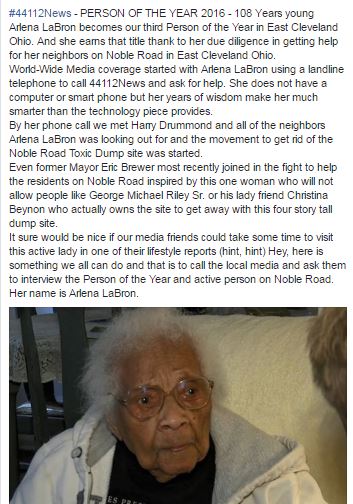 [1]
"How much is a healthier housing market worth? " [1]
[1] http://realestate.cleveland.com/realestate-news/2017/02/cuyahoga_county_money_for_demo.html

Michelle, why this propaganda piece now? How about putting the reports that Cuyahoga County Land Bank must submit to Cuyahoga County administration on line for everyone to see?
ToLaura McShane Jan 24 at 9:37 AM
Thanks Ms. McShane. Development will work on this request.
Mary Louise
________________________________________________________________________________________
Mary Louise Madigan | Director of Communications
Cuyahoga County Executive Armond Budish
Cuyahoga County |2079 East 9th Street, 8th Floor Cleveland, OH 44115
P: 216.698.2521 C: 216.210.4712| mlmadigan [at] cuyahogacounty [dot] us
Subject: FOIA request for all reports pertaining to demolitions funded by $50M County demolition fee - and any additional reports requested by members of County Council since the Land Bank's inception:
Dear Director Carter,
I am requesting full electronic copies of these bi-annual reports for all years of operation while the Cuyahoga County Land Bank has been in existence 2010 -present. I will be sending this request through certified mail - as well.
The Cuyahoga County's Department of Development was briefed on the status of demolitions in May 2016 - http://code.cuyahogacounty.us/en-US/CCRC-T8C807.aspx [3]
"The Land Bank shall bi-annually prepare and issue a report to Council and the Director of Development, which shall include a list of all demolitions of structures owned by the Land Bank which are funded, in whole or in part, by the property demolition fund. The Land Bank shall further provide any information as may be requested by members of Council or the Director of Development. "
Michelle Jarboe, The Plain Dealer 6 hours ago
@LauraMcShaneCLE -
Thanks for commenting. This isn't propaganda. I attended a public meeting this week where there was a detailed briefing on the status of the demolition program and housing market trends in the county.
Data from that meeting and follow-up interviews went into the interactive map posted with this story. You can scroll over the map to see completed demolitions and the ownership/classification of the property prior to demolition. Materials from that meeting are posted online here: http://council.cuyahogacounty.us/en-US/reports.aspx [4]
Are you saying you're interested only in the land bank parcels and not in how and where the demolition money is being spent by municipalities?
Michelle
LauraMcShaneCLE 4 hours ago
@Michelle Jarboe, The Plain Dealer @LauraMcShaneCLE I am saying - it's very odd that I sent a FOIA request and instead of actually putting the land bank reports online Mr. Surratt (who has still not replied to my request) had this public meeting and put out a very brief and not very informative report that apparently satisfies their public spin on transparency. There are several pots of money being used to demo properties - in East Cleveland, I am very sure that the Cuyahoga County Land Bank will not try to use their TARP monies - and will instead employ the $50 M slush fund set up as a complex repayment. That way East Cleveland is doing the demolitions and the money trail is intentionally comingled the same way the trash at Arco-Noble Rd. site is so conveniently comingled.
Michelle Jarboe, The Plain Dealer 3 hours ago
@LauraMcShaneCLE -
Thanks for commenting. Ken Surratt told me that he wants to put all of the demolition program information online and provide a database for the public. It sounds as though that's something the county is working on.
Yes, there are multiple pots of money that are being used to demolish properties - the county reimbursement funds, available for use by the land bank and by municipalities demolishing properties including privately owned homes that have been condemned, and the federal Hardest Hit Funds, which generally flow to land banks that already control the houses they're demolishing.
Much of the money is limited to one-to-three family homes, though the county funds can be used for commercial demolitions, up to a $100,000-per-property cap. The city of Cleveland also uses community development block grant funding for demolition.
I can assure you that the county's $50 million demolition fund is not the only money used to raze blighted structures in East Cleveland.
To be clear, a Cuyahoga County Council committee convened the public meeting I attended, where there was a report on the demolition program, a report on tax-lien sales and a report on the housing market.
Michelle
LauraMcShaneCLE 52 minutes ago
@Michelle Jarboe, The Plain Dealer - thank you for not deleting my comments and also for sharing information that should not be so difficult for residents to understand. Former EC Mayor Gary Norton is rumored to now be working at the Cleveland Clinic. In addition to the properties demo'd by the Land Bank - there are City of East Cleveland demo'd properties through the County $50M demo fund - and, those contractors are selected by the Mayor of East Cleveland. Who are those contractors? How much did they charge East Cleveland? And, where did the demo debris end up? Arco? Was Michael Riley also demo'ing properties w/his company Red Rock LLC and dumping at the Arco-Noble Rd dump site? Eric J Brewer shared this on FB: "Pay attention folk. The rats are turning on each other. Cleveland Heights Mayor Cheryl Stephens says here she's concerned about the illegal dump in East Cleveland and blames recalled and disgraced ex-Mayor Gary Norton. I've heard he's now working for Cleveland Clinic.
But Stephens works for the county landbank led by ex-Cleveland councilman and ex-county treasurer James Rokakis who's employees awarded demolition contracts to companies dumping hundreds of toxin-contaminated homes in an illegal dump behind residential homes in East Cleveland. The Ohio EPA's inspections reveal the illegal dump operator wasn't recording the identities of the landbank's contractors. I've been informed that landbank officials are telling demolition contractors to illegally dump on vacant landbank properties all over Cleveland.
Here's the scheme that's been shared with me. Arco was charging $7 a cubic yard to dump. It cost $12 and more at legitimate construction and demolition debris landfills. Investigating authorities, curious citizens and reporters should learn if Rokakis, Gus Frangos, Stephens and other landbank officials were awarding bids with the $12 dump fee and sending demolition contractors to Arco to save the $5; and then splitting the $5 between themselves.
There's close to 2 million cubic yards of waste. At $5 multiplied by 2 million that's $10 million. I'm aware that Rokakis and Frangos lobbied to get demoltion costs per house increased from $10,000 to $12,000. I paid an average of $6000 to $7500 on East Cleveland demolition contracts.
I don't blame Cleveland Heights officials for their concern. But the person they'd better begin investigating is their own mayor"