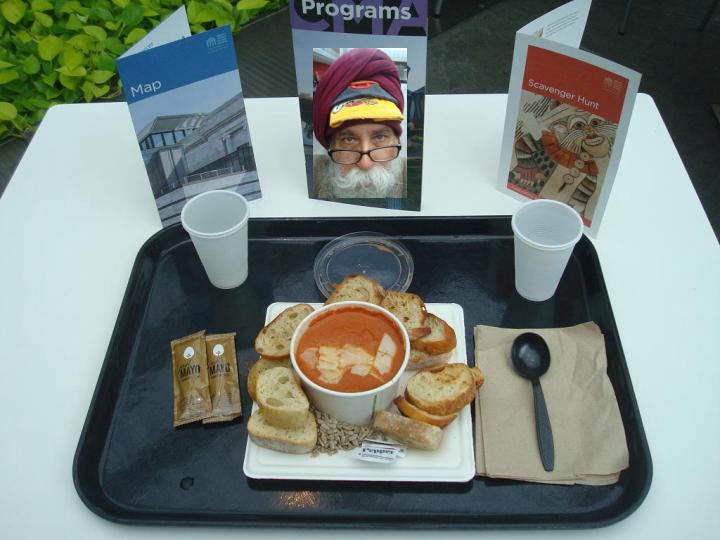 GIVE ME ART AT THE CLEVELAND MUSEUM AND ALSO A VEGETARIAN MEAL AT THE PROVENANCE CAFÉ!
Photographed on the evenings of April 18 and 25, 2017.
The vegetarian meal at the Provenance Café in the new atrium consisted of tomato soup topped with cheese, ample pices of fried bread, sunflower seeds, and Cleveland water.
The art objects are from the current exhibition (Basquiat – The Unknown Notebooks) from the works of the late Jean-Michel Basquiat (1960-1988) – a New York artist. The last day of the exhibition is Sunday, April 23, 2017.
The objects vary from small scale – pagess from school composition notebooks (8.5 in. x 11 in.) – to large size (approx. 7 ft. x 7 ft.) paintings.
I saw the exhibition on two evenings.
Even though a trip to the CMA for someone like me who uses public transportation – takes up to 2-hours each way – --- every visit remains an experience of unparalleled joy.
According to the CMA website:
"Brooklyn-born artist Jean-Michel Basquiat filled numerous notebooks with poetry, wordplay, sketches, and personal observations ranging from street life and popular culture to themes of race, class, and world history. The first major exhibition of the artist's notebooks, Basquiat: The Unknown Notebooks features over 150 pages of these rarely seen documents, along with related works on paper and large-scale paintings.
A self-taught artist with wide-ranging interests, Basquiat was influenced by comics, advertising, popular culture, African American history, and everyday life. Basquiat:
The Unknown Notebooks emphasizes the distinct interplay of text and images in Basquiat's art, providing unprecedented insight into the importance of language in the artist's process.
A fully illustrated catalogue accompanies the exhibition."