What ever we do in life it helps the operation run smoothly if we practice.
Recently the United States has developed - with a green light from POTUS - a new "tone" - anger, antimosity, bias, venum. None of these will result in long term positive change.
So back to practice...
The Southern Poverty Law Center has developed a guide book with suggestions on how to respond to hate which you can view here [1].
Their 10 points: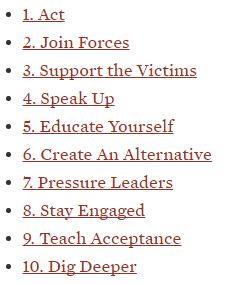 Whether it is hate in Euclid, Ohio or Charlottesville, Virginia we need practice to respond adequately.
Links:
[1] https://www.splcenter.org/20170814/ten-ways-fight-hate-community-response-guide
[2] http://li326-157.members.linode.com/system/files/southern_poverty_law_center_advice_regarding_responding_to_hate.JPG