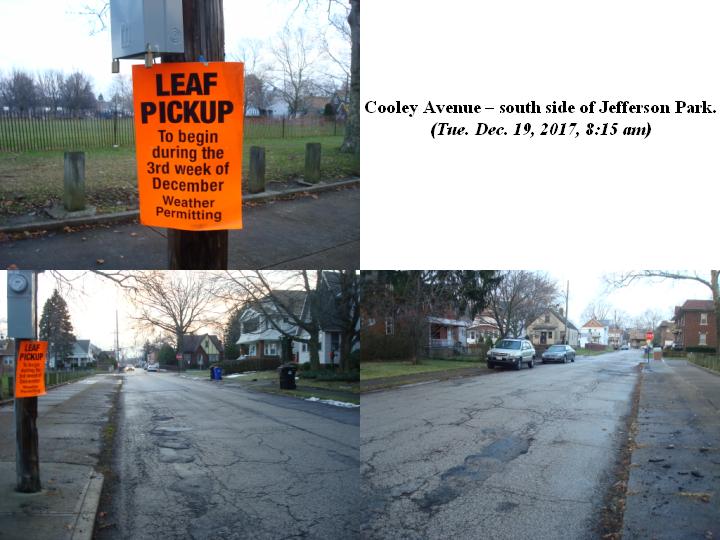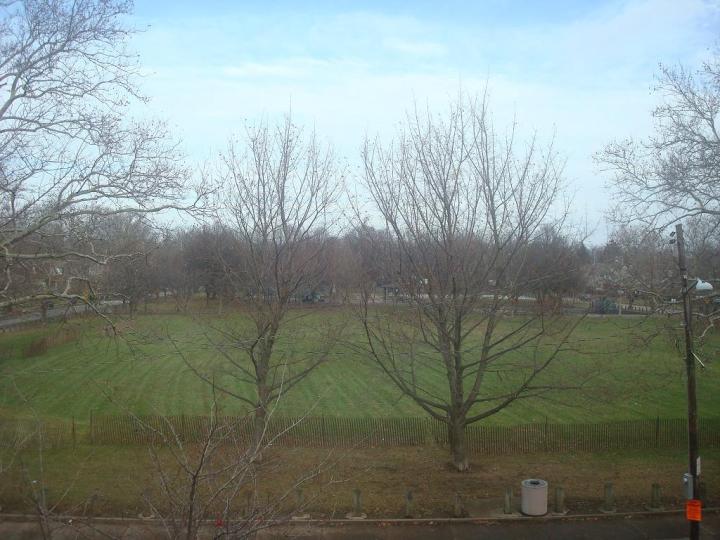 WITH NO LEAVES PILED-UP IN THE JEFFERSON PARK AREA – "CITY OF CLEVELAND" PUTS UP "LEAF PICKUP" NOTICES & ENGAGES IN A MASSIVE REMOVAL OPERATION ANYWAY
As someone who walks (no car) in the neighborhood – you can imagine my surprise when I saw the notice from the "City" re. "LEAF PICKUP" posted on a pole opposite our house located on the south side of Jefferson Park (see first photograph).
The notice was first observed on the morning of Tuesday, December 19, 2017 –a true spring-like day with the temperature near 50 deg. F (see second photograph).
Not having observed any leaf pile-ups along the perimeter streets of the park (Cooley Avenue, West 132nd, and West 133rd ) -- I was a little taken aback.
I looked around both sides of Cooley – and confirmed the absence of leaves – both on the ground and also on the trees (see second photograph).
As far as I can remember – the leaves in our area are bagged and were picked up during the weekly Tuesday morning garbage pickups in late November and early December.
Later on my way to school – I saw an identical notice along West 134th Street – and of course I looked around and confirmed the absence of leaf pileups (see third photograph).
On my way back from school in the evening (it was dark and the lights were on) -- I was a little surprised, as I was walking down West 134th, to see the traffic backed up. A huge "City" truck was moving slowly (north-bound). The truck had at least one or two "City" vehicles behind. It took a while to figure out that the truck was trying to remove the leaves along the curb. Of course there were no leaves to remove as the third photograph shows very clearly.
I played solo tennis in the park in the evening. I was there from around 7:30 to 9-15 pm. During this time – I heard the "City" vehicles move along West 132nd Street – north-bound. I had walked the street, a few days earlier, before the snow came down – and don't recall seeing any leaf pileups along the curb – waiting to be removed.
Because of the spring-like day -- I was more absorbed in enjoying it than having to worry about our "City" engaging in a massive leaf removal operation – when there were no leaves to remove in the area.
That the redundant removal operation was observed under cover of darkness – added a certain amount of comedy to it.