Orchid Mania returned to the Cleveland Botanical Gardens this past weekend. This years theme is blossoms and butterflies. Hundreds of blooming orchids are everywhere. Artificial butterflies made of feathers and artistic renderings of butterflies represent the lepidoteran half of the theme. There are also some live butterflies in the glass house, however they were asleep during the preview party Friday evening.
The entrance to CBG was decorated with delicate twig garlands covered with butterflies and cut orchid flowers.
SAFMOD Dancers in colorful costumes that suggested flowers and butterflies entertained the crowd at the preview party.
Few flowers can rival the orchid in beauty. Orchids are extraordinary in the range of colors, shapes and sizes they come in.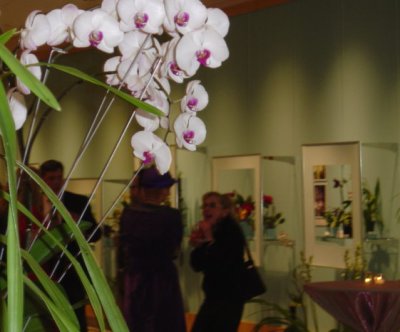 The slipper orchid ...
Foliage with metalic gold pattern ...
The designers of the event came up with the concept of presenting the orchid as art by arranging groups of potted orchids like paintings behind frames along a gallery wall and like sculptures on pedestals. The Tiffany blue color used for the pedestals and pots also makes allusions to their jewel-like quality.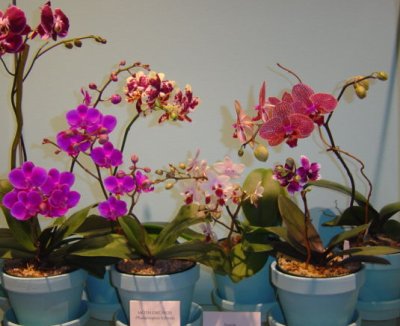 In Japan, flower arranging has long been accepted as an art, but not so in the United States. The flower arrangements using orchids on display in the auditoium will dispell any doubts.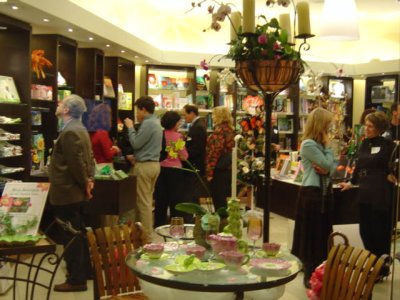 The gift shop is well stocked with orchids to take home, books about orchids, orchid jewelry, mouse pads, stationary. Great gifts if you known an "orchololic."
Interspersed with the live flowers were works of art by local artists. Paintings on silk of orchids and butterflies looked particularly harmonius.
In the gallery space upstairs unique textile butterflies by the local artist Jodi Kanter were on display. She dyes her own yarn and weaves the image then stretches it over half-circular bases.
You can wander CBG and just enjoy the beauty, but the show is really intended to be educational too. There are interactive activities for children to learn about orchids and butterflies, their is an exhibit about the 40 species of orchid that grow in Ohio. As Director Brian Holly said in a brief speach to welcome those who attended the preview, this is an opportunity to learn about sustainability.
Orchid Mania is going on now until March 26th.