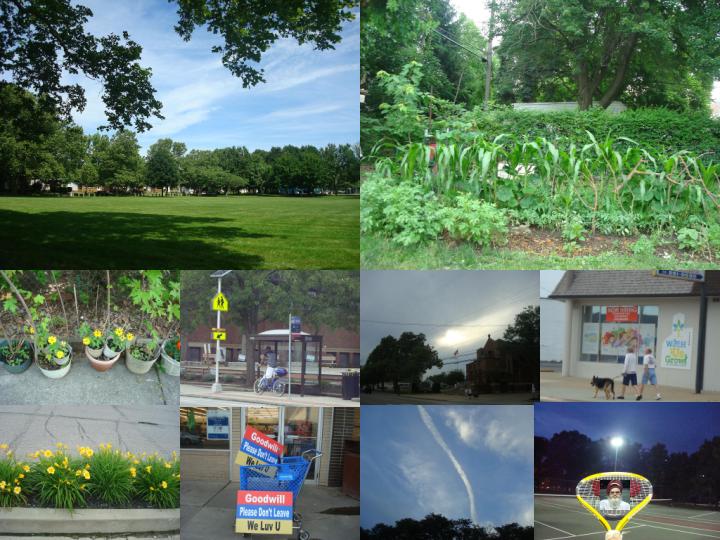 HAPPY FIRST DAY OF SUMMER, 2018 FROM THE JEFFERSON PARK NEIGHBORHOOD ON THE WEST SIDE OF CLEVELAND, OHIO
Thursday, June 21 was, officially the first day of summer.
According to the celestial data – the sun in Cleveland, Ohio – rose at 5:53 a.m. and set at 9:04 p.m – giving us a day with a length of 15-hours and 11 minutes – the longest day of the year.
It was sunny in the morning and partially cloudy in the evening.
It was a pleasant day – with a high of 79 deg. F. The record high was 98 deg. in 1988 and the record low was 39 deg. in 1992.
Expect the days to definitely get shorter – and hotter too before our part of planet Earth starts to cool off.
The shortest day will occur on December 21, 2018 -- the official start of Winter -- when we will have a 9-hour and 10-min. long day.
Then the days will start getting longer – and then shorter again -- in an endless dance in a mysterious Universe.
The photographs show Jefferson Park shortly before noon, summer flowers in and around houses, corn growing along Cooley Avenue – people going about their business on Lorain Avenue – walking with their pets or riding bicycles.
In the early evening, I demonstrated in the neighborhood and collected signatures to save Goodwill.
After sunset, I played tennis from 9:30 to 11:00 p.m.
From 10:00 to 11:00 p.m. – there was was a continuous burst of fireworks in the basketball area. I thought, for a moment, that it was in celebration of the start of summer – actually it was a reminder of the approaching Fourth of July celebrations. The fireworks have been going off for a couple of weeks now.