This past week, while going through the inventory of new books, I found an enchanting board book by elodie jarrett [1], a mysterious self-described French-Swedish designer. Her work led me to http://www.studiolaloretsgen.com/ [2] and the website of Marie Anne-Bruschi https://www.re-voirparis.com/a-propos/ [3].
Please visit her portraits of Parisians, and explore Paname - the neighborhoods of Paris. It helps that her Paris is presented as this lovely guidebook. I am very grateful this year for Front International and efforts by the Collective Arts Network (CAN Journal) [4] to promote Cleveland's wider geography of the arts. We must invite Ms. Bruschi here to curate the next Front Trienniel. [5] She has the panache and design skills to do the job right.
Wolf's Gallery is one of the places - you must visit for the "Cleveland is my Paris" experience. [6] The show organized for FrontArt closes on August 31st. If you missed the panel discussion on Cleveland: A Cultural Center. The discussion is archived here: http://wolfsgallery.com/films [7]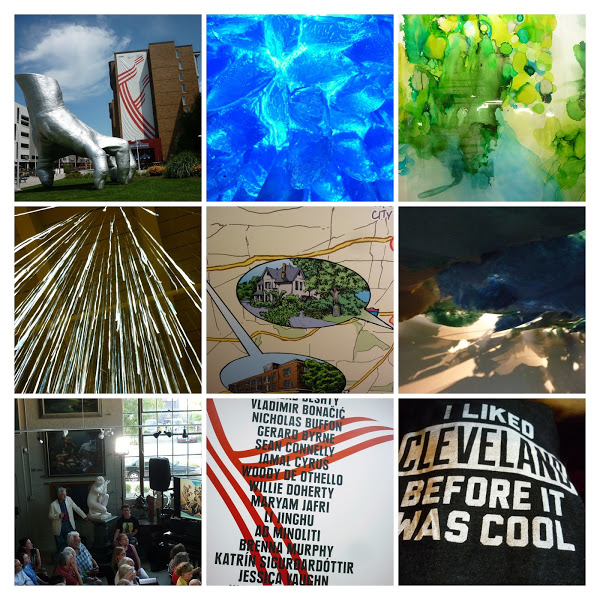 A few images from my Paris experience [8] this summer.
Links:
[1] https://www.thechildrensbookshop.co.nz/p/board-cloth-books-surprising-birds-lift-the-flap-colours--2
[2] http://www.studiolaloretsgen.com/
[3] https://www.re-voirparis.com/a-propos/
[4] http://canjournal.org/
[5] https://frontart.org/
[6] http://wolfsgallery.com/
[7] http://wolfsgallery.com/films
[8] https://www.linkedin.com/pulse/cleveland-my-paris-laura-mcshane/