Paul and Linda McCartney's Live and Let Die [1] was playing as I left my house today in this time of COVID-19. I had no human contact today - but thought I would ride the trail that is along the old Wheeling Lake Erie line. As anyone who know me, KNOWS - I am obsessed by the land bank and real estate schemes that have plagued our region since the 1990s. Developer Bo Knez is marketing homes along this trail. [2] I am not letting the COVID-19 virus stop me from exposing the Land Bank.
I rode across the Harvard Ave bridge to E. 56th (sad that Brick House has closed) along Park to E. 71st - where I connected to the Morgana Run Trail near Broadway [3]Here is the description from Rails to Trails: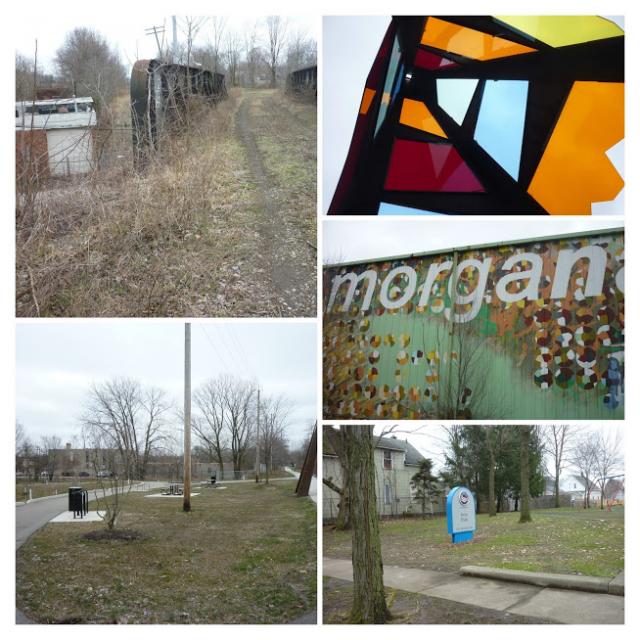 The Morgana Run Trail runs on a former Wheeling and Lake Erie Railway corridor through Cleveland's historic Slavic Village neighborhood. The paved rail-trail connects residents to Cleveland Metroparks' Garfield Park Reservation to the south, where trail users can view Mill Creek Falls, Cuyahoga County's largest waterfall. (Be aware that the link to Garfield Park includes a short stretch of travel on busy Broadway Ave.) At the trail's northern end, Washington Park and its new golf course is just a short trip away.
The trail also provides a safe route to schools and recreational facilities for the community's youth, as it passes directly by South High School, Stella Walsh Recreation Center, Union Elementary, the Boys & Girls Club, Cleveland Central Catholic High School, St. Stanislaus Elementary and Mound Elementary School.
I rode the trail and unfortunately can't add many photos to REALNEO - but here is a photo travelogue https://photos.app.goo.gl/cLsNhgccQp7nWa4e9 [4]

East 71st St and the City of Cuyahoga Heights [5]are vital to this trail connection. Think of the trail connection as a means to get to the Ohio and Erie Canal Reservation. The Cleveland Metroparks have already made a switch back to Mill Creek Trail. See: https://www.linkedin.com/pulse/finding-mill-creek-laura-mcshane/ [6] West Creek Conservancy has worked with the City of Cuyahoga Heights on Clean Ohio trail application - their existing trails at Bacci Park will soon have a trail connection to E. 71st that avoids the Willow Freeway cloverleaf.
There is an abandoned train line from the end of Jones Rd. terminus of Morgana Run that crosses over two trestles- one over Broadway and one over Harvard--that would allow a connection at Irma and E. 76th to connect with E. 71 St. Southbound to Cuyahoga Heights and Bacci Park, which feeds into the Metroparks' Ohio and Erie Canal Reservation.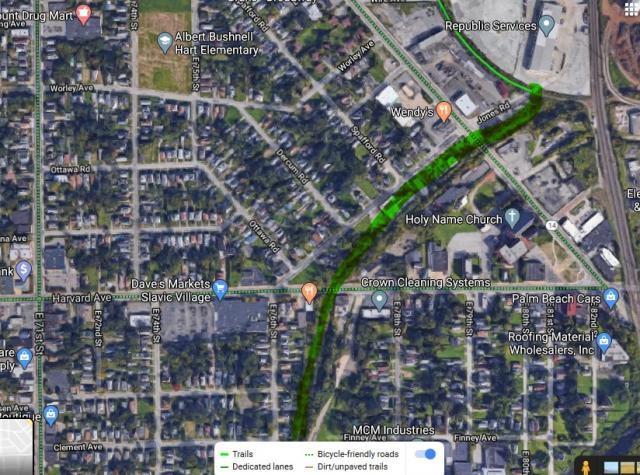 Now - here is what galls me: my friend Dave Vasarhelyi [7]died recently and he worked as a program manager at the Trust for Public Land. I know that he had to work within the dirty political landscape here. When I saw him this summer, he told me to keep on speaking out about the Land Bank.
Recently, the Plain Dealer put out propaganda citing a TPL study that indicated that Cleveland residents "suffer" from a lack of access to parks.
https://www.cleveland.com/news/2019/12/trust-for-public-land-highlights-5-cleveland-neighborhoods-that-most-need-a-new-park.html [8]
Back to the Cuyahoga Land Bank. First off - the study cited in this article is blatant BS.
Cleveland has a total of 168 parks http://www.city.cleveland.oh.us/sites/default/files/forms_publications/2018CityParks.pdf [9]and even TPL acknowledges that 82% of Cleveland residents are within a 10 minute walk to a park. Secondly, the neighborhoods highlighted in the article are not devoid of parks and I find it odd that the TPL spokesperson quoted in this article neglects to mention neighborhoods that do suffer from park services (note I did not say lack of parks), which would be neighborhoods on the east side of Cleveland - certainly, NOT Old Brooklyn and Clark Fulton.
So, my little ride today revealed what I think is the ever-present agenda of the Cuyahoga County Land Bank to exploit the exploited. One of my most visited LinkedIn posts refers to proposed plans to end point-of-sale inspections in Maple Heights. Here is the Scene Magazine article that couched the real estate scam into racial propaganda:
https://www.clevescene.com/cleveland/maple-heights-mayor-annette-blackwell-on-the-successes-and-struggles-of-one-of-the-regions-oldest-suburbs/Content?oid=31515937 [10]
Sadly, I think that the strategy to "stage" development for preferred developers (like Bo Knez) - after an area (Slavic Village, Maple Heights, East Cleveland) is completely depreciated - will never work. And, as much as the three stooges (Rokakis, Frangos, Brancatelli) want it to happen on the east side of Cleveland, it will cave in, because Attorney Marc Dann has turned on his old friends (Dann employed Hatha - Brancatelli's wife, Gail Glamm's bogus company).
https://eyeonohio.com/taxpayers-lose-out-on-at-least-11-25-million-homeowners-and-banks-lose-up-to-80-million-in-little-known-foreclosure-process-that-skips-sheriffs-sales/ [11]
I am waiting for African-American representatives, like Maple Heights Mayor Annette Blackwell, to catch on. Stop letting your community be exploited. The gig is up.
And, this is my plea for the Metroparks to hire an African-American manager for the county-wide trail systems that WILL eventually link the east side and west side to the Cuyahoga River Water Trail and the Towpath Trail in our Cuyahoga Valley National Park and National Heritage Area. The Metroparks can stabilize our tax base. They must also work with Marc Dann to recover lost tax revenue and to shut-down the Cuyahoga Land Bank, now.
https://www.linkedin.com/pulse/metroparks-can-stabilize-cuyahoga-county-tax-base-laura-mcshane/ [12]