JEFFERSON PARK ON A SUNNY 39 DEG. F DAY
Wednesday, November 18, 2020, was a cloudless sunny day with no wind unlike the 70 mph gusts we had on the past Sunday.
I was out for 2-hours of activity – walking and solo tennis from around noon to 2:00 p.m. I walk in a counter-clockwise direction – similar to how our planet orbits around the sun.
I was well dressed for the weather – nine layers of clothing plus three mufflers, three woolen caps and a muffler under my turban, and of course gloves. Mostly I wear cotton gloves – but when it is cold and windy – I wear woolen gloves. The hands really freeze in the cold wind.
The sun was out in full glory.
At first there were no clouds – but by the time I left – a few clouds had shown up. After all this is Cleveland, Ohio. I have seen a bright sunny sky change to a fully overcast one in a matter of few hours.
The photograph shows the sycamores along West 132nd Street and a few clouds in the background.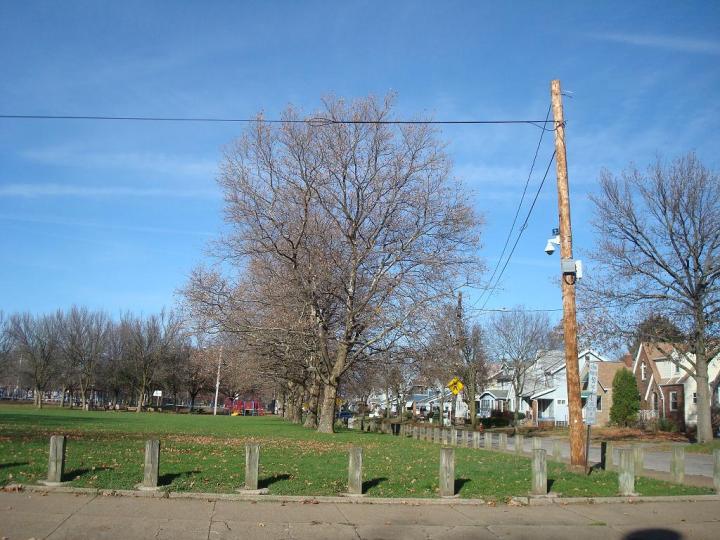 A few residents were out during the time I was in the park.
I saw two 7 or 8-year old kids riding their bicycles down West 132nd Street. Not sure whether they had remote learning today.
There were two residents walking their dogs, a resident (with a mask) taking a walk, and a jogger.
Here is a dog being walked in the northern portion of the park – directly below Lorain Avenue.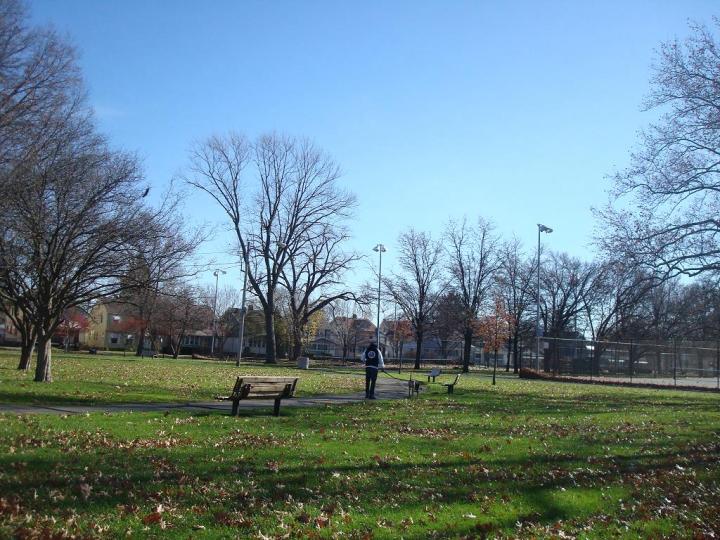 I was the lone tennis player.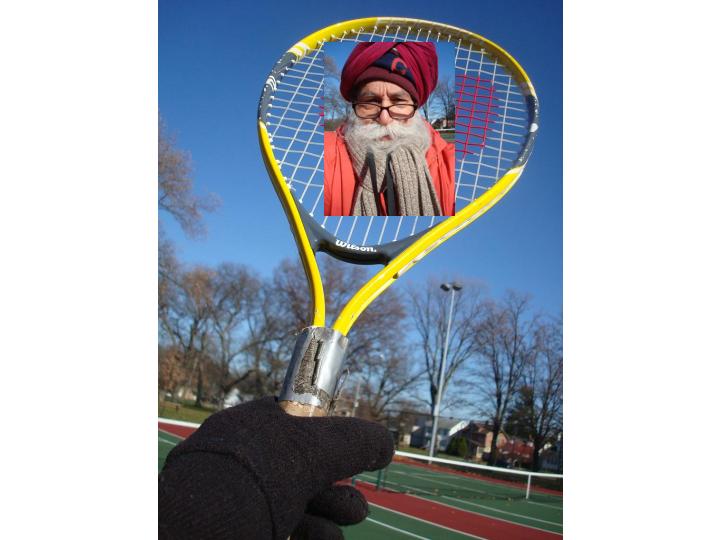 I am always looking out for animals and birds. Today I saw two squirrels in the northern portion – playing with one another. Here is one of them. Squirrels are very agile and hop from tree to tree. Squirrels are mammals. And while they use their front paws to hold objects – they are not primates like us humans but related on the evolutionary scale. In our house they are known for knocking down the sunflowers and feeding on the seeds.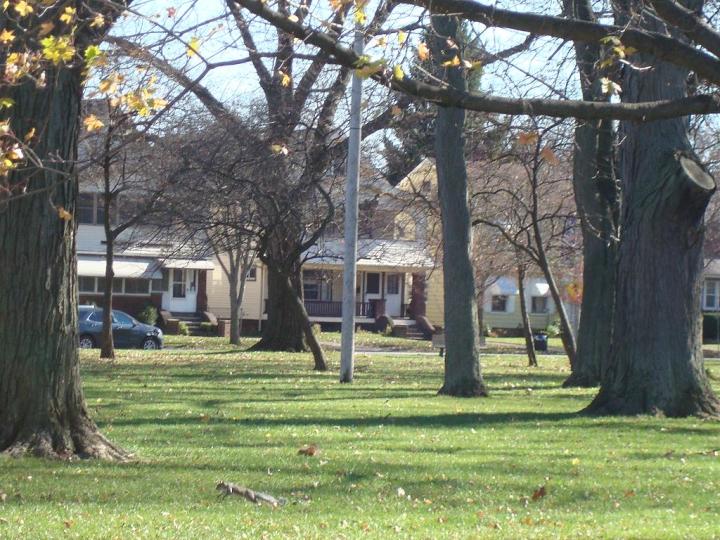 I did not see any birds today – but as usual – a number of airplanes – making roaring sounds on their descent to the Hopkins airport.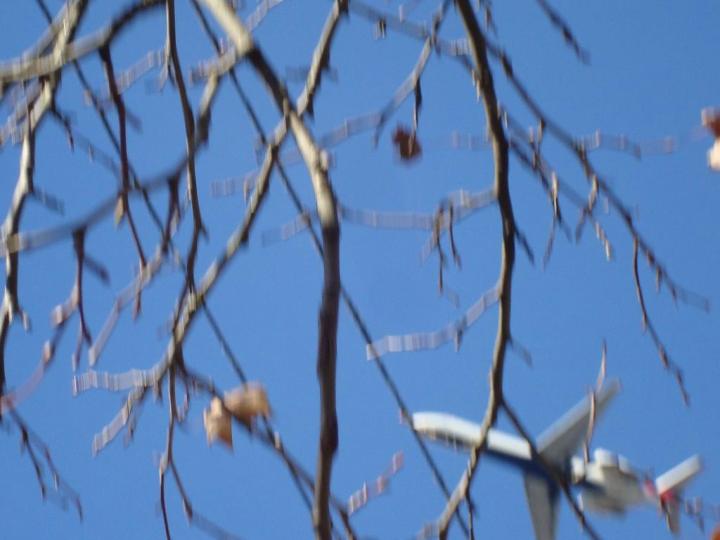 Most of the trees in the park have shed their leaves. Here is a leafless sycamore along West 132nd Street – slightly north of Cooley Avenue.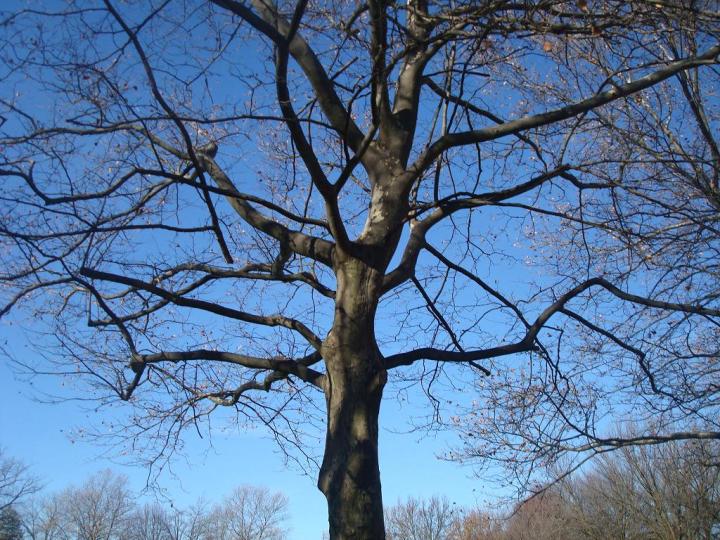 And two maples – with their some of their leaves still hanging on – on Cooley Avenue – directly facing our house.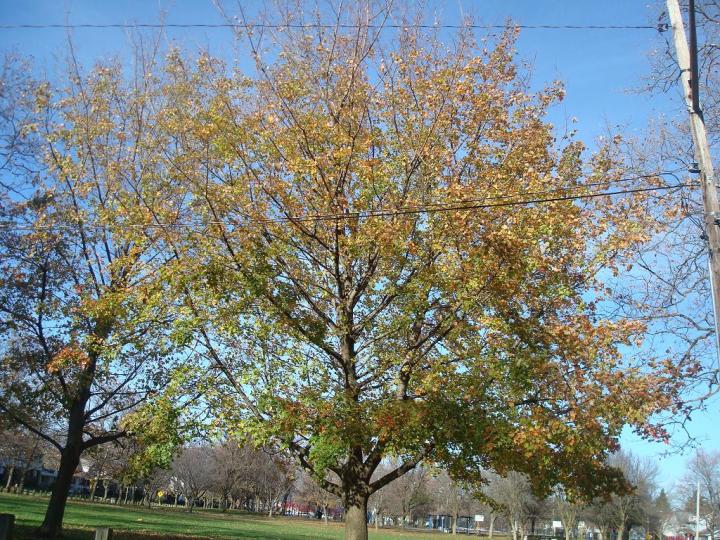 Enjoy the autumn – we still have a month to go before Winter arrives on December 21, 2020.