A 14-COURSE, HEAT & EAT, VEGETARIAN THANKSGIVING MEAL
I love Thanksgiving!
I have been enjoying the annual food-laden feast ever since my AIR INDIA plane landed in Chicago in September, 1966 – over 50-years ago.
For two years, I was the guest of the late Chester P. Siess and his family – a Professor of Structural Engineering, and my advisor, at the University of Illinois at Champaign-Urbana (twin campus towns 150-miles south of Chicago) -- where I was a graduate student.
I moved to New York City in 1968 where I met Sarah Puri, my late wife.
Sarah was a gourmet cook of Irish, Indian, American, and Chinese cuisines.
We used to entertain family and friends at the annual event – when we lived in Queens, New York City. Sarah's family used to drive down (500 miles) from Cleveland, Ohio to spend Thanksgiving with us.
Later when we moved to Cleveland in 2001 to be close to her family, the annual event was held at our house.
After she passed away in 2014 – I ate with family or friends for a year or two.
Now I make my own annual meal.
Being a vegetarian and not knowing how to cook even a simple dish from scratch – I am a heat & eat type of food consumer – most of the items I eat are available in precooked cans or packets. I empty the contents in a container – sometimes I can steam them in the packet -- turn on the microwave for the required few minutes – and wait for the food to come out – hot and mouth-watering. I add seasonings – salt, black pepper, red pepper, chopped onions, basil leaves, rosemary leaves, whole oregano, dill weed, chives, celery seed, ground cinnamon, and ground ginger – as required. When I am sprinkling in the seasonings – I have a lot of fun – a little of this and a little of that.
This past summer when I purchased fresh corn – I took off the husk and froze the corn to be eaten till next summer. I purchase the fresh veggies and fruit as required.
On Thanksgiving Day, November 26, 2020 – I prepared the following items:
1. Salad – baby carrots, celery, mini sweet peppers, tomatoes, mini cucumbers, and scallions.
2. Sweet corn on the cob.
5. Low-fat cottage cheese and multigrain corn scoops.
6. Canned tomato basil soup.
7. Precooked blend of broccoli, carrots, onions, sugar snap peas, baby cob corn, water chestnuts, and red peppers.
8. Precooked chick peas in curry sauce topped with chopped onions and a mini sweet pepper.
9. Grilled mozzarella cheeseburger on whole grain oat nut bread.
10. Fruit – fresh Fuji apples and canned mango slices.
11. Nuts – almonds, walnuts, pitted dates, and raisins.
12. Strawberry-banana low-fat yogurt.
13. 1997 Pindar (Long Island, NY) Chardonnay, V8 spicy hot vegetable juice, and Cleveland water.
14. Pumpkin pie topped with Butter Pecan ice cream.
While I was preparing the meal – I was supervised by Galena our golden retriever with a curly tail. Our three cats showed no interest in what I was doing. Tess and Duffie were relaxing in the dining room. Kara was upstairs and never came down. All our pets were rescued from outside.
Being a senior citizen – I don't have a big appetite – and so the cooked items will last for a couple of days.
Most of the items were obtained from our local Marcs supermarket.
The pumpkin pie (in the original container with foil and a bow) was a gift from Mrs. Larson who is a very learned and dedicated first grade teacher at Riverside School. I have been teaching science to her young scholars for a number of years. I am a volunteer teacher – this past year was my 15th.
The wine comes from the Pindar Vineyards on the south shore of Long Island. Sarah and I (being car-less New Yorkers) used to take the Long Island Rail Road to the small town where the winery was located – walk for miles to the winery – taste the wines – and bring some bottles back with us. I did not have the heart to open the bottle – the sight of the colorful label brought back fond memories.
The geranium plant is from our sun room – where the remaining perennials – brought inside for the winter are thriving.
The celery stalks and the scallions in the glass added to the décor.
Today was an overcast 50 deg. F day. I took a one-hour walk in the late afternoon in and around Jefferson Park – it was abandoned.
Could not play tennis because of the wet courts. Except for a few leaves on the maple trees in front of our house – the remaining trees were leafless – making the park look very transparent. The view of the park is from our attic window located on the south side.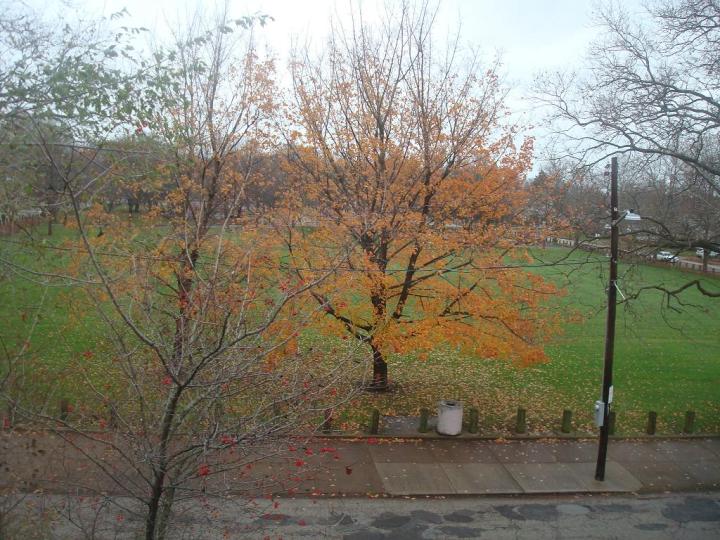 The preparation took nearly 2- hours – and I enjoyed every minute of it.
I am truly grateful to the Food Industry for making this meal possible.
Trust every one had a Happy Thanksgiving.
Enjoy the rest of the autumn season.