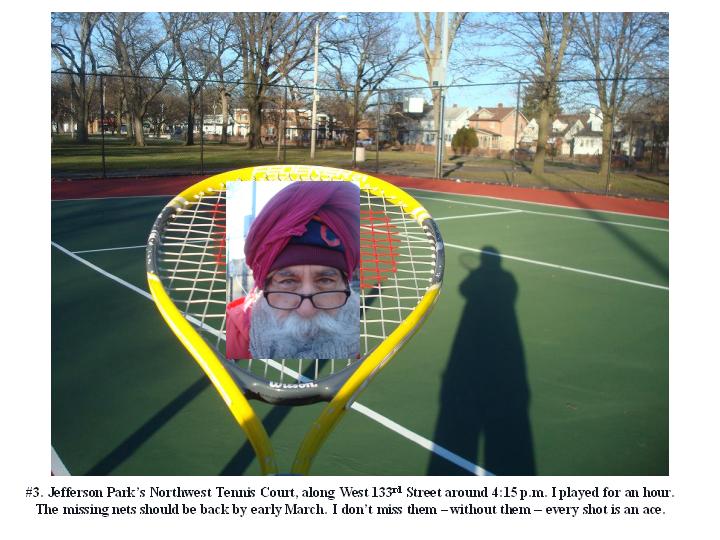 OH, WHAT A BEAUTIFUL DAY TO PLAY SOLO TENNIS IN CLEVELAND'S JEFFERSON PARK -- NO SNOW, SUNNY, & 27 DEG.F
Saturday, January 23, 2021 – was a nice day.
For a change it was mostly sunny – the snow that had been predicted for a few days – never came.
Actually, it was overcast in the morning – then by early afternoon – the clouds started to move away. Since January 1, according to my records, – we have had 15 overcast days – and the rest sunny or partly sunny days.
And the sprinkling of snow we got a few days ago – was mostly gone – meaning it was safe for me to walk on the sidewalks without slipping on the ice.
So at 2-15 p.m. I set out – both to play tennis, walk, and also go grocery shopping to our neighborhood Marc's.
The last time I was out to play tennis and go out for a walk was on Thursday, January 15 – when it was partly sunny and a pleasant 46 deg. F spring-like day. I don't go out when there is snow on the ground. I wait for it to melt. At my age, so far, I am in no hurry to go anywhere.
The first photograph shows a view of Jefferson Park from Cooley Avenue, looking slightly northwest, around 2:30 p.m. on January 23, 2021. The clouds that you see – slowly moved away. The snow on the ground is from a light snowfall – a week earlier.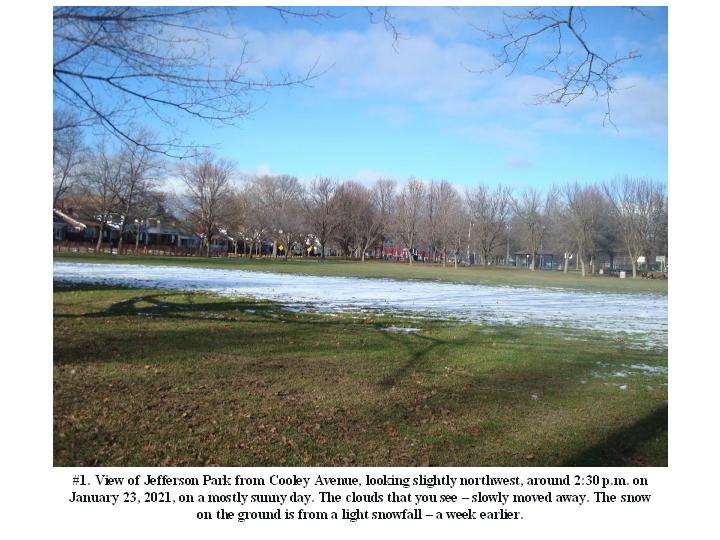 On my way to Marc's I saw that the Electronic Display, outside St. Vincent de Paul's Church on Lorain Avenue and West 134th Street confirmed the day's temperature -- as shown in the second photograph. I love SVDP – it was my late wife's church – and I have been inside many times – and every time I have found the music and the architecture very uplifting for the soul of a non-religious person like me.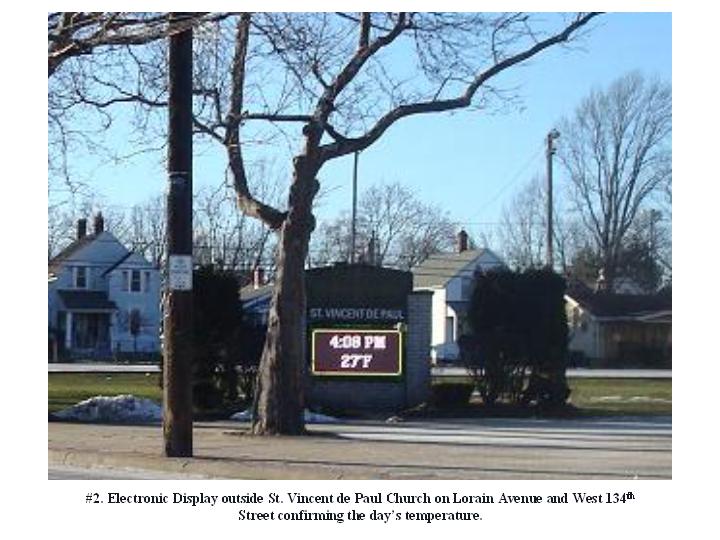 The third photograph shows Jefferson Park's northwest tennis court, along West 133rd Street around 4:15 p.m. I played for an hour. The missing nets should be put back by early March. I don't miss them – without them -- every shot is an ace.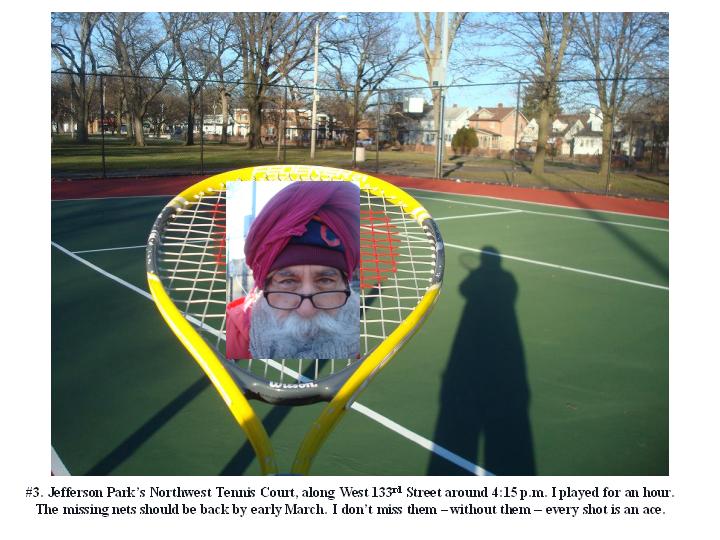 Whenever I am playing tennis – I have my pocket-sized digital camera around my neck. As I move from one side to the other – I look around for changing patterns in the clouds, the planes passing overhead, the birds (hardly any nowadays), the leafless trees, and anything that catches my eye. And I am quick to take photographs right away. Well, today as I was admiring the almost cloudless sky I was suddenly taken aback.
I saw the rising moon, high up in the eastern sky, barely visible above Jefferson Park's tennis court at 4:51 p.m., while the sun, in the western horizon, shortly before setting was photographed at 4:57 p.m. It is such a rare sight to be standing on planet Earth, and see our only moon and the distant sun at the same time.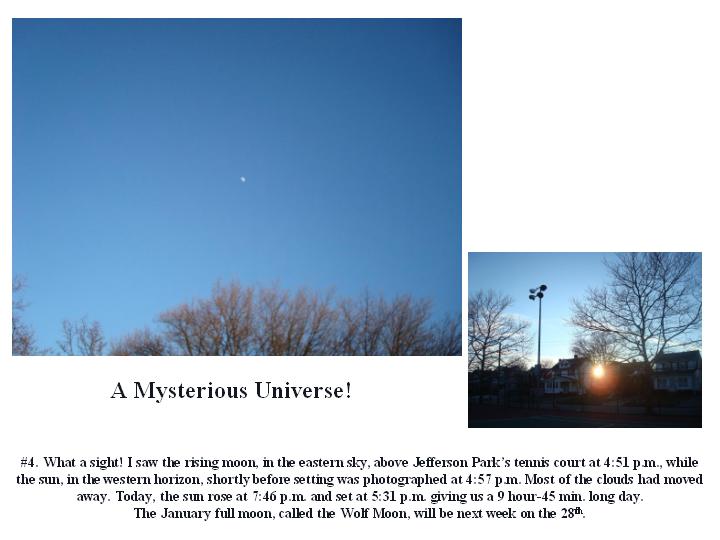 Today, the sun rose at 7:46 p.m. and set at 5:31 p.m. giving us a 9 hr.-45 min. long day. On December 21, 2020 – the first day of winter – also the shortest day of the year – the day was 9 hr. – 10 min. long. So far we have gained 35 minutes. On March 21 – the first day of spring – the day will be over 3-hours longer –- 12 hrs. - 13 min. to be exact.
Enjoy the remaining two months of winter – they should fly by!