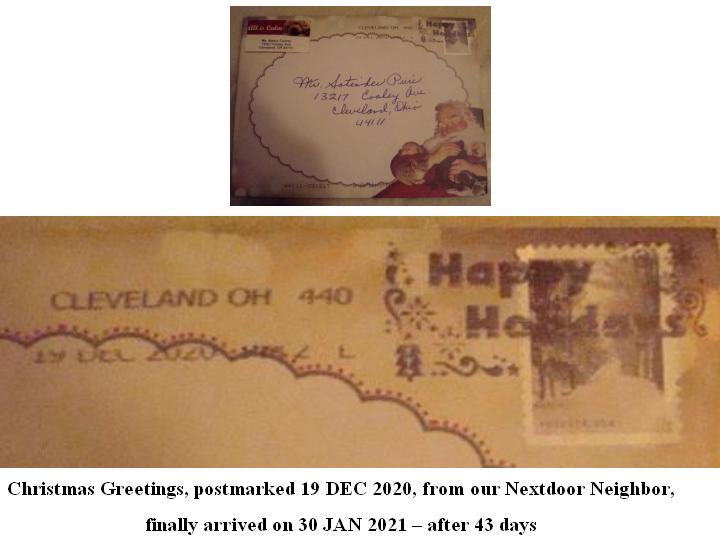 CHRISTMAS GREETINGS FROM NEXTDOOR NEIGHBOR, IN CLEVELAND, OHIO, FINALLY ARRIVED AFTER 43 DAYS!
WE SAY MERRY CHRISTMAS – USPS SAYS HAPPY HOLIDAYS!
A very loving Christmas card from our nextdoor neighbor, on the south side of Jefferson Park, postmarked on December 19, 2020 – finally arrived in our mailbox on Saturday, January 30, 2021 – after 43 days of traveling from postal facility to postal facility and who knows where.
The mail delivery, this past holiday season, was very very slow to say the least.
People who were supposed to get packages in December 2020 are still waiting for deliveries from the United States Postal Service (USPS). I am still waiting for a package ordered in mid-December.
The delays have been blamed on postal workers being out sick because of Covid-19 and an unexpectedly high volume of letters and packages.
Some packages may have got lost – and may never get delivered.
If you are still waiting for a delivery from USPS – the link to the following article in the Washington Post – while 1.5 months old – may provide some reassurance that you may finally receive the gift that you have been patiently waiting for.