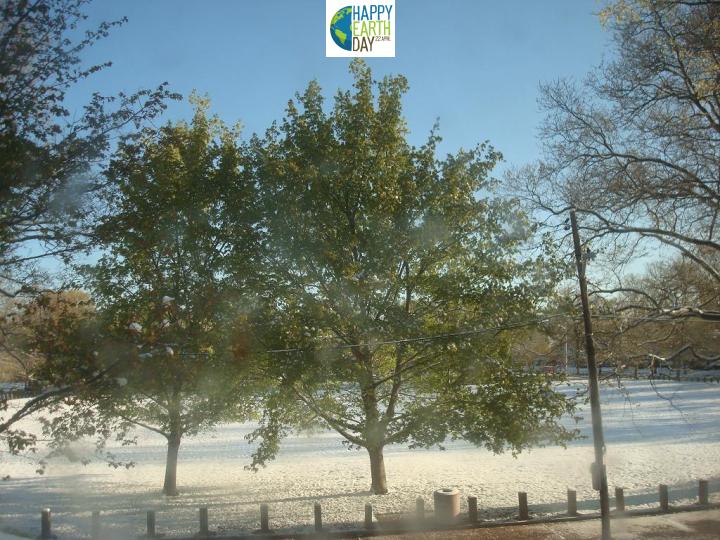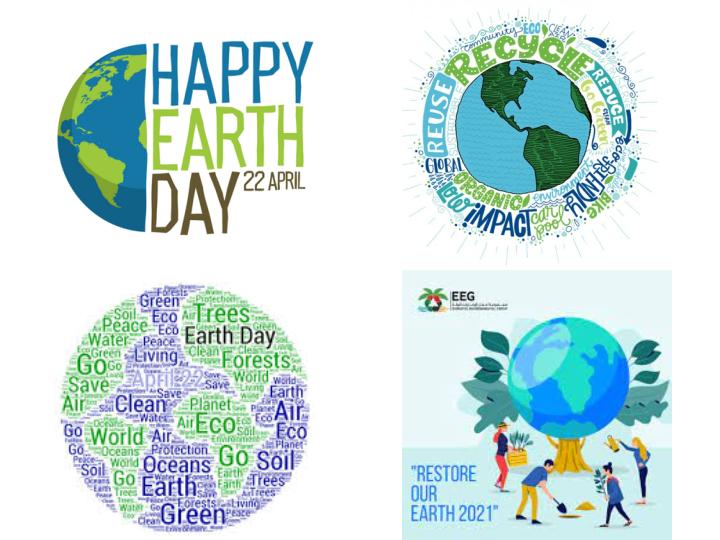 HAPPY EARTH DAY 2021 FROM SNOW-COVERED JEFFERSON PARK IN CLEVELAND, OHIO
Today. April 22, 2021 is Earth Day.
So don't forget to Recycle, Reuse, and Reduce – not just today – but all year round to keep Spaceship Earth a healthy place – with clean air, clean water, and clean land – for this and all future generations.
First held on April 22, 1970, Earth Day now includes a wide range of events coordinated globally by
EARTHDAY.ORG
including 1 billion people in more than 193 countries.
While spring officially started – a month ago on March 20 -- we got 2 inches of snow last evening and during the night and early morning. We also got 3 inches of wet snow the previous day, which brought down tress and power lines.
Today, at 7:47 a.m. when I photographed sunny, snow-covered, Jefferson Park from the second floor of our house on the south side of the park – it was 37 deg. F. The high today is expected to reach 46 deg. F. The snow will disappear quickly and spring will be back in the air.
LINKS TO EARLIER RELATED POSTS:
Links:
[1] https://l.facebook.com/l.php?u=http%3A%2F%2FEARTHDAY.ORG%2F%3Ffbclid%3DIwAR2ePe9shMf9FaurgGs5uJSQn4hXix_3j3TBcN9_T1I0fHwv9BKKzsObIeA&h=AT29wdlHjjijq_xItNEOanbbWLINpzCmtTDGYESMg-MyqO_UedSGraBJRRmHO9mh2ttuKvK-iaD_b6jxnOg3azC1i0fjHH1CeDaaJTdwN9JvYnxYa4VdKRjVA3zeHSjZYkvsIe7YFHf1IXm6gzFS&__tn__=-UK-R&c[0]=AT0-5NTkVv8BNa_G5idlAt8hzDd5_7AnkzVJpcC6uLTPKrBqmwWVWU5KNdHT5V5Gv8FuQDucW0km3HBo0LipsETraYJlcy8K5SAFQWJrKJgYtpV69vsBIMU029fjuL5g-E0Zf14CrOd-5NcWuAMQUPxVJg
[2] https://l.facebook.com/l.php?u=http%3A%2F%2Frealneo.us%2Fcontent%2Fhappy-first-day-spring-2021%3Ffbclid%3DIwAR2MstydENH8jWE1J9QlTSKX4cKYE7rD_WpUagjgm7I4zQuCO3-u0XxV_uw&h=AT18L7AsM7jJPjSgbfpYa7QKVGUgCE9yuN0FEK-wH6WfzCxfEIeUmpt5ZSu_bB7lv8d1lpneYJMmK4l3ZRRCe2Q1AFqbuC-Wi2Q5-eTa9K04mzyWErE1_lPJUdIMjAXhBhDUkuxDKe4D0oJfbylG&__tn__=-UK-R&c[0]=AT0-5NTkVv8BNa_G5idlAt8hzDd5_7AnkzVJpcC6uLTPKrBqmwWVWU5KNdHT5V5Gv8FuQDucW0km3HBo0LipsETraYJlcy8K5SAFQWJrKJgYtpV69vsBIMU029fjuL5g-E0Zf14CrOd-5NcWuAMQUPxVJg
[3] http://realneo.us/content/white-2021-april-fool%E2%80%99s-day-cleveland-ohio?fbclid=IwAR3Em8eWluvE_Ia6R2MHpep2wgvSDgNAJGXaHRtYMO79lNb6NXkV3aGQmv4
[4] http://realneo.us/content/daffodills-wordsworth-my-mind?fbclid=IwAR0p4g7ze0vmMxngMstRexweNHwz4-5fiNbsF_GSbMzSo8rAXrVO1-9XTZM
[5] http://li326-157.members.linode.com/system/files/Slide1_252.JPG
[6] http://li326-157.members.linode.com/system/files/Slide2_267.JPG