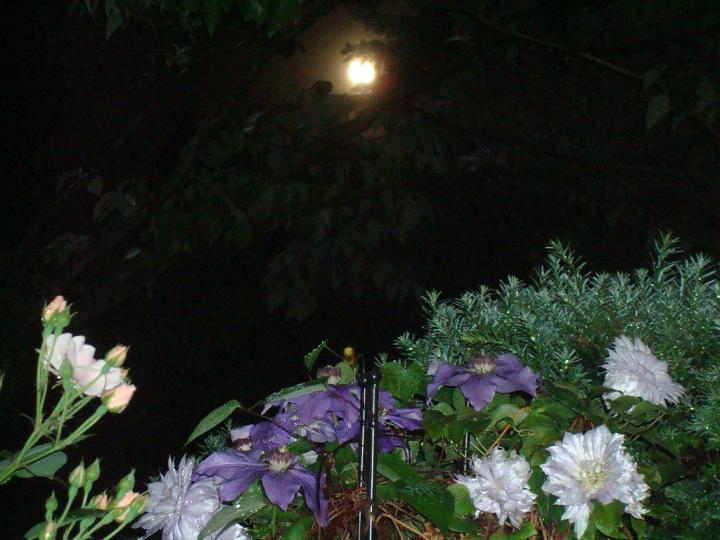 WHAT'S A (MAY) FLOWER SUPERMOON WITHOUT FLOWERS!
The full May supermoon arrived as scheduled on the evening of Wednesday, May 26, 2021.
Even though we had light rain (about ¾ inch by our gauge) during the day and it was overcast – the clouds moved away when the supermoon showed up – in the backyard of our house (facing Jefferson Park) on the south side of Cooley Avenue.
The May moon known as the flower moon – because of an abundance of spring flowers during May (azaleas, clematis, columbine, daisies, dandelions, michaelmas daisies, rhododendrons, roses, and others), the first photograph taken through the dense growth of trees in our neighbor's backyard – shows the moon way up and our neighbor's pink roses, lavender clematis, and pink clematis flowers (on our common fence with a hedge) -- down on planet earth.
Note: In some areas of our planet (not our area) – there was also a lunar eclipse – meaning the earth came between the sun and the moon – casting a reddish shadow – and giving another name – the "blood moon".
The second photograph – a composite – again shows the same flowers with the moon overhead except when I tried to show more of the flowers (lower, left hand corner) – the moon got cut off.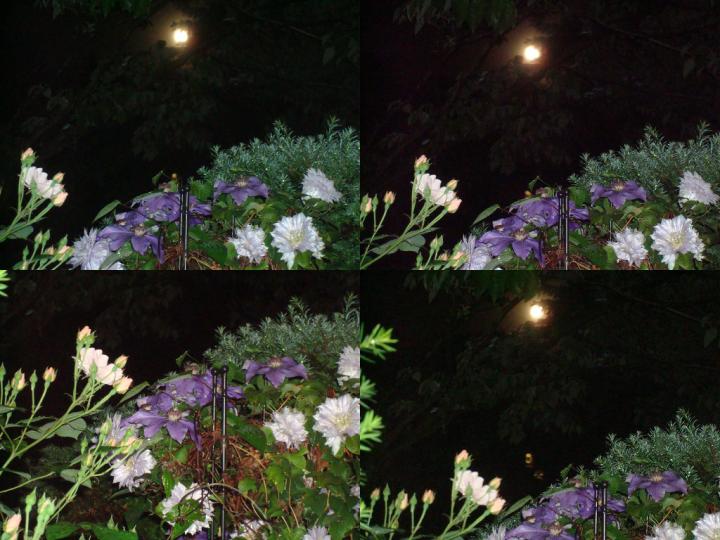 Also, in both photographs – the moon does not look like a supermoon because of the tree leaves all around. The clematis sure look super-sized.
Supermoons are closer to earth than the average full moon and thus appear about 14% bigger and about 30% brighter. Even though a supermoon is 30% brighter than a regular moon – it is really very close in brightness to a 25 watt bulb which is really not all that much – but more than enough to get us all moon-struck.
The third photograph – also a composite, going clockwise shows our house and garage with the supermoon and Smokey and Gingy (mother and son) – our two outdoor cats. They followed me all around as I moved from the back of the house to the front and then back. They were very excited. And, you can bet, their dear friend Galena, our golden retriever with a curly tail, now at the Rainbow Bridge, was also up and about in her heavenly setting.
(Here is a link to the story of our Galena:
"THE PEACABLE KINGDOM ON THE SOUTH SIDE OF JEFFERSON PARK WITH GALENA -- A BIG BUNDLE OF IRISH LOVE"
http://realneo.us/content/peaceable-kingdom-south-side-jefferson-park-galena-bundle-irish-love [1])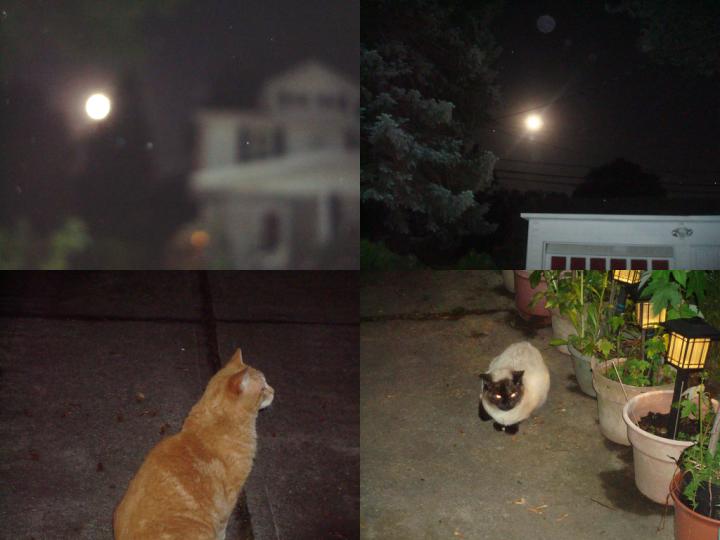 The next moon, on June 24, like the April and May moons will be another supermoon – the super strawberry moon.
Enjoy the rest of the spring!