55 MPH WIND GUSTS CAUSE TREE & OTHER DAMAGE IN NORTH EAST OHIO REGION
On the afternoon of Friday, May 28, 2021, wind gusts up to 55 mph brought down a tree limb, around 3:15 p.m., and closed West 132nd Street between Cooley and Lorain avenues. The tree was located in the tree lawn, on the eastern sidewalk, of a house facing the tennis courts. The tree limb knocked down an electric pole and an electric line on the sidewalk adjoining the tennis and basketball courts. Fortunately, no one was hurt. The street was opened to traffic – 24 hours later. See attached photograph #1.
#2 shows close-up of fracture to the base of the tree limb, which shows no visible rot. It appears the force of the wind was strong enough to bring down a healthy limb. The police and fire services responded immediately and cordoned off the area with "CAUTION" tape. According to news reports over 20,000 residents in Cuyahoga County were without power because of damaged power lines. Lake Erie was pummeled with 12-foot high waves that toppled small boats like toys.
#3 shows a few branches from a maple tree (in our vacant lot) that came down during the windstorm of May 28. This, despite the fact that the tree was trimmed of off old branches – a month ago on April 30. There was no damage to the plastic furniture or the electrical service line.
(However, the earlier storm of April 21 (previous night and early morning) brought down many old branches from the tall maple tree that damaged our service line and the electrical box – both of which were replaced. Fortunately, the electrical power, miraculously, stayed on.)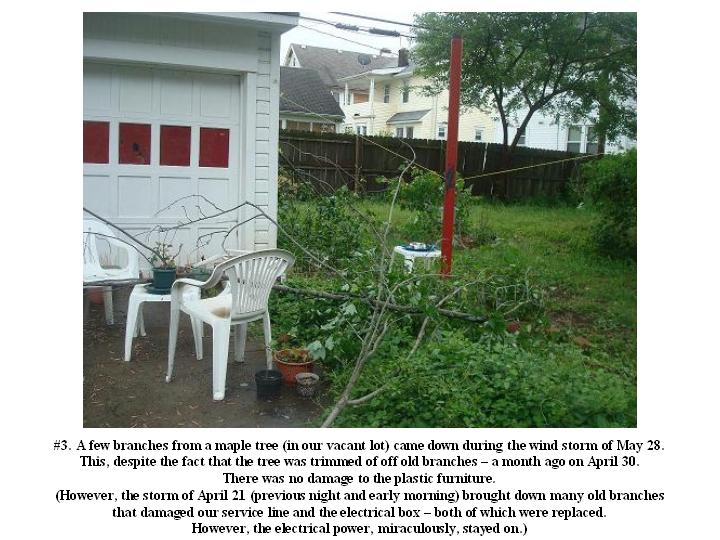 #4 shows a few of our pots holding miniature trees (maples and mulberries) fell down and blocked our driveway. As I don't have a license to drive – there are no cars in our 2-car garage – and flower and tree pots line up the driveway. Happy to report that there was no damage to our miniature trees.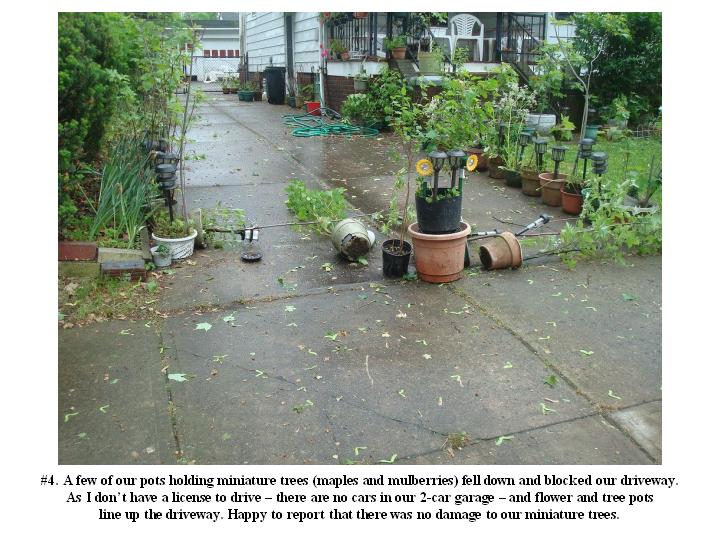 Supporting our Local Regional Economy: From what I know: Six house-owners around Jefferson Park – invested approximately $15,000 to get trees cut and trimmed and another $6,000 for repairs made to electrical connections (from fallen trees or branches) during the past 12-months.
Have a storm-free season!