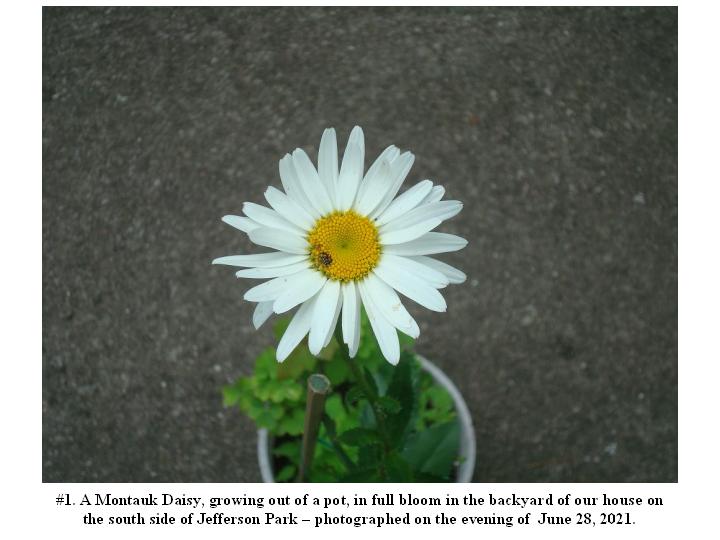 HELLO MISS DAISY
The lead photograph shows a daisy flower, growing out of a pot, in full bloom on a very hot (85 deg. F) and muggy (87% humidity) Monday summer evening (June 28, 2021) in the backyard of our house on the south side of Jefferson Park.
I love flowers and mostly grow them in pots out of seeds saved from the previous year.
When my late wife (Sarah Clingain Puri) and I moved here from New York City in 2001 – we had an abundance of daisies growing in our backyard. Slowly, over the years, they disappeared.
For about two years, I have been trying to grow daisies from seeds – without any luck. Most of my flowers are planted in pots -- this way I can move them around – and take the perennials like geraniums to our second floor sunroom where they bloom all winter. And when I leave the bedroom door open during very cold nights – to warm up the sunroom -- whiffs of fresh oxygen permeate inside.
You can imagine my joyful surprise – when two days ago I discovered a daisy flower ready to bloom. The plant was in a pot – how the seed got there -- is very easy to explain -- the wind carried it from a plant in the neighborhood. So interesting that nature does not see artificial borders when it comes to plant species – while with the human species we are up in arms when it comes to defending and protecting borders. With our planet – almost 4.5 billion years old -- and life in the earliest forms nearly 4 billion years old – plant life with nearly 375,000 species in the present form originated about 500 million years ago --- and with us humans (currently only one species – and that too only 2.5 million years old) – we have a lot to learn from plants in terms of peaceful coexistence.
The daisy shown, with white petals and a yellow center, is also called the Montauk Daisy or the Nippon Daisy -- is a perennial plant.
When in NYC -- my late wife and I used to go for day or weekend trips to Montauk – a fishing village, and beach resort, at the eastern end of Long Island -- with a lighthouse built in 1796 under President George Washington. We used to ride the LIRR (Long Island Rail Road). And during the summer – Montauk Daisies were all over. We were so much in love with Montauk – we even went there for our honeymoon. And not having a car or even knowing how to drive one --we used to walk all over for miles on end. Surprisingly -- visitors seeing us walking around -- mistook us for locals and would stop to ask us for directions. And not only did they get directions -- they also got a copy of the local map (courtesy of the Chamber of Commerce).
The second photograph shows Gingy, one of our two outdoor cats – his mother Smokey was somewhere else – and both my constant companions -- looking admiringly in the direction of the flower, as if to say:
"Hello Miss Daisy, have a nice summer!"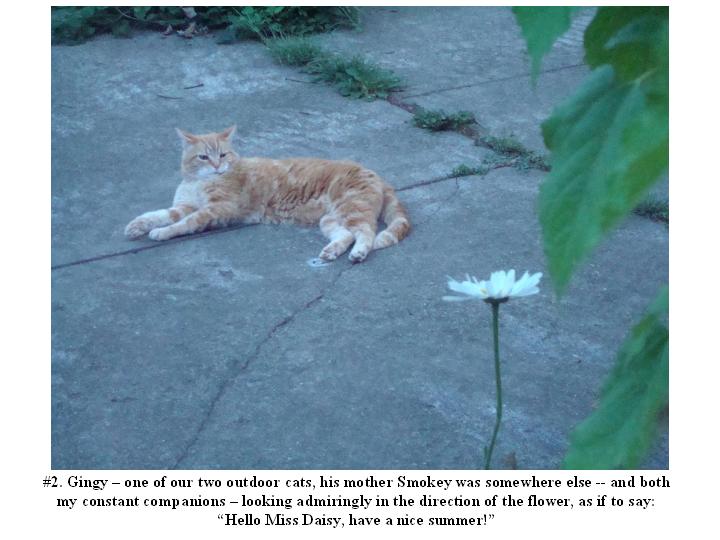 And of course, Smokey and Gingy's dear friend -- our Galena, a golden retriever with a curly tail, now at the Rainbow Bridge -- would echo the message!
(Here is a link to the story of our Galena:
"THE PEACABLE KINGDOM ON THE SOUTH SIDE OF JEFFERSON PARK WITH GALENA -- A BIG BUNDLE OF IRISH LOVE"
http://realneo.us/content/peaceable-kingdom-south-side-jefferson-park-galena-bundle-irish-love [1] )