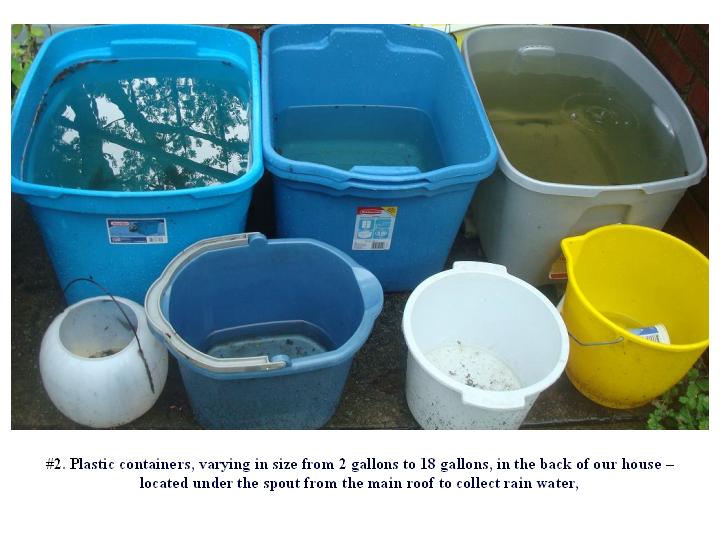 RAIN DROPS FILLING UP CONTAINERS – ONE DROP AT A TIME
On the early afternoon of a pleasant 76 deg. F Wednesday, July 8, 2021 – I was sitting outside our garage – at 1:30 p.m. enjoying my first snack of the day – two slices of toasted multigrain bread with orange marmalade, a bowl of almonds, walnuts, and raisins, and a 8 oz. can of high-protein liquid nutrition.
Heavy rain and severe thunderstorms were predicted for the day.
Well before you know it – the rain came down – first in drops and then in torrents accompanied by loud sounds of thunder.
I took refuge in our two-car garage (no cars – as a former New Yorker – got a temporary license to drive about 50-years ago when in NYC – never used it and it finally expired).
It did not rain for long – the heavy downpour stopped after 10 minutes – with light rain continuing which stopped at 3:00 p.m.
I checked our rain gages – we have two. Yesterday we got 5/8 inches and today 1-3/8 inches for a total of 2 inches.
The lead photograph shows the two gages. The one in the rear is a small glass container, which can measure up to 1.5 inches. I empty it after I read the gage. The one in front is a Taylor gage -- a plastic container -- which can measure up to 5 inches of rain. Both gages are good for Cleveland – but not for hurricane country where it rains by the bucket-full.
This year I started collecting rain in plastic containers – I don't have rain barrels – but I have many containers – from 2 gallons to 18 gallons in size. Most of the rain comes down from the roof spouts in our front and back areas.
I estimated, by 3:00 p.m. with 2 inches of rain -- I collected about 45 gallons in the back and 13 gallons in the front – for a total of 58 gallons.
The second photograph shows the plastic containers in the back of our house – under the spout from the main roof.
Now 58 gallons of water translates to nearly 8 cubic feet of water. The Cleveland Water Department charges $2.19 for the first 100 cubic feet.
So I saved $2.19 x 8/100 = nearly 18 cents.
But as an urban farmer -- the joy of collecting 58 gallons of water – from our heavenly clouds -- drop by little drop – to water my plants -- Priceless!
After 3:00 p.m. the sun was coming out momentarily and then disappearing.
Around 6:00 p.m. I was ready to go and attend the "Westpark Mayoral Candidates Night" scheduled for 6:30 to 8:30 p.m. in Jefferson Park's south lawn – right opposite our house on Cooley Avenue. When I got there – it started raining lightly – everyone took cover under the twin maples and the three sycamores along the southern edge of the park. It rained till 6:30 p.m. and then it stopped – and the sun came out and the event went on as scheduled without any more rain. A report on the event will be posted separately.
Enjoy your summer – both wet and dry days!