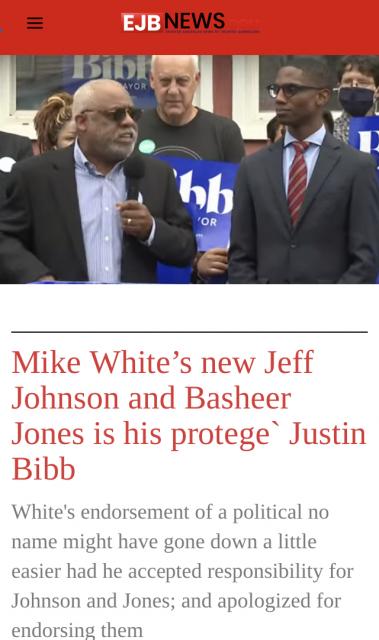 Endorsement "news". Irrelevant former Pharma distributor Mike White, who has put on a few kilos since "suddenly" dropping out of the mayor's race in 2002 and disappearing to alpaca country in Nowhere, Ohio has endorsed a No Name for Mayor. According to the well connected brilliant writer and repository of all Cleveland political history, Eric Jonathan Brewer, Mike White's PREVIOUS endorsements of a couple of crooks make THIS "endorsement" laughable, especially since he has been out of politics for 2 decades. Half of Cleveland has no idea who Mike White WAS, and the OTHER half remember Nate Gray. And how thoroughly and completely Mike White screwed his one time friend. Eric Jonathan Brewer ALSO points out that the No Name has a sizable unpaid EVICTION DEBT for his fashionable address downtown while he toiled away in various vague overpaid "non" profit directorships. He weirdly hired an illegal alien AUSTRALIAN female as as his campaign manager. Like there is no one qualified right here in Cleveland.
And not a moment too soon to be FORMER Mayor Frank Jackson has endorsed WAIT FOR IT....Kevin Kelley with an e. KKK is suddenly ALL ABOUT CHANGE. This from a FULL TIME attorney AND loathsome lying decades long PRESIDENT OF CITY CLOWNCIL. He wasn't interested in any change when he blocked 2 citizen initiatives with the required 20,000 signatures from even APPEARING on the ballot for a vote. The first was whether to hand over $85 million dollars of Cleveland taxpayer money to billionaire Dan Gilbert to fix up HIS arena. And the SECOND was to give the citizens of Cleveland the opportunity to vote on REDUCING the size of City Clowncil. Can't have that said KKK. KKK amusingly whines/brags about his alcoholic father in his debut campaign video about his imaginary hard life. In the campaign photo of him and his wife and 10 kids even the dog is white. But KKK knows where all the bodies are buried including the one on Clark Avenue.
Eric Jonathan Brewer has a Zack Reed sign in his yard. So do I.