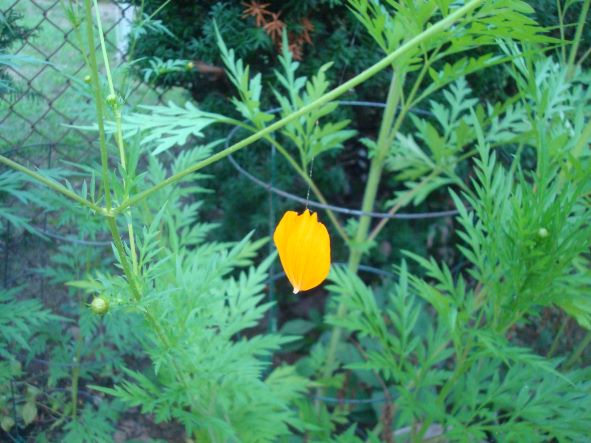 IS THIS A BUTTERFLY? NO! JUST A COSMOS FLOWER PETAL SWINGING IN THE BREEZE!
LINK TO VIDEO ON NEXTDOOR WEBSITE:
https://nextdoor.com/news_feed/?post=199452520 [1]
OR
LINK TO VIDEO ON FACEBOOK WEBSITE:
Facebook [2]
The video shows an orange cosmos flower petal – suspended from a string from a spider's web dancing in the breeze during a pleasant summer's evening of Saturday, August 30, 2021.
From a distance – it sure looked like a beautiful butterfly!
As I got closer – I observed that it was a petal from the orange cosmos flowers that adorn both sides of our driveway.
It was suspended from a strand from a spider's web that had been spun around one of the cosmos flowers.
What a wonderful mix – a strand from a spider's web, a petal from a cosmos flower swinging in the breeze in a mysterious Universe!
Enjoy the summer and all of its wonderful creations!