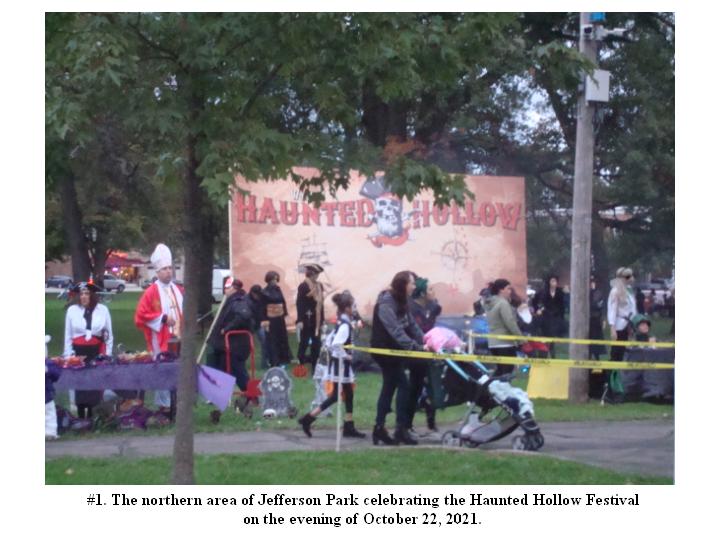 JEFFERSON PARK WELCOMED THRONGS OF KIDS & PARENTS AT THE HAUNTED HOLLOW FESTIVAL
Despite an overcast 50 deg. (cool) day with dark clouds (it did not rain) – throngs of kids and their parents visited the annual Haunted Hollow Festival – held in Jefferson Park from 6:00 to 8:00 p.m. on Friday, October 22, 2021.
The Halloween festival organized by Brian Kazy, Ward 16 councilman, featured all kinds of activities that get kids excited – hay rides, a haunted maze, pumpkin decoration contests, crafts, music, a family movie, and loads of free candy.
I was out to play an hour of solo tennis from 6:00 to7:00 p.m. – in fact I was the only player in the park. And I was not decked in any Halloween attire. However, I turned on the court lights as it starts getting dark after six.
Kids wearing fancy Halloween costumes – accompanied by parents – started coming in droves – shortly before 6:00 p.m. – either walking from their neighborhood homes – or arriving in family vehicles. Nearly all the available parking spaces on the perimeter streets of the park were filled up.
The lead photograph shows the crowds arriving in the northern area of the park filled with stands offering goodies for children. The photograph was taken from the tennis courts along West 133rd Street.
The second photograph shows kids and adults petting a Cleveland police officer's horse. The majestic horse caught my attention too -- I interrupted my playing to photograph the scene.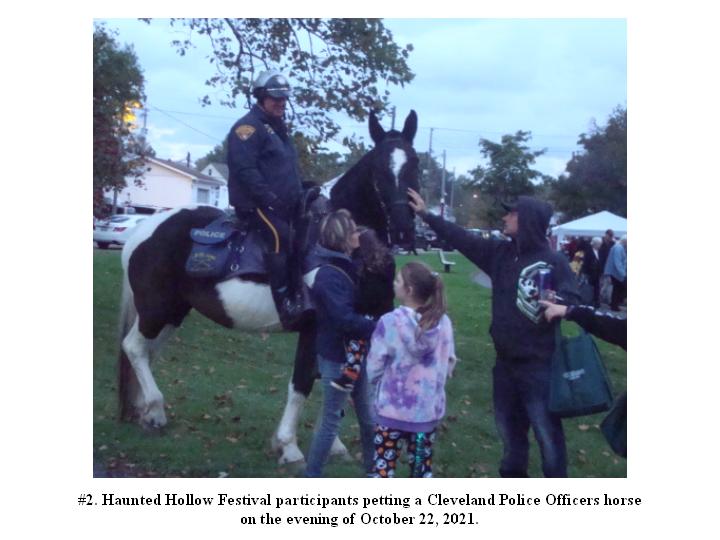 On my way back to our house (on Cooley Avenue – on the south side of the park) – I saw a long line of visitors, on the south side of the courts, waiting to catch a wagon ride piled with haystacks for good old-fashioned seating and pulled by a real farm tractor.
When I got home – I turned on our porch and driveway lights (I leave them on for the night) – and stood at the edge of our driveway – holding my Welcome Jimmy Dimora Public Square sign -- the sign is in patriotic red, white, and blue colors – was initially part of a campaign to save the historic public square – is now part of performance art – I carry it every where I go – waving it to the wagon riders – to cries of Happy Halloween.
The riders responded by waving their arms, smiling, and laughing -- all in good cheer.
I stood for an hour cheering the wagon riders as they passed by – approximately every five minutes.
The last photograph shows the riders passing by our house --except for the streetlights and a few lights in the park – it was very dark – so our house looked like a lighthouse.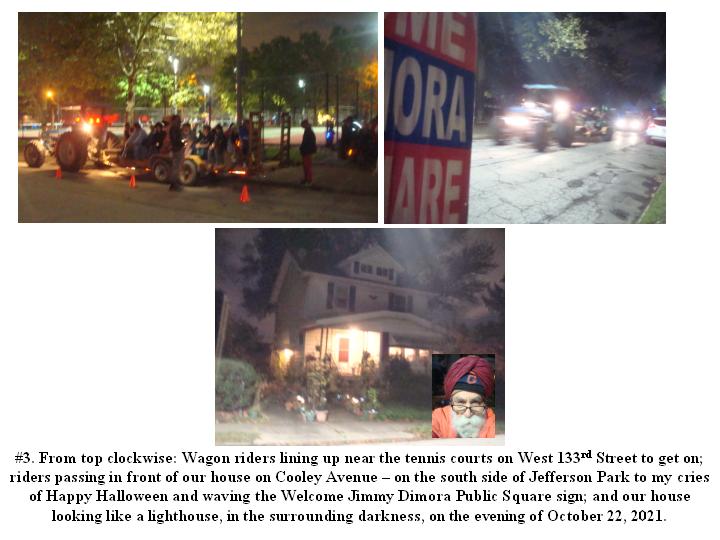 Many thanks to Councilman Kazy for organizing the festival. Events like these energize the neighborhood and spread untold goodwill.