TREES AND SHRUBS ON THE SOUTH SIDE OF JEFFERSON PARK WELCOMED THE NOVEMBER 2021 BEAVER MOON
I believe the full November moon arrived as scheduled at 3:58 a.m. on the morning of Friday, November 19th.
A partial lunar eclipse preceded it.
I was not up that early – so I missed both the full moon and the eclipse at the scheduled times.
It was a cold overcast autumn morning and day -- with predictions of rain and snow. There was a sprinkling of snow and very little rain -- about ¼ inch. The temperature was 34 deg. F in the morning and the daytime high was 38 deg. F.
In the evening, the cloud cover did clear up and I was able to see the full moon in its glory.
I observed it for about 20-minutes starting at 9:20 p.m.
With the flowers all gone – and the leaves too -- I observed the full moon with the trees and shrubs on our eastern fence that we share with our neighbor.
The lead photograph shows the full moon with our young catalpa tree with its shriveled (ready to fall) leaves in the foreground.
The second photograph shows the full moon with branches (in the foreground) from our neighbor's evergreen yew shrub, which functions as a hedge shooting up, as the shrub was not trimmed this year.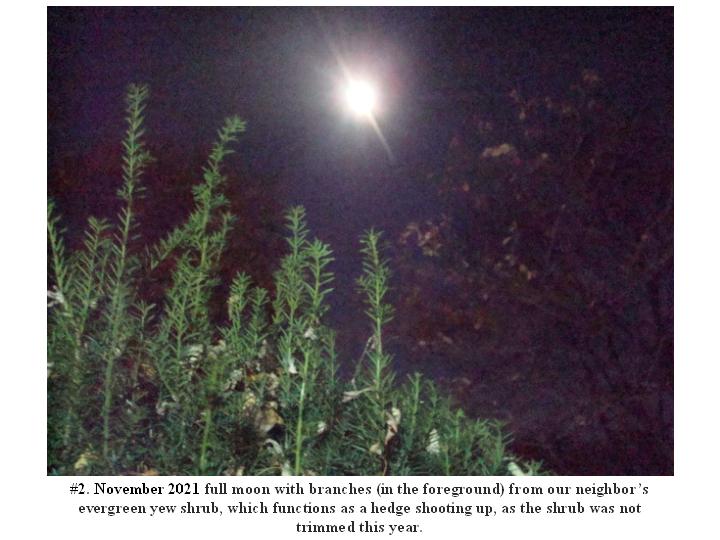 The third photograph shows the leafless branches from the Ailanthus tree (also known asthe Tree-of heaven), in the foreground, forming a Y around the full moon.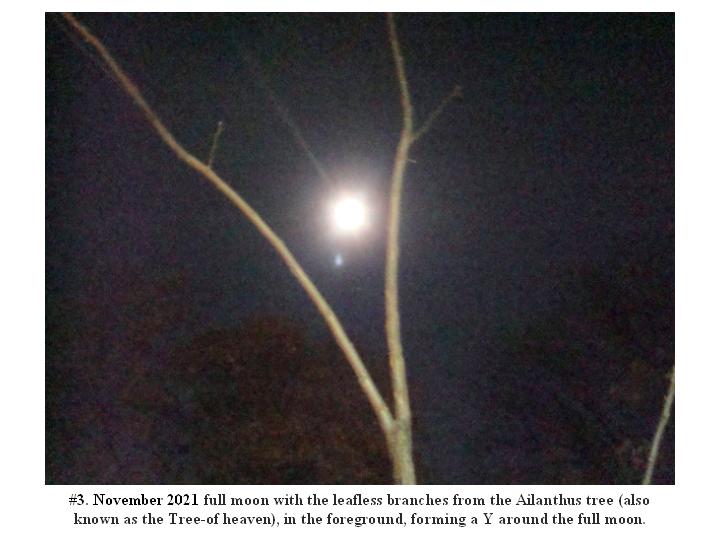 The last photograph shows Smokey (foreground) and Gingy (background) -- mother and son – our two outdoor cats and my constant companions – in our driveway on the other side of the gate – watching me moving around photographing the November full moon from various angles. Of course they were moonstruck. And so was Galena, their dear friend, -- our golden retriever with a curly tail – now at the Rainbow Bridge.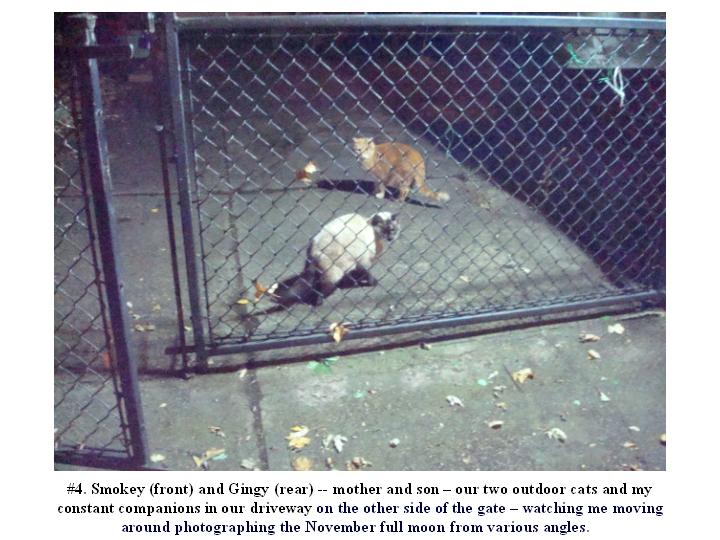 The November moon is known as the Beaver Moon -- as it marks the time of year when beavers take shelter in their lodges to prepare for winter and also the time when beaver traps were set.
According to the Internet: "Alternative names for the full moon in November include the Whitefish Moon, an Algonquin term referring to the spawning of whitefish, and the Freezing Moon, a word from the Anishinaabe peoples referring to the winter season."
The next full moon is scheduled for December 18th.