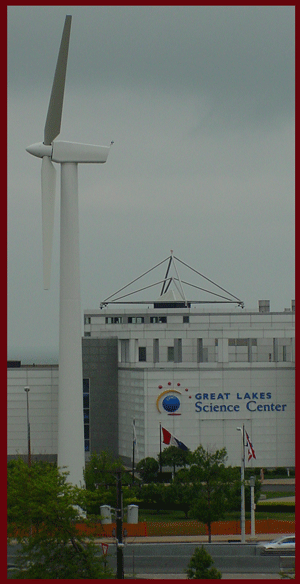 http://www.gcbl.org/blog/david-beach/new-symbol-for-the-lakefront#comment-112 [1]


Take a look at the City/Lake site whose link is above; Here's a problem with a non-operational wind turbine - it can be interpreted to mean that reliance on wind energy is bogus - granola crunching nonsense.
When we have Marc, who is surely a wind advocate, asking questions about why it isn't working - "is it lack of wind power?", then certainly we will have wind adversaries mocking every day the stupid thing stands still.
As a strong wind energy supporter, I urge the Science Center – and everyone else involved with this machine - to get their act together and get the damn thing spinning.
Paul Gipe says if you can't make it turn, put an electric motor on it and fake it. I agree with Paul. The self centered location of this machine is a shame. Should have been out on 90 next to the food bank and Jergens – or anywhere it would crank. Not in the armpit of the Browns. Yet another Cleveland "good intentioned" but short sighted decision in my book.
More of this discussion begun by Zebra Musle elsewhere on REALNEO here: http://www.realneo.us/image/green-wash-should-be-on-your-radar-screen [2]