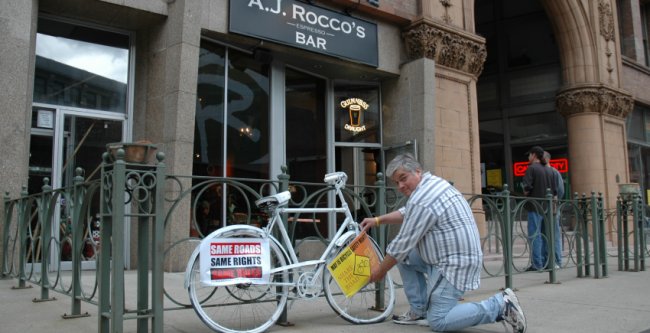 While Congress debates energy and gas saving strategies, they should consider one to help North East Ohio residents adopt personal energy and cost saving strategies, by reducing fuel demand, traffic congestion and promoting improved health. Congress can help America get out of their car and onto a bike. Cycling can be an important component in a national energy strategy.
Polls identify that more than half of Americans want to bicycle more and drive less, yet transportation officials have not translated the public goals to public facilities. Congress should take steps to increases safety for cyclists on the road: As more bike lanes and facilities are constructed, facilities that are already required, but ignored, on federally funded transportation projects, car drivers will be more likely to recognize and acknowledge cyclists on the road, which is the most significant step to improve road safety.
Reducing Transportation Costs Eases the Household Budget: Even before runaway gas prices, the average American spends 19% of their income on transportation, with households that heavily rely on cars for transportation spending 50% or more. AAA reports that a typical car commuter spends more than $6,860/year.
Creating the cycling infrastructure, encourages cycling, generating the desired health, transportation and environmental benefits. Whether New York City (expanded bike trails in 2003 on Manhattan's West Side, as well as bike paths on bridges contributed to a 50% increase in cyclists since 2000, to 120,000 cyclists a day), Louisville (bike racks on buses contributed to a nearly doubling of bikes on buses to 91,000 between 2002- 2005 period) or Chicago (the Chicago bike station, a city-constructed facility has 500 members, paying for showers, towel service and a personal locker), studies show that as cities increase their support for cyclists, cycling increases, with all the energy, health, traffic congestion reductions and environmental benefits that go with it.
As Congress debates what to do about gas prices, they should support cycling, which helps individuals who are doing something for energy independence on their own, and getting some exercise along the way, by simply riding a bike and driving less.
When ClevelandBikes,Cleveland Benefits!

To join the Bike to Work rides, log onto www.clevelandBikes.org [1].
Contact ClevelandBikes: info [at] clevelandbikes [dot] org
Phone, or to report a street pothole problem: (216)556-BIKE (556-2453)