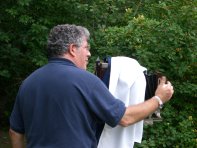 A few days ago I took my children to meet one of Cleveland's finest artists, Herb Ascherman. While many parents have taken their children to photographers to get a few photos taken for use in holiday cards, or to hang on the wall. Herb Ascherman will not only take a photo, he will truly deliver to you a piece of art. My children, 7 and 8 years old, sat for the their photos with a clear sense of their purpose, to allow me have a memory of their visit of the 2006 summer.
Like so many unfortunate marriages, my marriage to their mother failed. My children's mother lives in Tennessee now and that means that I only get to see my little ones a few times a year at best. Having a piece of art will not only bring a smile to my face, it will allow me to know that my kids will always be with me no matter where they are.
For those who know me, know all to well I love to take pictures. I have thousands of snap shots of my children. All of them, I cherish and make sure to have copies of on CD and hard drives. But there is something very different about having a photograph done for you by a artist of Herb Aschermans' caliber. My digital library of snap shots will continue to grow with memories, some of them even making their way onto my desk or wall. It will be, however, the art that Herb Asherman created that will be so highly praised. Not only because it was done by an artist, but because my children gave to me their very best to make those photos so memorable.
To see work done by Herb Ascherman check out:
Saturday July 8th.
5 to 7 PM
at the
Western Reserve Historical Society
University Circle,
Cleveland, Ohio.
There was a great article on Herb in the plain dealer. Please click here to read [2].