I spent the past weekend in Chicago -- a city that is in many ways a more fun place to be than Cleveland. One of the reasons why: public art like this! Most people who know it just call it "THE BEAN" but this sculpture is actually titled CLOUD GATE (a much more elegant name). CLOUD GATE is located in Millennium Park, a beautiful formal garden along Michigan Avenue completed a few years late for the celebrations of 2000. On a July Sunday around noon the park was filled with 100s of people out enjoying the warm sunny weather and at least 100 or more of them were constantly gathered around "THE BEAN"staring with wonder . Not surprising at all because this sculpture is absolutely amazing! One of the best things about CLOUD GATE is how people interact with it. Just walk too close and suddenly you become part of the sculpture. Once you see your reflection you are hooked! Go inside, stand under the arch and look up -- wow! Meer words can't describe the experience! More photos and insight here [1]...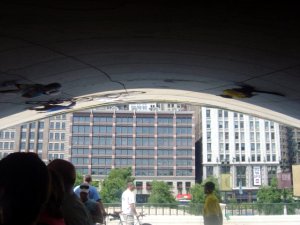 The following information about CLOUD GATE is found on this website. [2] Cloud Gate is British artist Anish Kapoor's first public outdoor work installed in the United States. The 110-ton elliptical sculpture is forged of a seamless series of highly polished stainless steel plates, which reflect the city's famous skyline and the clouds above. A 12-foot-high arch provides a "gate" to the concave chamber beneath the sculpture, inviting visitors to touch its mirror-like surface and see their image reflected back from a variety of perspectives.
Inspired by liquid mercury, the sculpture is among the largest of its kind in the world, measuring 66-feet long by 33-feet high. Cloud Gate sits upon the At&T Plaza, which was made possible by a gift from AT&T.
What I wanted to do in Millennium Park is make something that would engage the Chicago skyline…so that one will see the clouds kind of floating in, with those very tall buildings reflected in the work. And then, since it is in the form of a gate, the participant, the viewer, will be able to enter into this very deep chamber that does, in a way, the same thing to one's reflection as the exterior of the piece is doing to the reflection of the city around.
-Anish Kapoor