I've totally appreciated Convivium 33 Gallery in Josaphat Arts Hall [1] since I first heard of its creation - one must love people who resurrect an abandoned church on West 33rd Street in the unblessed heart of Detroit Superior, and pump a ton of money into it, and make it into a major showcase for art (equal love must go out to the Saltzmans for operating a great Dave's Market a block away). While lots of economic development dreamers talk good talk about transforming midtown and developing the arts economy, here it is happening day in and out. So I was thrilled to learn an old friend Clarence Van Duzer is showing there this month
<
I stepped out for the opening of The Van Duzer Perspective. From the Convivium website, Clarence Van Duzer "may be most recognized to Clevelanders for his piece at Cleveland Hopkins International airport- Global Flight which was erected in 1976 to celebrate the airports fiftieth anniversary, but this 86-year-old Cleveland School of Art graduate and Agnes Gund Scholar has been recognized for his innovative works since entering art school almost 70 years ago."
This exhibition had only three small sculptural works, more showcasing Van Duzer's prints and paintings, which I'd never seen exhibited before. While an eclectic display, the showpieces are his abstract expressionist paintings... some very line and texture based, others very color field oriented.... all very deliberate.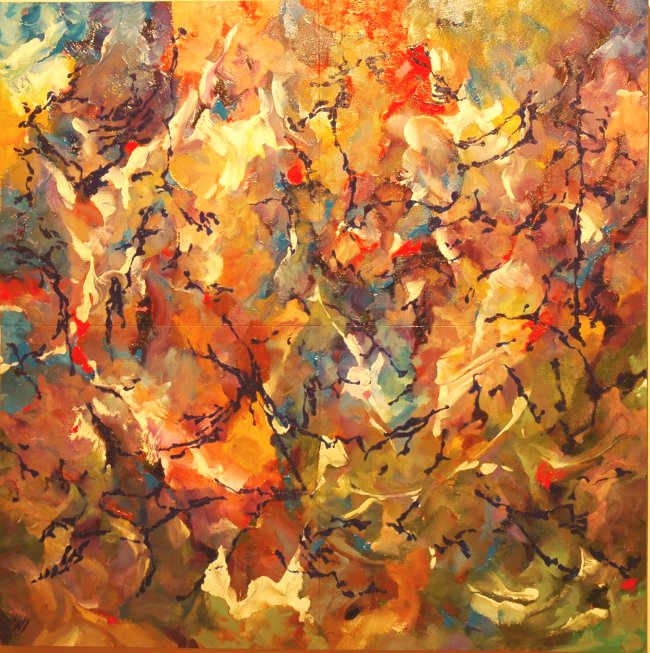 >While most people know Van Duzer for his sculpture in front of the Cleveland Airport. I know him as much for his radical Clevelandism as for his art. He was the revolutionary artist who in the 1970s bought a plot of land in a bend in the Cuyahoga River, in the Flats, and built an understated cinderblock live/work space that combined a world-class sculpture fabrication space and home that was the most NYNY studio ever in Cleveland... I was fortunate to visit as a youth... he was the truest pioneer of a transformational phase of Cleveland that was at its best with Van Duzer. He sold this space to some local yokels who were going to put a restaurant there, and the property has been dead ever since... story of Cleveland bullshit artists vs. real artists, and the Flats.
Van Duzer kept his artistic energy in the Cleveland core, moving his studio to Lorain Ave. and W.78th, in Ohio City. I'm going to check out his studio and will share more insight on this important artist and his work. You should check out his work at Convivium, and take in Josaphat Arts Hall while this show is up... and don't miss the scene in the basement, featuring Streets of Manhattan Glass Studio - there is much more to Josephat Arts Hall than you can imagine. Oh, and shop at Dave's!