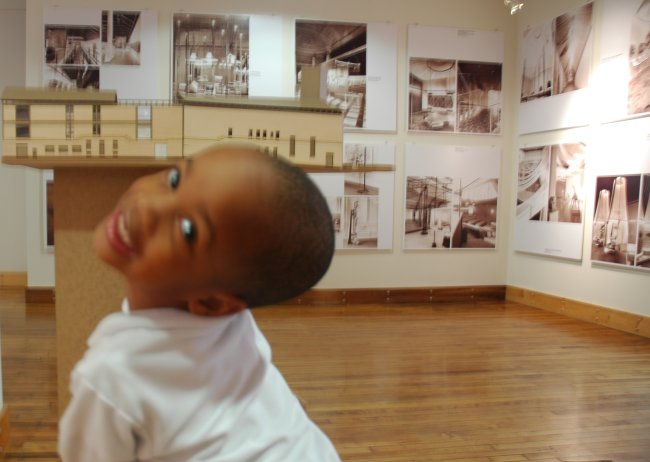 I was thrilled to see a terrific exhibit of photos and models of many works of the exceptional modernist, rational Italian architect, designer and planner Franco Albini, at the Kent State University Cleveland Urban Design Collaborative (KSU CUDC [1]), running through October 9th, as NEO is entering a period of contention over an internationally important architectural masterpiece in our midst - a Breuer office tower the Cuyahoga County Commissioners want to demolish - so we clearly need to raise the level of intelligence and discourse about design and architecture in our community. While a small and understated presence, the Albini show forces viewers to appreciate or rise up against a dynamic of artistic interpretation little seen here otherwise - modern architecture - shown through minimal demonstrations of design mastery. As community leaders talk of Cleveland becoming a global design center, we must show our intellectual commitment to design by raising discourse over the history and current state of design in all forms, including architecture, and the Albini show is an excellent starting point.
After leaving the show, I reflected on what good modern and contemporary architecture we have in our community and could think of only a few examples. What came to mind are the streamline Dyer Coast Guard station [2], destroyed by Jacobs and the City of Cleveland, the Breuer Building [3], neglected by Jacobs and slated for destruction by Cuyahoga County, Tower East in Shaker Heights, by Walter Gropius, and the 1960 geodesic dome in Russell, by Buckminister Fuller, which are each great examples of innovative design enhancing diverse plots of our regional skyline, which in every case many people would say uck - tear that down. So who is to decide what is important and not - what stays and goes?
For today, the important modern buildings in danger in our community are the Dyer Coast Guard Station and the Breuer Tower. See the Albini show to appreciate what was modern in Italy from the 1930s to 1970s, think about what was modern in Cleveland then, as well, and then think about what architecture from Cleveland from all those years could possibly tour the world and realize our local people and government are allowing two important examples to be destroyed.