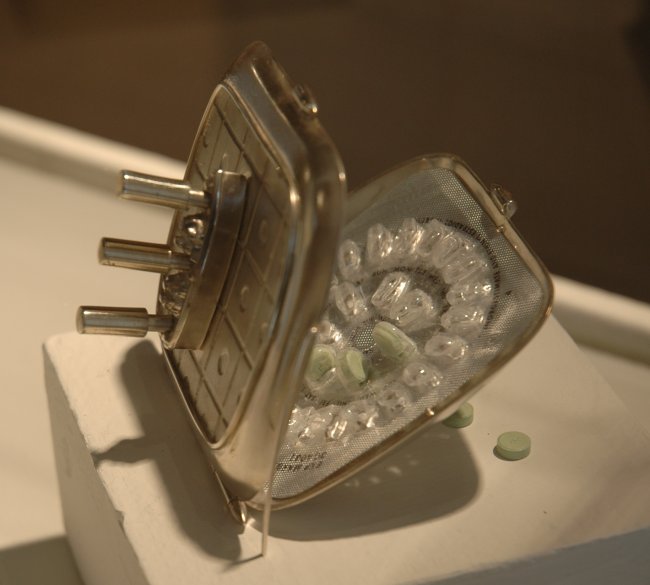 Always one of the most important arts events of each year, in NEO, the Cleveland Institute of Art Student Independent Exhibition [1] (now in its 61st year) proves, as promoted, "Tradition doesn't always have to be stodgy". Far from stodgy - this show is always exciting, in your face, over the top, fun and inspiring. It is also one of the best places in the world to see what art and artists are influencing this region now and will continue to change the world throughout our lives.
From the CIA promotion of the event: "Student sponsored and organized (yes, they raise their own awards money), last year's SIE 60 [2] was a roaring success. Cutting edge is an understatement for this enormously popular exhibition."
And: "Come early, the art sells quickly. February 16 - March 31." Well, I was just there last week, March 10th, and there were very few red dots... so go now and you can buy some amazing art for amazing prices (note: much of the art is not for sale). And, not to single out just one recent CIA graduate, consider Dana Schutz [3] was a CIA grad in 2000, when visitors may have bought her work for very little, and now her current paintings sell for over $100,000 and she hangs in some of the most important contemporary art collections in the world, including the permanent collection of the Museum of Modern Art in NY. Who is next?
Featuring work in all imaginable styles and mediums, from metalwork to video, fabric to painting, the selections here are diverse. I love it all. These are a few highlights - be sure to get over there and try it on for size before the show closes... and share your thoughts about it here, if you like.
Eat it up.