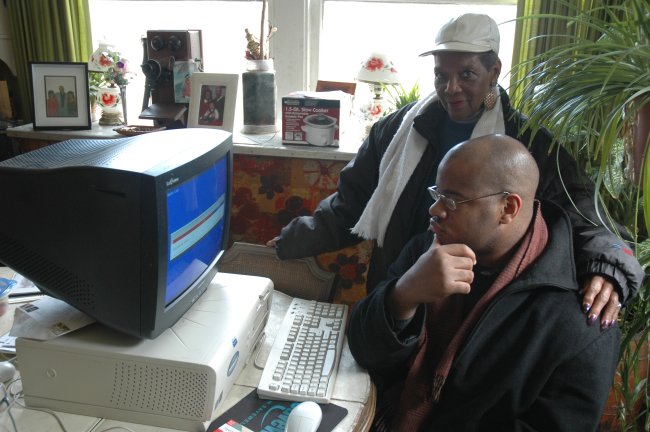 About two years ago, the REALNEO team took on the challenge of helping to bridge the digital divide in NEO, in many ways, including recycling "obsolete" corporate computers, wiping the hard drives, and loading them with free versions of Linux and other Free Open Source Software (FOSS). One group of computers, provided by Progressive Insurance and Benesh Friedlander, that we freed from Microsoft-obsolescence, were given to a combination of Shaw High School seniors and senior citizens in East Cleveland. Shaw seniors have since taken their computers off to college, and, a few weeks ago, East Cleveland CIO Abulime Alli and I met with one of the senior citizens who received a desktop PC and now needed some tech support. I was thrilled to help her out and interested to hear how having a Linux computer at home had changed her life.
Ms. Evelyn has a lovely home, on a charming, quiet East Cleveland street. right by the Cleveland line. She is so cool - clearly a creative, independent type. Her environment is decorated in bright colors, with family pictures and art everywhere, and she has an orange-painted tree in her kitchen as a post and accent. A no-nonsense woman, she is smart and confident. When Abu and I first visited, to look into her computer issues, I asked her if she used the computer often and she said she used it daily, largely to play games that come bundled free with the software we installed... but she said she had taken computer classes at a neighborhood center (certainly on Microsoft boxes) and she now wanted to get on-line, which was one of the reasons she needed help.
Research has found that people given computers often start learning the technology by playing games, but then move on to more complex uses. Ms. Evelyn proved that research exactly correct, which is why bridging the digital divide does not depend on Internet access... just getting a computer and some free software gives people a place to begin the learning process. She also didn't even know her computer was different than the Microsoft boxes she was being trained on, showing we are not born to be Microsoft or Apple slaves but will learn with what we have available. Two years into her learning, Ms. Evelyn wants to get connected.
As the computer we had given her (a basic Dell P3) was previously used by Progressive on a network, it did not have a modem (just Ethernet), so we needed to track down a surplus modem and bring some real tech support, another day, which was today. Derek and I swung by Ms. Evelyn's place and had fun chatting, as Derek cleaned-up her desktop and added the modem. Ms. Evelyn called People PC, which offers AARP members dial-up access for $4.95/month, and she got her username and password.
When we set up Ms. Evelyn's computer, in the beginning, we installed the Fedora operating system, the free version of Red Hat Linux, and by now it is a very old version of that - it did not immediately recognize the modem. That is the difficulty in working with ad hoc, old hardware and Linux in general, in a Microsoft contaminated world. Most all hardware and software in the world is designed for Microsoft or Apple systems, rather than for the real, free world... which is why I made sure Derek joined me to help support Ms. Evelyn. There aren't many people I know in NEO who know how to hack around all these issues, but Derek is one. I had to leave before the operation was complete... I think Derek was planning to upgrade the computer to Ubuntu, which is our preferred Linux version, and I look forward to learning how things went from there. One way or another, Ms. Evelyn will move further across the divide.
The moral of the story is that, even with an old scrap computer, and old free software, and no other support, or even Internet access, a senior citizen in East Cleveland was able to learn to use a computer, on her own, at home, and was thus inspired to learn more about computers with others, and pursue more knowledge, and upgrade her environment to allow her to do more.
She is certainly on a limited budget, so it would not have served her better to charge her for this life-changing benefit - this civil right. I disagree with those who claim people don't appreciate things if they don't pay for them. For two years, Ms. Evelyn has been enjoying bringing herself across the digital divide, with a little help from friends and her caring community, despite all those committed to chain her to crass-cash and closed worlds. With a bit more help - an upgrade or two - and for no real cost (other than the well-spent time of a good person sharing his knowledge and skill), Ms. Evelyn is moving herself across the digital divide.
Having seen the many family photos in Ms. Evelyn's home - recalling her talking about relatives far away - I know she has many people waiting for her to join them in the virtual world, when they can't be with her in her home. I'm glad I can be part of a movement to bring such wonderful people together, as I see what an important difference this makes in the lives of great people. This will allow her to age more successfully at home, and build stronger family connections, which is so important for our post-nuclear world, and the well being of our aging society, always able to be more wise.