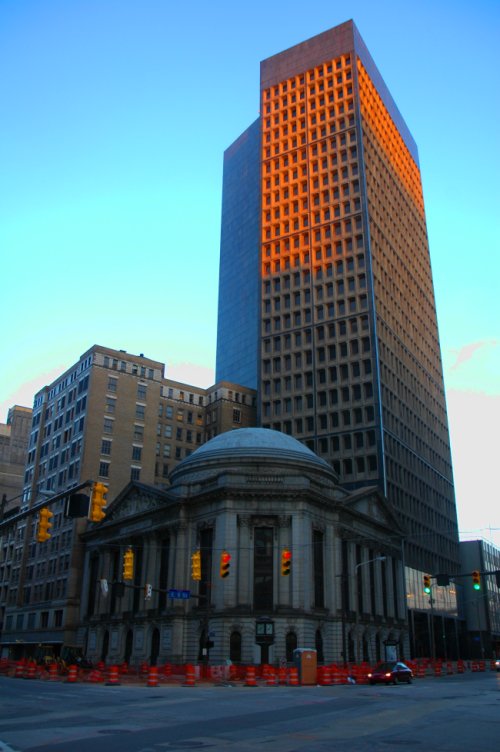 I went down to photograph the Breuer and the Rotunda Sunday evening, as I have this feeling the Breuer is the best building down there [1] - better than the Rotunda [2].
While Post was a good American architect [3], this is actually a relatively minor example of his buildings. It is quite old and inefficient - maintenance and renovation costs will be high - it doesn't seem well suited to the intended use.At 100 years old, the Post is well depreciated, although most raw materials and artistic elements of the building can be reused.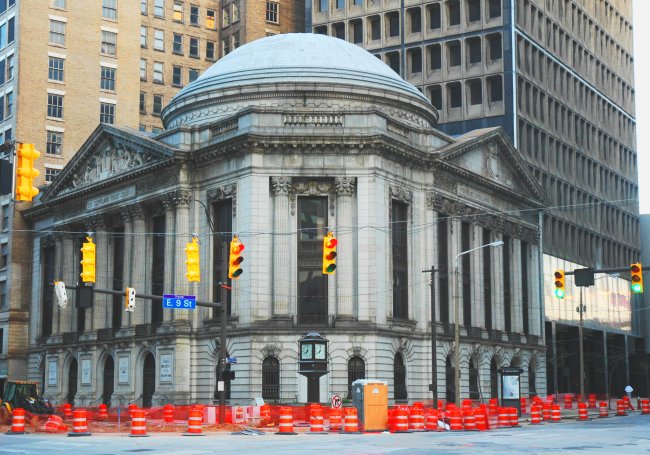 The Breuer, built in 1971, is in the early phase of its lifecycle - little of the Breuer can be reused... perhaps some granite It is arguable Breuer is the more important of the two architects and the Breuer tower is more important, as a representation of great architecture, an era and genre of work. The Breuer is a major Breuer, despite how it is presented by many in the community.
So, for many reasons, if they want to clear a building, the one to demolish is the Post Cleveland Trust Rotunda. They could keep both, but there is no justification for chosing the Post over the Breuer.
A good viewpoint on all this is found at a site featuring the 2007 List of Ohio's Most Endangered Historic Sites [4] which includes the Breuer... read on:


Cleveland Trust Tower

Cleveland,
Cuyahoga County

The Cleveland Trust Tower was constructed in 1971 to the design of noted architect Marcel Breuer. Breuer, who was widely known for furniture design, was also the architect of the Whitney Museum of Art in New York City. Built in what is most commonly referred to as the Brutalis" style of architecture, the facade of the structure is composed primarily of black granite and concrete window forms which create a distinctive presence on the downtown skyline. The southern facade features a "cut out" on the tower's cornice.

The tower is adjacent to the historic Cleveland Trust Rotunda, a landmark designed by George B. Post. When the tower and Rotunda were no longer used, the buildings sat vacant for almost a decade. The buildings were purchased in September 2005 for $21,700,000 by the Cuyahoga County commissioners as the proposed location of the new county administrative center. The current architect's plans call for demolition of the Tower, on the grounds that the tower's floorplans are inadequate and also on the basic assertion that a newer structure would "look better." Opponents of demolition suggest that the tower is an important landmark by a well-regarded architect, and that preservation would result in substantial savings of taxpayer funds. One consultant has pegged that savings as approaching $20 million.

In reality, the structure of the Cleveland Trust Tower is good and is adaptable to a wide variety of uses, due to its open floor plan and relatively wide column spacing. The building does contain asbestos, however that would have to be abated with both demolition and renovation.

It is quite likely that the death-knell for the Cleveland Trust Tower will be the lack of ornamentation commonly associated with so-called "historic" buildings. As a 32-year old building, it also has yet to reach the magic age when anything old becomes venerated. The Tower's inclusion on the Most Endangered List is largely testament not only to the building, but to the lack of attention paid to our recent past. Without careful attention today, the landmarks of tomorrow will be lost.

NOTE: The Cuyahoga County Commissioners voted to proceed with demolition on March 29.
See this story [5].

Links for More Information:

Let the tower fall - Cleveland Plain Dealer [6]
Marcel Breuer biography on Wikipedia [7]
Cleveland Trust Rotunda page on clevelandskyscapers.com [2]
Disrupt IT