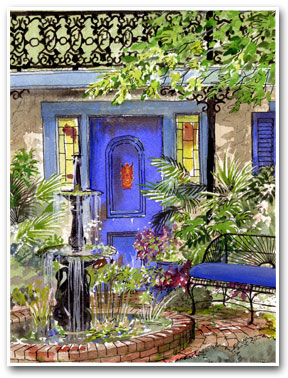 This fabulous biennial extravaganza returns Thursday, May 24 - Monday, May 28 in all its splendor. Tour the designer gardens and fill your mind with dreams and practical ideas of what your own garden could be. Learn about the latest trends in horticulture and flower arranging and take the opportunity to buy live plants, and horticulture related products and gifts from around the world.
This year's theme is "Rhythm & Hues", thus the New Orleans Jazz Garden by
O'Neill Landscape Design & Installation (Chagrin Falls, Ohio). The illustration is by Jim Polk.
Hours: Thursday - Sunday 10 am - 8 pm, Monday 10 am - 5 pm
Special hours for Memebers only Saturday Morning 8;30 - 10 am, beat the crowds and get a behind the scenes glimpse of the show's horticultural preparations before the day's official opening.
Ticket Prices:
Adults $14
Children $6
Under 3 yrs Free
Call: 216-721-1600 or visit the CBG website [1]
Cleveland Botanical Garden
11030 East Boulevard
Cleveland
,
OH
United States