The Friends of Art [1], CWRU staff and the John and Mildred Putnam Sculpture Collection [2] team of Harvey Buchanan and Evelyn Kiefer picked the perfect time and day to hold a reception celebrating the addition of work #45 to the world-class Putnam Sculpture Collection, at University Circle, as David Deming's "Inner Circle" is a work of art that changes dramatically with light in the environment, and sunset is an especially beautiful time to view this work.

For the occasion of this reception, held in CWRU Residential Village 115, across from "Inner Circle", Putnam Collection Director Harvey Buchanan offered the diverse friends of art there an intriguing history of the collection, which started with gifts from the prominent Cleveland Putnam family and was thoroughly funded upon the fatal bicycle accident for the last Putnam, Peter, in Houma, Louisiana. The Putnam story is far better than just that... Harvey really needs to write a book...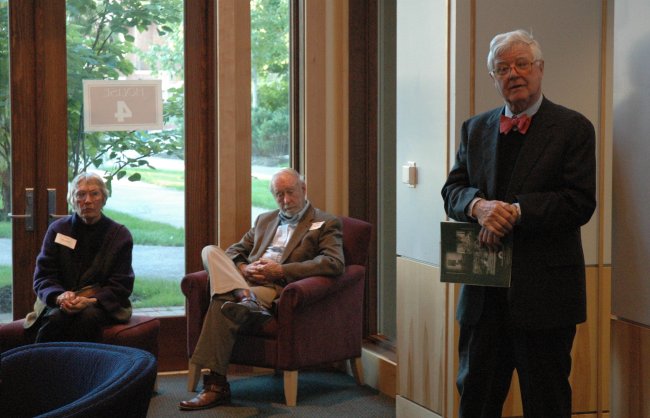 Through the Putnam's gift of over $1,000,000,in the 1980s, and careful management by Harvey Buchanan since, CWRU has gained an extraordinary sculpture collection few people in NEO realize exists... it is best known through Philip Johnson's "Turning Point"... the most expensive and elaborate work in the collection. So, quietly, for decades now, the Putnam family lives on - work #46, "Acrobats", by Kieth Haring, was installed at Case today [3]... next year, you can expect to enjoy the unveiling of a major installation by Cleveland architect Richard Fleischman [4].
The most important core principle of the Putnam Collection is that it only includes sculptures by artists associated with the Ohio region, which includes surrounding states, making the collection unique and opportune for artists of NEO. In introducing David Deming, Harvey pointed out David's many roots to NEO, as he is from Lakewood, Ohio, studied at the Cleveland Institute of Art, and he is now back in the area as its President and an important international sculptor, in the best tradition of the CIA.
For this intimate occasion, David offered many perspectives on his career, experiences as student and staff at the CIA, and approaches to sculpture and "Inner Circle". This piece is of a series inspired when David was a student of CIA Art History professor Franny Taft, who still teaches at CIA and attended the reception with her husband Seth, pictured below.
If only NEO had 1,000s more community leaders like Fran and Seth Taft... If there is a reception or event for the visual arts in Cleveland - especially CIA or Cleveland Museum related - they are there... any time, day or weather. At this event, the Tafts were joined by many other great "friends of art", so they are far from alone. To be included in the next such Inner Circle, be sure to contact [1]Friends of Art [1] here [1]... I know new friends are welcome.
Back to THE "Inner Circle", David explained the form is intended to express motion - rocking - and the energy of that motion... in this case, he sees the sculpture poised to spring forward. To draw everyone at the reception into the energy of the work, David brought the group to the "Inner Circle" to explore the sculpture in detail, with the sculptor... in my view, the ultimate way to experience art.
In describing his work, David said he was greatly influenced by Henry Moore. But David's work features hard lines - engineered elements - added to the sensual organic form seen here and in Moore's sculptures. To me, "Inner Circle" has a post-industrial feel, like a cog or gear, taking life and escaping the mechanical roots of the region, and artist.
As a sculptor, I enjoy David's "rocker" form very much. David points out, while it is abstract it has representational form to him... and to the viewer, perhaps. In abstraction, it has distinct classicism, to me calling upon the spirits of Moore and also David Smith and Barbara Hepworth.
"Inner Circle is constructed of stainless steel, which David brings to life with surface grinding that bring important dimensions to the work. David does all his own fabrication, beginning the process with many wooden models and moving to steel with mastery of the material... the construction and finish are spectacular.
But that is just what I see, and art is in the eyes of the beholder.
Behold, "Inner Circle", and be sure to visit in person next time you are at University Circle.