Greening the modern preservation movement: Bauhaus at the brink
November film and lecture series on modernism and green building
Currently we are slated to lose a large modernist building in our Northeast Ohio community, The Ameritrust Tower designed by world-renowned Bauhaus-trained architect, Marcel Breuer with Hamilton Smith in 1967, and completed in 1971 as the Cleveland Trust Co. Building. Recently, permission was granted to raze the 36-year-old, 29-story, 280,000 square foot building in downtown Cleveland.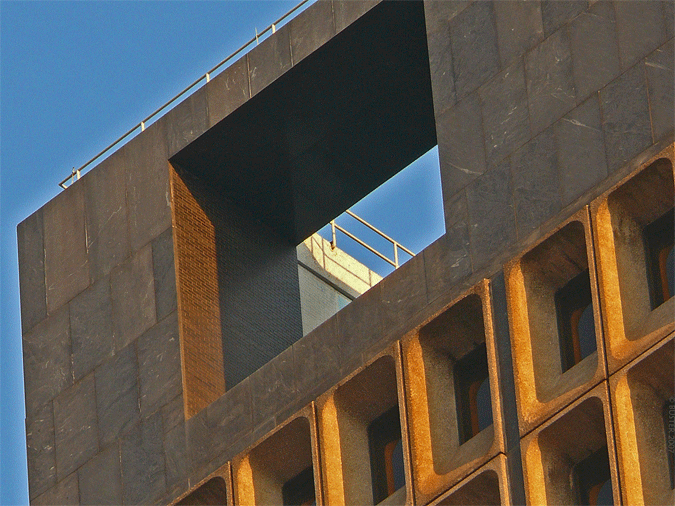 photo by Jeff Buster July 2007 (Ameritrust Tower, Cleveland, Ohio detail)

The decision to not reuse the building has raised questions about what constitutes an historic landmark, and what environmental responsibilities we share when it comes to demolishing or reusing buildings.
Artists, architects, and the sustainability community have an opportunity to discuss and consider the intersection of landmarks and green buildings, historic preservation and modernism in architecture.
Please join us for a series of educational events with opportunities for dialogue on these issues here in Cleveland this fall.
Saturday, November 10, 2007 4:00pm -- The Primer on Breuer and the Bauhaus [1]:
· A slide show by Tony Hiti, Chair of the Historic Resources Committee of the AIA, Cleveland Chapter on the history of Marcel Breuer [2] and the Cleveland Trust Building
At the Sculpture Center (free parking available)
Saturday, November 17, 2007 4:00pm -- The history of why the Bauhaus came to America [3]:
· Bauhaus in America [4]: a film by Judith Pearlman followed by a panel discussion with Cleveland architect, Peter Van Dijk and Associate Professor of Art History at Kent State University, Carol Salus, moderated by Christopher Diehl, Director, Cleveland Urban Design Collaborative
At the Cleveland Cinematheque general admission $8/members, CIA students, staff $6
· What Would You Do With The Breuer Building (from Ingenuity 2007) will be displayed in the hallway of the CIA Building for those who missed it or would like to view it again -- the show features 27 entries from Australia to Italy with several local architects offering innovative thoughts
At the Cleveland Institute of Art
Wednesday, November 28, 2007 6:00pm -- Green building and modernism; are they antithetical? [5]
· Guest lecturer, Carl Stein, FAIA, Principal of elemental architecture, llc [6], of New York City and his late father, Richard Stein, FAIA, have completed numerous historic rehabilitation projects based on their innovative and pioneering research in the analysis of energy use and conservation in buildings and design. He served his architectural internship with Marcel Breuer from 1968-1971.
At Judson at University Circle (free parking available)
Brought to you by Doty & Miller Architects [7], D.H. Ellison Co. [8], Peter Lawson Jones [9], Recent Past Preservation Network [10], Richard Fleischman Architects [11], Maltz Museum of Jewish Heritage, [12] Robert Maschke Architects, Inc., [13] Process Creative Studios Inc., [14] Jim Rokakis [15], Schmidt Copeland Parker Stevens [16] with assistance from Cleveland Cinematheque [17], Cleveland Institute of Art [18], Judson Manor [19], The Sculpture Center [20], Intermuseum Conservation Association [21], AIA Cleveland [22], Kent State University Art History [23], Cleveland Urban Design Collaborative [24], Cleveland Artists Foundation [25], GreenCityBlueLake [26], Maxine Goodman Levin College of Urban Affairs [27], Studio Techne Architects [28]
Then get out of town for a weekend and take in Marcel Breuer: Design and Architecture
November 3, 2007 - February 17, 2008 First floor galleries, National Building Museum in Washington, DC [29]
Marcel Breuer: Design and Architecture will focus on Marcel Breuer's extraordinary achievement in furniture and interior design. At the same time, the exhibition will provide an opportunity to reintroduce Breuer's long-neglected architectural work and examine its significance in the history of modern architecture.
Developed by the Vitra Design Museum in Germany (which houses one of the most extensive and comprehensive collections of Breuer's furniture designs in the world), Marcel Breuer: Design and Architecture is the first exhibition to treat all facets of his work with equal weight from the small scale of a coffee table, through sleek residential and commercial interiors, and to large-scale buildings. The exhibition will trace the incremental development of Breuer's daring departure from traditional wood furniture and his pivotal contribution to the history of design, with the "invention" of tubular steel furniture.
Twelve models produced exclusively for this exhibition will highlight Breuer's extensive architectural work from residential homes to religious, cultural, and civic institutions. In addition, drawings, floor plans, photographs, models, video projection and interactive computer terminals will shed light on Breuer's long and varied architectural career. A catalogue with more than 450 illustrations will accompany the exhibition. The National Building Museum will be the show's exclusive North American venue.
And stay tuned: In the spring of 2008, Kent State University's Cleveland Urban Design Collaborative plans to hold a symposium entitled "Mid-Century Modernism: Preservation and Adaptation." Gathering nationally prominent scholars and practitioners, this symposium will highlight the unique characteristics of the region's and the nation's large stock of modernist institutional buildings from the 1950s, 60s and 70s. The goal of the program is to stimulate a greater appreciation for these often little-loved buildings and to examine the challenges involved in their preservation and adaptive re-use as they approach an age where they are in need of conservation and are particularly vulnerable to neglect or demolition. The results of the symposium will be disseminated electronically through the CUDC's new web site, and the symposium will form the basis for the second issue of the CUDC's Metropolitan Design Journal, scheduled for publication in summer 2008.
Additional information: "The United States is experiencing a building boom that rivals that of the years following World War II. According to a 2004 study by the Brookings Institution, Toward a New Metropolis: The Opportunity to Rebuild America, by the year 2030, half of the buildings in which Americans live, work and shop will have been built after 2000. Improperly managed this building boom could result in the destruction of much of our existing built environment. The study estimates that 20.1 million units of housing will be lost to demolition and that new construction will cover an area the size of Colorado."
"...there has been a tremendous increase of interest in mid-20th century culture in recent years. From television programs to product design to advertising, pop culture clearly illustrates this comeback. "Retro Modernisms" was the theme of Time Magazine's 2004 special style and design issue. Many of the people attracted to the architecture and design of this era do not consider themselves to be preservationists or are unaware of the greater preservation movement. That doesn't mean they can't be converted. Preservation organizations nationwide are capitalizing on this interest. They are coming up with innovative programs - or twists on old ones - to raise awareness and appreciation of the recent past, to preserve and protect resources, and to engage a new audience." -- Jeanne Lambin, National Trust for Historic Preservation from her book, Preserving Resources from the Recent Past
Other resources: Preservation effort gains momentum [30]
Advice on the issue from the National Trust for Historic Preservation [31]