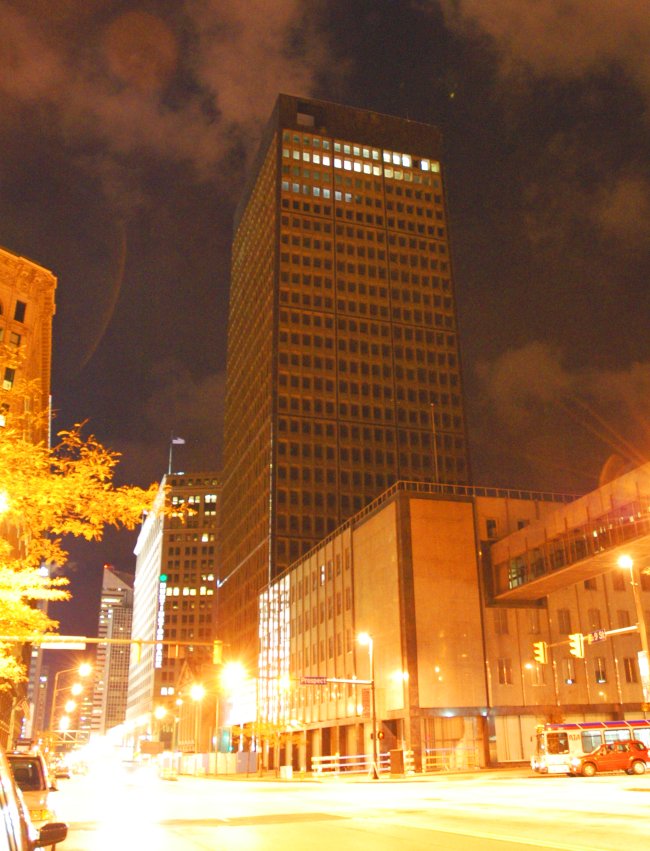 November 28, 2007, renowned architect Carl Stein, FAIA, Principal of elemental architecture, llc [1], of New York City, shared his valuable understanding about the environment in Northeast Ohio and the world, focusing on the energy of buildings and a specific analysis of the Breuer Cleveland Trust Tower, in downtown Cleveland. This is the only high-rise by revolutionary architect Marcel Breuer, and it is globally appreciated as a masterpiece of modern design and construction... yet it is planned for demolition by Cuyahoga County Commissioners Dimora and Hagan. Stein worked with Breuer for many years, including when Breuer built the Cleveland Trust Tower, and Stein's conclusion is there is no rational excuse for demolishing the Breuer. As Stein states, "just that Breuer and this building are so important is enough reason to preserve the Breuer"... although Stein gives many other reasons!
Stein stressed, "issues of preserving buildings that are part of what we are should not be taken lightly".Stein placed the Breuer demolition plan in historical perspectives, as there have been many times when communities demolished buildings to later regret the decision. An example Stein offered was Penn Station, in NYNY.
We may envision Euclid Avenue as "Millionaires Row", to put this in local context. More recently, consider, former Cleveland Planning Director Hunter Morrison regretfully signed demolition permits for Playhouse Square, and other community leaders developed very advanced plans to build the Clark/Lee Freeway through the Shaker Lakes and some of Cleveland's most important historic neighborhoods. Now, community leaders' plans are to destroy the Breuer.
In each case, it has only been the activism of higher powers - independent citizens like Stein and planner of this event Susan Miller - that has blocked such poor plans. Stein pointed out, "in cases of real estate, $100s of millions may be at stake and real issues buried beneath misleading issues". "When there are pressures to demolish, very often the distracting argument is that the building is ugly... the "I don't know much about art but I know what I like" approach". We have seen this strategy in play here, with the Breuer, but, Stein points out, "using aesthetic judgment in determining what buildings should be torn down is not wise". Stein makes an undeniable case for the Breuer's architectural importance, regardless of the personal tastes of any individual or collective community leaders - we can conclude that the taste of our leaders should not be a factor in decisions on architecture in the public space, for obvious reasons including and going far beyond the Breuer fiasco.
Regarding the aesthetics of the Breuer, Stein leaves no doubt the building is world-class in design and construction, and he knows. He points out the building has probably never been cleaned, after many, many years of irresponsible ownership by Cuyahoga County and Dick Jacobs. Well cared for and properly renovated, the building will be stunning.
Breuer designed the building skin to include HVAC, electrical, and other smart building technologies. Stein knows "the building has natural abilities to be "reeducated" as a 21st Century smart building... it is a great candidate for a high performance state-of-art renovation".
Which is an important reason not to demolish the Breuer: what Stein calls the "rampant environmental recklessness" of the County Commissioners plans. Reusing existing buildings, even with extensive remodeling, will inevitable be more environmentally intelligent and may be more energy efficient than building new. In a total gut rehab, 53% of the embodied energy can be saved, in which case the building will perform as "new" - renovated buildings can be as energy efficient as new construction.
It is important to note that Carl Stein is one of the world's experts on the energy of buildings and construction. He explained, based on globally-accepted calculations, new construction uses the equivalent of up to 12 gallons of oil per square foot of building area. At 11 gallons per square foot, the 280,000 square foot Breuer building has the "embodied energy" of 3.2 million gallons of oil.
Demolishing the Breuer would waste most of that 3.2 million gallons of oil, not to mention millions of gallons of oil required to actually demolish the Breuer, and to replace it with a new building.
Stein explained, renovation and reuse of existing buildings can save 50-60% versus the energy required for new construction, and renovation has more embodied energy from labor as percentage of total energy versus new construction, and renovation labor tends to be more local than with new construction. That fact completely discredits one argument made by community leaders to demolish the Breuer, that it would create more jobs than renovation. The employment value of renovation is greater, especially at the local level.
Considering building and infrastructure construction accounts for approximately 12% of energy use in America, and we are in a global energy crisis that will only worsen, it is unacceptable for a community attempting to position itself as a "Green City By A Blue Lake [2]" to allow leaders to so thoroughly violate the interests of all their constituents.
At a most sophisticated level of analysis, Stein points out efforts to educate people about advanced building technologies are very important, but maybe the most important lesson is that you don't need advanced technologies like solar and wind turbines on buildings to be green, but rather good basic design. Stein believes that realization offers communities regional design distinctions, where a high rise in Cleveland does not look like a high rise in Dallas. The Breuer has world-class basic design, and is entirely unique to NEO, and is at risk of demolition. What is wrong with that picture?
After his presentation, which was not attended by any of the community leaders planning to demolish the Breuer, I thanked Stein for coming to Cleveland to help us enlighten this community about the Breuer and the environment. Stein said he is very appreciative of Marcel Breuer and is enthusiastic to do anything he may to help save one of Breuer's most important designs, and help our community avoid making the mistake of demolishing one of our most important landmark buildings. I certainly appreciate this strong voice, from New York, New York, for this community that has such difficulty speaking up for itself.
During questions and answers, an audience member pointed out that "the local preservation community has not stepped up in defense of the Breuer". I conclude a new preservation community has formed for NEO and we are very active in Cleveland... currently preserving the Breuer. We live in real NEO, and we are very real.