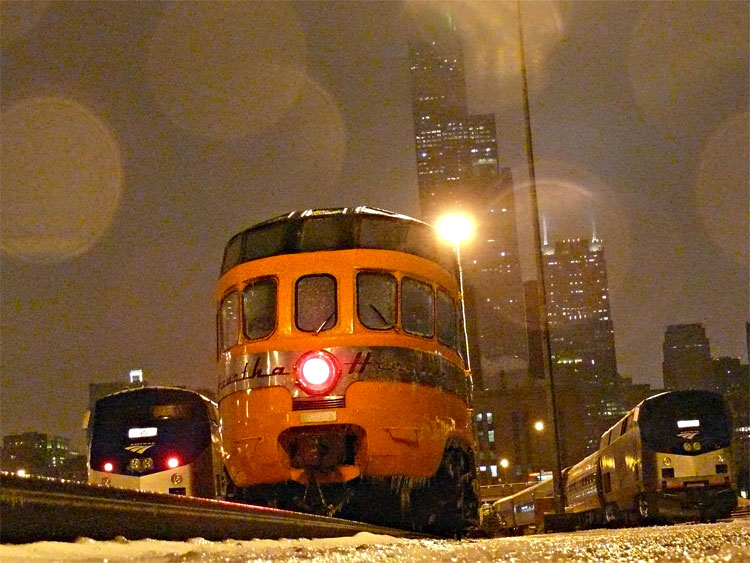 Carl Sandburg wrote "Chicago" [1] in 1916.
Through the unlikely alignment of "six degrees of separation" [2] I had an electric experience in the main Chicago train yard last Saturday.
In the middle of an icestorm, after a long luncheon in downtown Chicago, the train businessmen I was with called for cabs…and off we went to the Union Station yards.
It was just dusk…and icy rain was coating everything…
Steve, with whom we shared naan at lunch, invited us to tour the Hiawatha [3], a restored 1948 lounge car designed by Brooks Stevens [4] .
When we exited the cabs you could hear the ice hitting the trains. The platforms between the track were slick. I had to shield the camera lens from the pelting.
The scene was magical. The Sears Tower and the Hancock Center reared up through the fog and sleet. Amtrak trains slid in and out. A barge pushed by in the canal adjacent.
Flickering kerosene pots kept switches limber.
I tell you, I could hear Sandburg loud and clear…
Links:
[1] http://carl-sandburg.com/chicago.htm
[2] http://en.wikipedia.org/wiki/Six_degrees_of_separation
[3] http://en.wikipedia.org/wiki/Hiawatha_%28passenger_train
[4] http://en.wikipedia.org/wiki/Brooks_Stevens
[5] http://li326-157.members.linode.com/system/files/Chicago-Hiawatha-ice-Union-.jpg
[6] http://li326-157.members.linode.com/system/files/Brooks-Stevens-Hiawatha-Mil.jpg