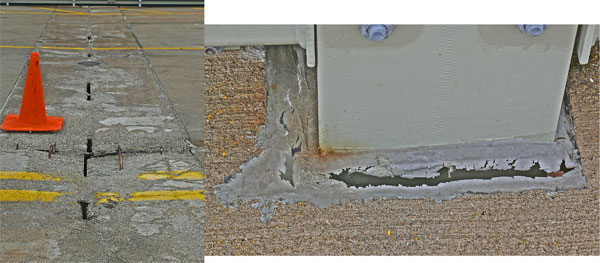 If you owned a $40,500.000.00 parking structure, would these images concern you? (by the way, if you live in Cuyahoga County, you DO OWN IT)
Dennis Wilcox is presently working as Council to the Cleveland-Cuyahoga Port Authority [1] in oversight of the repair of the failed pre-stressed concrete T beams and in an effort to obtain financing (7 million for Inland [2] U.S. Management, LLC ) from the Port to repair the failed pre-cast concrete T beams in the 5 year old parking structure and to "re-finance the existing bonds". Mr. Wilcox is a partner with Climaco / Lefkowitz / Peca / Wilcox & Garofoli.
However, the two structural failure issues in the photos above (photos from the University Square parking structure) were not even discussed in the documents I was provided by the City of University Heights.
Dennis Wilcox, back when the garage was built with Port financing, was counsel for the developer, Starwood Wasserman. On the Starwood Wasserman web site it's all praise for Mr. Wilcox [3]:
"And then of course, thanks to our dear friend and trusted counsel Dennis Wilcox - lead attorney and ambassador for Starwood Wasserman and this project. He has demonstrated passion, commitment and resolve in making this project happen. Now if I can get him to rent half a floor for his law offices."
Mr. Wilcox must know the garage pretty well, because he has worked as counsel for parties on both sides of the garage.
Do you think there is any conflict here? Does it conform to legal ethical standards for Mr. Wilcox to have legally represented Starwood Wasserman (the developer) and now represent the party (the Port Authority) on the other side of the Starwood negotiations?
Would it be wise for the Port Authority – who may be involved in a defective products or other lawsuit with regard to the parking structure – to use counsel who was not associated with the construction in 2002 2003?
Would it be unreasonable to think that Mr. Wilcox, now working for the Port, might want to cover up / conceal the extent of the faults in engineering or construction that his employer Starwood Wasserman passed off on the County?
I don't think so.
If your are interested in following the development of this University Square Plaza civic $pending story, you can read an earlier post about the University Square parking structure here [4].