It's good to be back in Cleveland. I rode in on the redline from the airport and got off the greenline at Southington to be welcomed by friends an easy walk away. Stories were told and beer, cheese, etc. shared. A couple days home and I have spoken to a few of you, corresponded with others and spent time with a handful of my Cleveland homeys. I have been trying to catch up on the news, but it is deep here. Lead awareness week, convention centers overshooting their budgets, bank stock prices plummeting, PBS in the hood with Bill Moyers' Journal... wow! All old news though…
I have been busy in the sleepy hamlet of Apalachicola with family mourning the loss of two immediate family members. My Cleveland family - please stay put. I have had enough...
It wasn't what you might call "my summer vacation", but it was a trip. Here's what I saw.
Above "Shadow Lane" - the street where my sister lives part of the year. It is thought to have been the driveway from the coast road to an early 19th century mansion. The oaks are about 200 years old. Yep, at the end of the road (about as long as a football field from her house) is the bay.
Ospreys are everywhere. Above one of many osprey nests. There were five just outside the frame of this shot. Also on view were herons, egrets, gulls and sandpipers of many stripes, pelicans galore, cardinals, blue jays, sparrows, brown thrashers and the amazing swallowtail kite and oystercatcher. (more north florida birds [1])


My sister's porch - on her 1935 house on Apaco. The house was moved - raised to be placed back on new foundation piers while I was there. It was a fascinating process replete with good old boys.
Miss Kitty going out in the bay to shrimp; a regular site but not as regular as it once was. Also the Apalachicola Bay is one of the few places in the world you can still see oystermen tonging for oysters. Hand made tongs [2], too.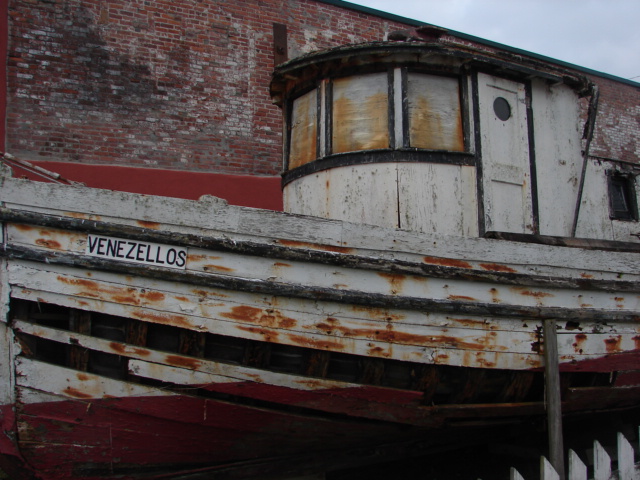 This boat is downtown. In a town of maybe 1,800 folks and fewer than 25 buildings downtown, this takes up a corner lot...)
The forest is thick - Tate's Hell Forest [3] (Local legend is that a local farmer named Cebe Tate went hunting in the woods in this area. He went into the swamps hunting for a Panther that was killing his livestock. Most stories end with Tate being lost in the forest for 4 to 7 days until he finally came to a clearing near Carrabelle [4]. There he stated "My name is Cebe Tate, and I just came from Hell!" He then died.) - the Apalachicola National Forest [5]and many other wild and open areas surrounding the confluence of the river the bay and the gulf.

It's been easy for those born and raised there to remain stuck (culturally and politically) as one can get stuck in the catbriars in the days of confederate secession. In fact, rich smartasses from Alabama and South Georgia come down to share their racist and sexist comments on the porch of the old hotel on the weekends. The racial divide is visible from Pluto.
Forget it they'd say and forget us. Go on home now and jes fergit how ya got here. That's surely how the birds and bears like it too.