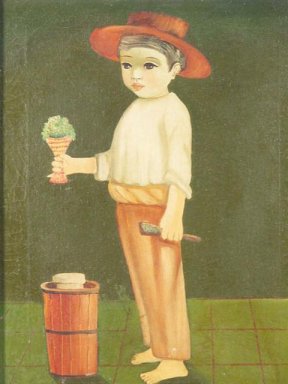 Agapito Labios (Mexican, 1898-1996) Portait of a Boy,
oil on canvas, signed lower right, h: 16 x w: 12 ins. estimates $400-600
There has been a dearth of auctions this summer, but its about to come to an end soon. After a two month hiatus Gray's Auctioneers [1] opens their doors again. If you are a regular, you might recognize some of the merchandise, but if there was something you missed out on in June the estimates are lower now. Its a mixed bag; Victorian chairs, model trains, vintage purses, an obscure biography of Abraham Lincoln, paintings of cats, and a lightening rod. Make sure you check out the whole catalog or better yet, see everything in person during preview hours (click the link).
Gray's Auctioneers
Cleveland
,
OH
United States