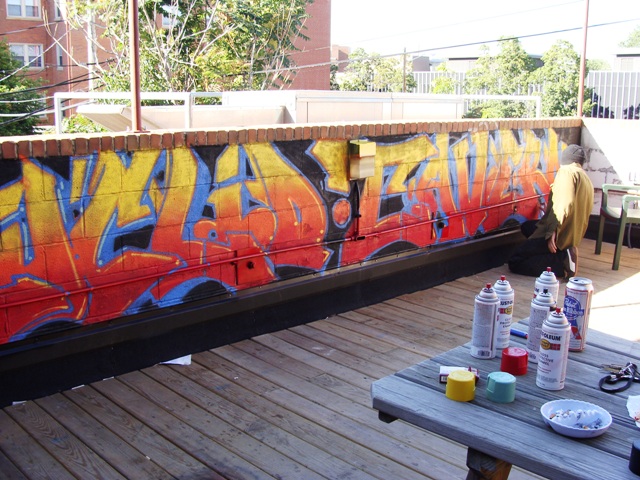 The subject of graffiti has long remained a sticking point for many community residents, with many equating this form of aerosol urban expression as rote vandalism and little more. Yet across the nation, and world, others have taken a new perspective and elevated such work to earn a measure of protection and respect as legitimate public art. Annual showcases such as the City Xpressionz [1] festival sponsored by Cleveland Public Art and Scion celebrate underground and urban art forms like hip-hop, dance, and graffiti every summer.
I couldn't have had a better time yesterday enjoying a cold one on the rooftop patio at the Euclid Tavern, where I had the good fortune to chat with Cleveland's own Modesto - a young and talented aerosol artist who has repeatedly distinguished himself at numerous local shows and whose work will be showcased at Ohio City's Touch Supper Club next week. City Xpressionz will roll into Ohio City's Market Square for 2008 next week as well - August 23rd.
In the short time we had to converse Modesto enlightened me as to some of the cultural aspects of graffiiti art and some personal stories of regional travels and exposition. Years of practice and cultivated expertise became quickly apparent as this commissioned piece occupying the entire far wall of the rooftop deck manifested in less than an hour. I was amazed how quickly this creation appeared with little more than a few cans of Rustoleum - Modesto's preferred brand of 'ink' - which makes primer unnecessary and lasts for six years before any signs of fade. Quite remarkably, not a stencil, converted nozzle, or guide was employed by this young talent.
It is heartening to see talented young people find viable vocations through artistic expression and local establishments like the Euc make this possible. Mr. Modesto declined the opportunity for a true photo op as he is still 'active', but did permit these relatively ambiguous shots of artist-in-action. Many urban artists like Modesto are misunderstood - in addition to forming his own marketing and promotion venture Modesto has done educational work with groups like the Progressive Arts Alliance [2], which help our regions youngsters learn and appreciate urban art.