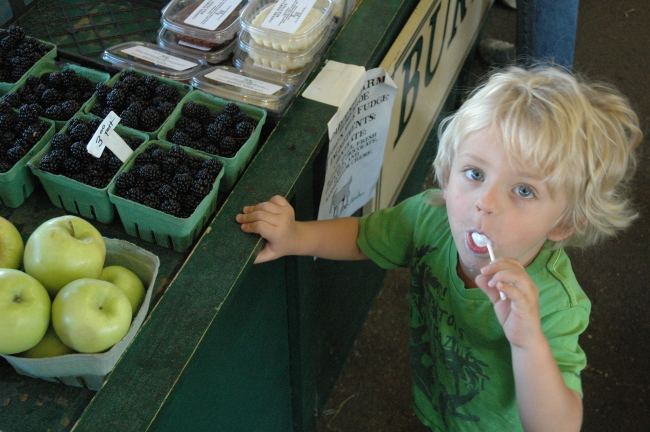 The Coit Road Farmers Market is one of the most endearing places in real NEO. Hidden away in a near-dead industrial graveyard of East Cleveland, with the curb-appeal of a brownfield, it is not a place one goes without intent. So it amazes me that just about every time I go there I see someone I know. I guess I know some pretty smart people.
After over 75 years providing fresh local food to what evolved into an "Inner City" community, the Coit Road Farmers Market is an historic institution, now operated by the non-profit East Cleveland Farmers Market Preservation Society (ECFM), and it is very worth seeking out and supporting!
And now is a great time to do what your grandparents and parents would have done, if they were real and anywhere near East Cleveland, in the 1930s or later... buy great, fresh, local food from great local growers (in some cases, 3rd generation at this market).
Summer harvests are spectacular and the Fall bounty should be as rich, for we who choose to eat home-grown. When we visited the market this weekend it was the third annual Cliff Schultz Memorial Corn Roast, which is a great example of the warm heart of this cooperative. Cliff's grandfather was one of the founding farmers of the market, and Cliff was a lifelong vendor who passed away a few years ago, but is not forgotten. The history of the market [1] is well presented and worth reading, at the Coit Market website [2].
I find the following passages especially enlightening and inspiring...
The present Coit Road Farmers Market was built in 1932 by an organization of farmers called Northeastern Ohio Growers Cooperative Association. Farmers had organized the for-profit cooperative during WW I. Bringing fresh food to people in the city was their act of patriotism.

By the 1950s, East Cleveland was beginning to experience the effects of red lining and white flight. Countryside and city neighborhoods alike were impacted by elements of the same social and economic trends. In the country, white flight translated to urban sprawl. Each year, fewer farmers came into Coit Market. Some farms were sold all or in part for housing development. Some farmers set up their own markets at the farm. Customers and farmers both seemed to be losing interest in Coit Market in the 'inner city'.

The mission of ECFM involves revitalizing Coit Road Farmers Market and stimulating further redevelopment of our East Cleveland neighborhood.

Continuing goals and objectives are:
Adding more Ohio farm products & nutritious foods, attracting more customers,
Supporting entrepreneurial opportunities for food producers and other vendors,
Providing education about nutrition, food preparation, and farming,
Encouraging the preservation of family farming and sustainable agriculture,
Operating Coit Market responsibly, and profitably for the farmers and vendors,
Improving the appearance and presence of Coit Road Farmers Market and planning for further revitalization of our Market and our neighborhood.
Much progress has been made toward these goals in the four years since acquiring and managing the Market. Ohio farm products added to Market include organic vegetables, organic and free-range eggs, organic grass-fed and grain-fed beef, all-natural lamb, pork and poultry, Amish cheeses, jams, jellies, Maple syrup, fresh herbs, artisan breads, spices, organic pantry items (flours, dried beans, whole grains, oils), Southern bean pies and homemade cakes, fair-trad locally roasted organic coffees.