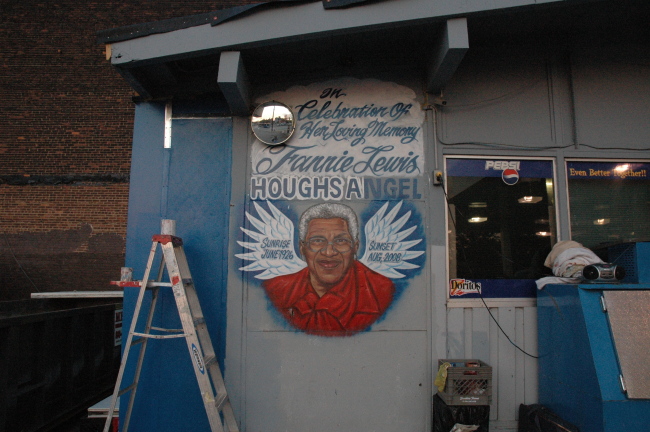 Harry Bell is a powerful urban artist, well appreciated in Cleveland and beyond. His most famous work I know is the Wall of Sorrows [1], recently dismantled, under controversy, and now in storage... scheduled for future re-installation. You may know his current work from cruising through Cedar and E.55th, where he is commissioned by a gas station and car dealership to create urban art on their walls, now including the work-in-progress shown above... a memorial tribute to "Houghs Angel", Fannie Lewis, rest in peace [2].
Being a sponsor of Bell and his very authentic, timely and alive urban art clearly thrills the owner of the gas station. He has commissioned many works from Bell, including this memorial to Councilwoman Lewis by his front door. Not just a casual patron of the artist, the gas station owner gushes about Bell and was proud to show me a 1996 painting by Bell that is prominently displayed inside the station's convenient store. It is about my town of East Cleveland, and I just love it.
Once we got acquainted, Bell was very enthusiastic to talk about his work, of which he is clearly proud. He is about to start work on the new Wall of Sorrows, now being prepared for painting, at 11300 Superior, below. CHeck out the radically painted van there, which must be by Bell.
I met Bell to discuss him painting on the walls of Brown's Market, in transformation to the Star Market [3]. Bell says there are many great urban artists he knows looking for good places to "exhibit" their work for viewing by the public. Considering the Wall of Sorrows nightmare and that it is just now being recreated, on a donated wall, I appreciate his concerns.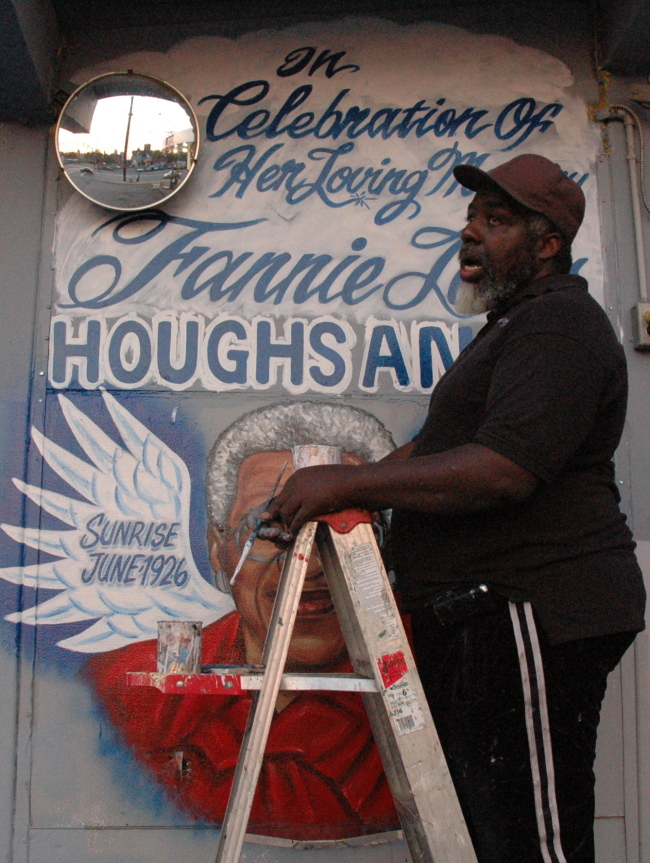 But the Cleveland-area has plenty of good blank walls we may spare.
I look forward to seeing what Bell will come up with for the Star Market... a fitting place for a long overdue memorial to the Glenville Shootout, which happened across and down the street.