At the first Cuyahoga County Commissioners debate [1], today, Peter Lawson Jones proved beyond a shadow of a doubt the leadership of the Cleveland Plain Dealer is out of touch with reality [1], and perhaps deserves criminal investigation for election tampering. The Plain Dealer should retract their editors' endorsement of Debbie Sutherland for Cuyahoga County Commissioner, and the paper should endorse Peter Lawson Jones, with apologies to him and his family for the PD Editors' disgraceful mischaracterization of him.
The NEO Republicans, PD and their funding establishment hope to follow the McCain/Palin bounce with a preposterous, homemade, Republican, unqualified, minor-league small-town mayor.
At today's League of Women Voters debate between Debbie Sutherland and Peter Lawson Jones, at the lovely Euclid Library, Sutherland was so unable to answer any question well, and answered so many questions wrong, and became so flustered, and so clearly publicly realized she had made a huge mistake bringing her little BWU fashion degree mind up against Harvard undergrad and law hyper achiever genius Jones, I honestly thought she was going to cry.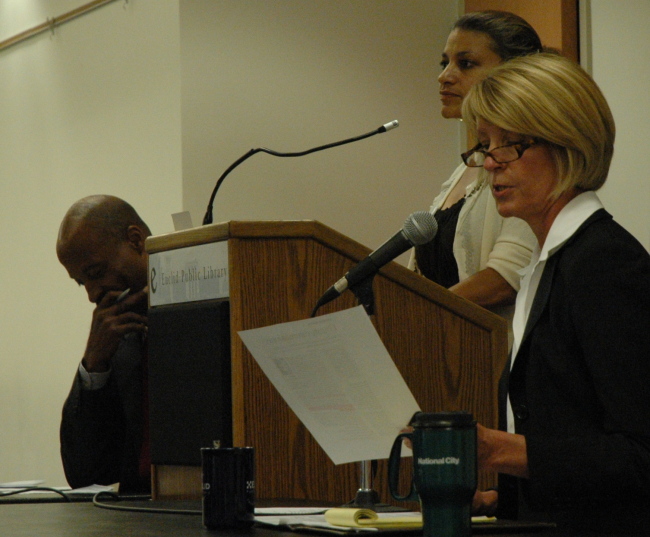 She started out lame and limped from there. In her opening two minutes, she bragged she was President of the Mayors Regional Love Fest, and is loved by GCP, and TeamNEO, and the Foundations, and can get things done for the region. And then she pulled out the PD editorial endorsing her and read the criticisms there of Peter Lawson Jones to the full-room audience of perhaps 80, which seemed to start out about 50% for Sutherland and 50% for Lawson Jones. She used what the editorial said as her basis for needing to clean house by replacing Lawson Jones.
Peter started his turn at the debate in defense mode against the PD attacking his credibility, stating anyone who knows him knows he works 6 AM to midnight, everyday, for the people of Cuyahoga County, and he is honest, and has integrity, and is a good father and citizen. He then went into detail as to why he has also been a good leader of Cuyahoga County, as commissioner, for the past four years, starting by differentiating himself from Commissioner Dimora, under indictment, and Commissioner Hagan, so universally hated these days. But Lawson Jones' tone was not negative toward his coworkers, Sutherland, or anyone - he was light, confident and upbeat - he did have all the right answers to every question in the debate.
The format was openers (just described above) and then a few dozen questions prepared by the LWV and also submitted by the audience, which were screened by the LWVs. The moderator was excellent... the questions were excellent... it was a great 1.5 hour demonstration of democracy in action and overcoming an Establishment that really seems to be treading far over the line of legal practice, now attempting to rig elections.
I didn't take notes so I can't quote too many of the questions or answers - the debate was taped for public access TV and I imagine copies are available - we must arrange to get it online. Believe me when I say Sutherland embarrassed herself, Her party, Palin, many women, and all the Republicans planted in the audience. She didn't cut it and the GCP/Establishment folks should have know she wouldn't... she isn't even close. In fact, her delivery at the debate, to nearly every question, was her short list of GCP-planted mediocre achievements, like she was reading her resume over and over at all the interviews she has had within the Establishment, as she has moved up their Leadership Tomorrow Ladder.
Then asked to describe herself in three words, two were "Fun and Creative" (I forget the first word, but it wasn't any more inspiring). Lawson Jones gave good answers, "Father, Husband and hyphenated person-who-cares-about-the-people-of-Cuyahoga-County", which broke the ice for everyone, and got a good laugh. By that point, a few questions in, Lawson Jones was well at ease, as Sutherland already laid bloody on the floor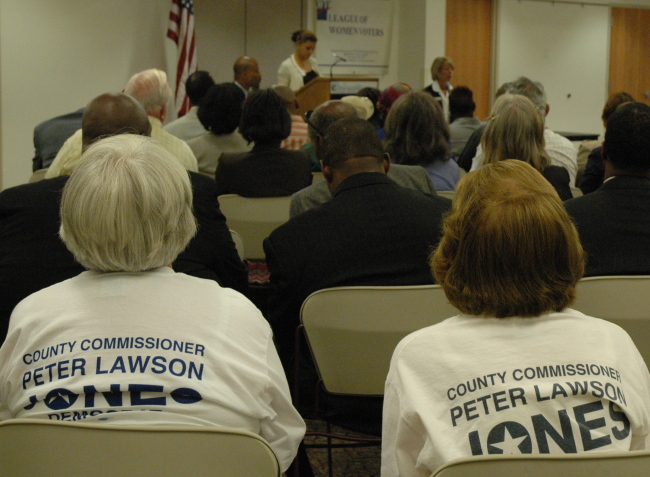 Throughout the debate, Lawson Jones had the opportunity to highlight how he is different from the other commissioners, like how he has voted with his heart and mind, rather than the establishment, including against the MedCon tax and against demolishing the Ameritrust. And he pointed out that was certainly why the PD had planted Sutherland against him.
When Sutherland was asked why she ran against Lawson Jones rather than Hagan, who is unopposed by any Republicans in this same election cycle, she said she thought she could have a bigger impact by replacing Lawson Jones... to which the audience started realizing this women was insane.
When asked if she as the mayor of a 95% white small town was qualified to represent a population that is 30% black, Sutherland fell on her own dagger, hoping to end her own suffering.
By the time she got to the question I submitted - "What is your strategy to eradicate lead poisoning in Cuyahoga County" - she seemed nearly in shock... and clueless. She stumbled through something like "I know that is a big problem and we've had to deal with it some in Bay Village with Block Grants, and we should expand that."
Peter Lawson Jones knew the right answer. He is co-chair of Invest in Children, which is the umbrella organization for Greater Cleveland Lead Advisory Council, which I co-chair, and Peter correctly pointed out lead poisoning is a problem across the region - not just at the inner ring - and he spoke about the very successful efforts by Cuyahoga County to address this challenge, and the need to ramp that up.
When asked about budget matters, Peter pointed out last year the county lowered expenses by 3% while revenues were flat. This year, through employee early retirements and attrition, the County will reduce workforce by around 8% without firing.
Sutherland talked about cleaning house at the County building... like she is going to come in and fire 100s of people.
She talked about her plan to get elected once as commissioner and then rewrite the county charter to eliminate the commissioners' jobs and replace them with a CEO (which I'm sure is what she wants to become, then).
At the end of the debate, in her closing comments, she clarified that she was in support of the 0.25% sales tax increase for the MedCon, as always, but wanted to eliminate some other 0.25% sales tax... it made no sense at all.
After she closed, out of the half room of people who started our expecting to vote for Sutherland, about 6 people half-heartedly applauded her.
Peter's closing started by explaining he had this week passed on the opportunity to replace his friend Stephanie Tubbs Jones in Congress - a lifelong dream-job - because he didn't think he could be a good father living in DC, and he had important changes to finish in Cuyahoga County, at home.
When Peter Lawson Jones closed, nearly everyone in the room applauded, including many people who were clearly Republicans.
I doubt Debbie Sutherland had ever had a serious encounter with Lawson Jones before, and I know she totally over-estimated her ability to challenge him. Very early in the debate she knew she was in deep trouble and any fight in her was dead. In fact, as she listened to Lawson Jones answer questions, and then tried to answer them herself, she largely praised his answers, said she would do all the good things he was doing, and in the end she seemed better educated about county government and blown-away by a county leader who is impressive and doing a great job - she seems ready to withdraw from the election and vote to reelect Peter Lawson Jones.
While REALNEO may be the only place taking the PD and establishment corruption of the County Commissioner's election seriously, to date, that will now change. I was not the only person in the room who saw Sutherland die, tonight. There was video. There was an audience. There was the League of Women Voters. There were the candidates.
If Sutherland hasn't had the good sense to withdraw from this race beforehand, you will have another opportunity to see her commit suicide in debate against Peter Lawson Jones on September 23, at 21016 Hilliard Blvd. , Umerley Civic Center , Rocky River... at 6:30 PM.
I doubt she'll last that long.